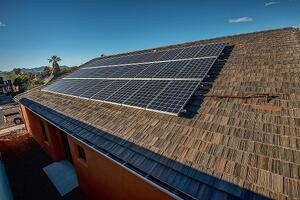 The International Code Council (ICC) and the Solar Rating & Certification Corporation (SRCC) have completed a period of due diligence and formalized the consolidation of the two associations. SRCC is now part of the ICC Group that includes the ICC Evaluation Service (ICC-ES) and the International Accreditation Service (IAS).
"SRCC is an industry leading association with big ideas and limited resources," said SRCC Executive Director Eileen Prado, who will serve as Executive Director of ICC's SRCC program. "Partnering with ICC provides needed resources to control costs for certification, lab inspections and dues. SRCC Members' certifications remain valid. SRCC staff experts, including Technical Director Jim Huggins, will be there for support as will the ICC technical staff."
The work of the SRCC complements the work of ICC in its standards, research, publications and product certification. The International Codes published by ICC are used in all 50 states and Washington D.C. ICC has been working with SRCC to update its widely accepted 100 and 300 solar thermal collector and system standards.
"The energy industry has been part of ICC's codes and standards commitment since the energy crisis in the 1970s," said ICC Chief Executive Officer Dominic Sims, CBO. "The toolbox for both ICC and SRCC Members and all stakeholders will expand to support renewable energy products and systems to ensure they can reach the market fast and have the confidence of building and fire officials throughout the world."
Renewable energy includes solar heating and cooling (SHC), solar photovoltaic (PV), geothermal and wind. "Uniting with SRCC provides opportunities for code officials, architects, designers, engineers and all ICC Members who in their jobs are asked to inspect and integrate energy efficiency and renewable energy into homes and commercial buildings," said ICC Board President Guy Tomberlin, CBO. "This is an important step into the future of the built environment."
An ICC renewable energy advisory council will be created to support new initiatives and the development of codes and standards. The council will include previous SRCC Board members and other renewable energy experts.
The consolidation combines expertise and resources that will allow manufacturers to get renewable energy products into the marketplace quickly with wide acceptance by code officials who recognize the ICC-ES and SRCC marks. ICC-ES has a long-standing relationship with SRCC, offering a product listing program covered by SRCC Standards 100 and 300.
Products are evaluated to the requirements of the Uniform Solar Energy Code, the International Plumbing Code, and the International Green Construction Code for solar thermal products and systems that are SRCC certified and rated. As part of the consolidation ICC-ES will continue to
support manufacturers' needs.
In 1980, the SRCC was incorporated as a non-profit organization to develop national rating standards and certifications for solar energy equipment. SRCC programs ensure that the products comply in jurisdictions throughout the United States. SRCC has been the industry standard for more than 30
years. ICC is committed to the SRCC legacy and the stakeholders it serves.
---
This content was originally published by the International Code Council (ICC) and has been republished with permission. The International Code Council is a member-focused association. It is dedicated to developing model codes and standards used in the design, build and compliance process to construct safe, sustainable, affordable and resilient structures. Most U.S. communities and many global markets choose the International Codes.
---
© 2016, Green Builder Media. All rights reserved. This article is the exclusive property of Green Builder Media. If you would like to reprint this content, you are free to extract a short excerpt (no more than 1/4th of the total article), as long as you 1. credit the author, and 2. include a live link back to the original post on our site. Please contact a member of our editorial staff if you need more information.