SB 332, which would cap renewable energy sourcing requirement for utilities, was pushed through the North Carolina State Senate without a discussion.
IN A VERY SHADY MOVE, North Carolina State Senate Finance Chairman Sen. Bob Rucho spearheaded the initial passage of a bill (HB 332) that would freeze renewable energy rates. In doing so, he cut off discussion, refused to allow a head count and declared it passed by voice vote despite a "louder and possibly more numerous chorus of 'No' votes." Members of Rucho's own party even complained about the way the vote was handled. His colleagues on the other side of the aisle were extremely upset, and understandably so.
The New N.C. Building Code Council
HB 255 creates a new 17-member building code council, composed of a 17-member residential committee and a nine-member building code committee, to be structured as follows.
(Committee designation: R = Residential, B = Building Code):
Two licensed architects (B),
One licensed general contractor (B),
One licensed general contractor specializing in residential construction (R; Chair),
One licensed general contractor specializing in coastal residential construction (R),
One licensed engineer practicing structural engineering (R & B),
One licensed engineer practicing mechanical engineering (B),
One licensed engineer practicing electrical engineering (B),
One licensed plumbing and heating contractor (R),
One municipal or county building inspector (R),
One licensed liquid petroleum gas dealer/contractor involved in the design of natural and liquid petroleum gas systems who has expertise and experience in natural and liquid petroleum gas piping, venting and appliances,
One representative of the public who is not a member of the building construction industry,
One licensed electrical contractor (R),
One licensed engineer on the engineering staff of a state agency charged with approval of plans of stateowned buildings (B),
One municipal elected official or city manager (B),
One county commissioner or county manager,
One active member of the North Carolina fire service with expertise in fire safety, as recommended by the North Carolina State Firemen's Association (R & B).
Rep. Mike Hager inserted the provision in an unrelated bill, and the Senate Finance Committee approved that maneuver. There was a request for a division of the vote, which would have provided for an individual vote tally. However, it appears Sen. Rucho chose to ignore Senate rules adopted earlier this year and proceeded with a voice vote. However, after that first passage, it was sent from the Senate Commerce Committee to the Senate Committee on Finance, where it is currently parked.
HB 332 would cap a renewable energy sourcing requirement on the utilities at 6 percent, instead of increasing it to 10 percent by 2018 and 12.5 percent by 2021. It would also reduce the guaranteed market for renewables by requiring utilities pay a standard rate for power from much smaller plants.
Code Information
In mid-July, HB 255 was passed by the legislature and signed into law by the governor. The bill creates a new, 17-member building code council, complete with a 17-member residential committee and a 9-member building code committee (see sidebar on page 55). Appointed by the governor, the committees will review proposals for codes, including the North Carolina Energy Code.
The residential codes can only be revised "every six years, to become effective the first day of January of the following year, with at least six months between adoption and effective date. The first six-year revision under this subsection shall be adopted to become effective January 1, 2019, and every six years thereafter." As written, the state will adopt some form of the 2018 I-codes, skip the 2021 I-codes and then consider the 2024 I-codes.
Finally, this bill reduces funding to the building codes department by raising the monetary limit needed to require a permit. The construction or alteration cost threshold used to be $5,000; it is now $15,000. However, this bill also (potentially) reduces the building official's workload. The following provision transitions the inspection (and subsequent liability of compliance) from the building official to either a licensed architect or engineer:
"… a city shall accept and approve, without further responsibility to inspect, a design or other proposal for a component or element in the construction of buildings from a licensed architect or licensed engineer provided all of the following apply:
(1) The submission is completed under valid seal of the licensed architect or licensed engineer.
(2) Field inspection of the installation or completion of construction component or element of the building is performed by that licensed architect or licensed engineer.
(3) That licensed architect or licensed engineer provides the city with a signed written document stating the component or element of the building so inspected is in compliance with the North Carolina State Building Code or the North Carolina Residential Code for one- and two-family dwellings.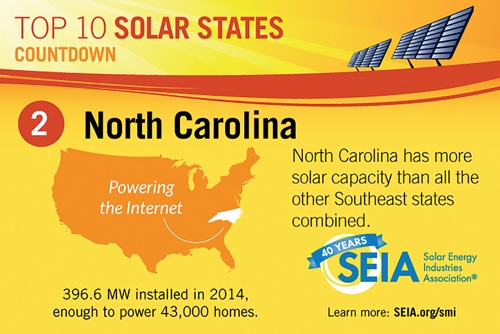 In 2014, North Carolina installed 397 MW of solar electric capacity, ranking it 2nd nationally. Will HB 332 put the brakes on this progress?
OBSERVATION(S)
First, the freezing of the renewable energy rates shouldn't come as a surprise (if passed). This is the same state legislature that refuses to use science to guide future coastal policies related to sea-level rise, preferring to instead stick its collective head in the sand. The lack of professionalism when conducting the vote was rather appalling, and it's shocking that there was no avenue for recourse. As for HB 332, 6 percent is a paltry number; in the landscape of other state renewable energy standards, even 10 percent is relatively low. Given the state's existing industry, we feel they could easily hit, and most likely exceed, the 10 percent target.
Next, HB 255 is a broad bill. The change to the code adoption process is interesting in that there is neither a single energy efficiency professional, nor a low-income housing voice, on the entire council. It would be nice if there was the opportunity for one (but obviously not both) of those representatives on the council via the "representative of the public" seat. However, that spot is reserved for someone not in the building industry, which really makes that council member tantamount to an HOA member. We're not sure what that seat is supposed to contribute to the process, other than provide political cover to the state that they are allowing general public involvement. The reduction in potential permit revenue reduces building and remodeling costs, but is also something that nearly every building department in the country doesn't need.
References
1) Nevada Senate Bill 374 - http://bit.ly/1PWl9aC
2) "NC Senate Panel Rushes Energy Bill Through" by Craig Jarvis of The News & Observer, May 20, 2015. http://bit.ly/1BcymjQ
3) North Caroline House Bill 255 - http://bit.ly/1ISDTzP
---
© 2016, Green Builder Media. All rights reserved. This article is the exclusive property of Green Builder Media. If you would like to reprint this content, you are free to extract a short excerpt (no more than 1/4th of the total article), as long as you 1. credit the author, and 2. include a live link back to the original post on our site. Please contact a member of our editorial staff if you need more information.