The home energy rating system (HERS) provides a number rating that makes it easy for consumers to see how same-size homes compare in energy use. The lower the number, the less energy used.
MORTGAGE LENDERS HAVE LONG KNOWN that energy costs are an important factor in home affordability. Back in the early 80s, the concept used to be known as PITI+E, i.e. Principal, Interest, Taxes and Insurance plus Energy costs.
High-energy costs easily undermined home affordability then, and do now.
The 1980s answer was the National Shelter Industry Energy Advisory Council, which explored ways to measure the dollars saved by home energy-saving features, and to translate those dollars not spent on energy into a credit that qualified buyers for a more expensive but more energy-efficient home.
The first iteration was the nonprofit Energy Rated Homes of America. Fannie Mae, Freddie Mac, the U.S. Department of Housing and Urban Development (HUD), Federal Housing Administration (FHA) and the Veterans Administration (VA) all adopted energy mortgage programs that qualified borrowers for larger loans based on lower energy costs. However, lenders seemed either unaware of these programs or were overwhelmed by complicated application processes. Moreover, there were no uniform standards with which to measure energy savings.
In April 1995, more than a decade after these first attempts, mortgage industry officials, the National Association of State Energy Officials and Energy Rated Homes of America founded the Residential Energy Services Network (RESNET) to develop not only national standards for home energy ratings, but to also create a market for the energy rating systems and energy mortgages. After all, what good were standards if no one used them? In 2002, Energy Rated Homes of America and RESNET merged.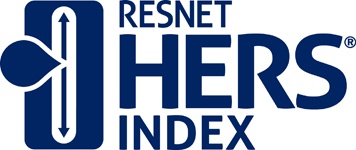 Today, RESNET's Home Energy Rating System (HERS) is a powerful third-party endorsement of a new home's promised energy savings. A certified Home Energy rater scientifically assesses a home, and assigns it a HERS score. Because other energy programs often require a certain HERS rating, David Kaiserman, president of Lennar Ventures, calls HERS a predicate for other programs. All of the six big builders interviewed compared HERS to MPG on vehicles. Just as in MPG, the lower the HERS, the better.
The U.S. Department of Energy (DOE) reports that a typical resale home has a HERS score of 130, while a typical new home might rate 100. A home with a HERS Score of 70 is 30%more energy efficient than that standard new home, and 60% more efficient than a typical resale.
"A home is one of the largest and most important purchases a family can make but, until recently, buyers have had little information about what their costs to own the home would be long term," says KB Home Director of Corporate Communications Craig LeMessurier. "When we buy a new car, we know how much mileage we can expect to get. Homebuyers should know the expected performance and monthly energy costs of a home."
Amber Cates, David Weekley Homes sales coach says, "As 'green' became a more mainstream term that never seemed to have clear qualifications, David Weekley Homes felt we needed to identify specific components that we were incorporating into our homes that would help differentiate our homes from our competitors. ...That led us to energy and how it relates to green. If 80% of all environmental damage is related to green, we decided to focus specifically on energy."
CR Herro, Meritage Homes' vice president of environmental affairs, lauds the HERS program's "rigor."
PulteGroup believes HERS "is attractive to homebuyers who are comparing the energy efficiency of other homes on the market. This is especially so in more extreme climates. Heating and cooling costs can be a significant portion of total cost of ownership," says Jim VanKirk, PulteGroup vice president of marketing.
Larry Sekely, vice president of national accounts for M/I Homes, says the company does cutaways inside models to show the otherwise hidden construction features that contribute to low HERS scores.
HERS' builders are employing this dollars-and-sense approach as a strong marketing tool. New homebuyers can use ratings to anticipate new-home energy costs, and thus the real monthly cost of homeownership.
Meritage Homes Achieves Typical HERS Index of 61
Why choose HERS? "Rigor," says CR Herro, vice president of environmental affairs, for Meritage Homes, the nation's ninth-largest builder.
HERS' third-party rating system is based on building science and numbers that gives rigor to the ratings," he says. It represents an MPG rating for how much energy a home uses; the average HERS Index for a 2012 Meritage Home was an excellent 61, though Herro says HERS ratings vary. Some scores are lower and some higher depending on home size. Even the difference in HERS among Meritage homes helps consumers really think about how big a home they need or want.
Herro says Meritage has an edge against its competition because the company has significantly better scores than competitors. The company uses HERS to set itself apart, and uses the scores in all advertising and literature. Meritage uses HERS in conjunction with the Energy Star program.
HERS is a tool toattract homebuyers. It works by helping consumers make better choices, says Herro. For example, when compared to an existing home, he says, Meritage can demonstrate that its new homes make more sense because of greater health and comfort and lower energy costs. Take that HERS of 61—it means the Meritage home is 49% more efficient than a standard new home, and as much as 79% more efficient than a typical resale home. In other words, less energy used means lower utility bills.
Using a 2,000-square-foot home as an example, Herro says, homebuyers could save "$65,000 in energy costs over the life of their 30-year mortgage, which equates with paying $23,000 less for the home."
KB Home Was First with HERS
Fifth-largest U.S. builder KB Home feels HERS has emerged as the dominant "yard stick" for measuring new-home efficiency. KB also pairs HERS with Energy Star, says Craig LeMessurier, director of corporate communications.
KB Home was the first builder to make arrangements with RESNET to use the HERS Index to educate its buyers about their home's energy efficiency," LeMessurier says. RESNET to also helped the company develop its Energy Performance Guide (EPG), announced in 2011.
Using the HERS Index, KB Home's EPG educates homeowners and prospective buyers about the relative energy efficiency of a home, and provides an estimated dollar amount for monthly energy costs.
KB Home had already been on the efficient-home bandwagon with more than 75,000 Energy Star-qualified homes since 2000. Homes feature upgraded insulation, 14 SEER HVAC systems, programmable thermostats, low-E windows, radiant roof barriers, Energy Star appliances, low-flow toilets, faucets and shower heads and low-VOC carpet and paint.
"We are constantly looking for innovative and sustainable products that can reduce our homeowners' overall monthly costs. For example, we recently made a rather large announcement with our trade partner Schneider Electric regarding a standard energy monitoring device called the Wiser home management system. Once installed and activated, the system will allow homeowners to track their home's energy consumption, in real-time, from practically anywhere," LeMessurier says.
HERS "has been a real game changer for KB Home and our industry. In 2012, KB homes' average HERS Index Score was 68, an improvement of ten points over the 2010 average score of 78," LeMessurier says. In 2012 KB Home also built homes with HERS scores that range from HERS 50 to HERS -4, which is the score for KB Home ZeroHouse 2.0. Information is available for every floor plan.
Buyers can also choose more environmentally friendly options available through the KB Home Studio, such as 100%-recycled carpet, solar systems, tankless water heaters and bamboo flooring.
LeMessurier adds, "HERS and our EPG are an opportunity to highlight the value of our homes, and provide our homebuyers with an energy-efficient home with virtually no added cost up front. In addition, the EPG will be presented to our buyers as a certified document when they purchase a new KB home.
Homebuyers have a huge desire to save on monthly costs, and this is a key differentiator for our homes—compared to resales and foreclosures on the market. Our homes can save homebuyers tens of thousands of dollars over the life of the home, when compared to typical resale homes.
PulteGroup Supports and Promotes Easy-to-Understand HERS
"Pulte has been pursuing energy-efficient initiatives for more than ten years, and began to seriously mobilize our efforts nationwide with HERS in 2011," says Jim VanKirk, vice president of marketing for PulteGroup, the nation's second-largest homebuilder. "A prerequisite for us was sales force training, which was rolled out in October 2011. We wanted to be certain our sales teams could accurately explain the benefit of HERS, and incorporate it into their sales presentations," he adds.
We see great consumer value in the HERS label, much like the fuel economy Miles Per Gallon label that has been accepted for years in the auto industry. Rather than devise a similar proprietary program, we opted to support moving our industry in this direction," VanKirk says.
PulteGroup continues to use new construction products and processes to not only improve its quality reputation and energy efficiency of its homes, but also its value equation. PulteGroup has been conducting energy ratings for more than a decade, and has added the HERS component independent of other programs to more easily market the efficiency of its homes, and allow the consumer to easily compare homes on the market.
Each Pulte model home sports a HERS label "to convey the energy efficiency of our new homes versus resale and other new competition. We also provide educational content on our consumer-facing brand Web sites (pulte.com, delwebb.com), such as how to read and interpret a HERS label and use it for comparison purposes," VanKirk says.
"We explain that 'A typical ten-year old home has a HERS score of 130. A typical new home, built to the 2009 International Energy Conservation Code, has a HERS score of 85. A home with a HERS score of 85 is 45% more energy efficient than a typical ten-year-old home. Lower HERS scores translate to lower energy bills.' We highlight the components of our homes that contribute to a lower HERS score and lower energy bills. We build value for our homebuyers in the features, such as programmable thermostats, low-E windows, 90+% efficient furnaces, radiant barriers and tankless water heaters."
"Not all builders have adapted HERS in their process or messaging. Of those who have, the degree to which it's communicated is highly varied. We believe that it helps us compete by: 1) Providing transparency to customers who are more concerned about energy consumption, and 2) Conveying a superiority claim against nearby older homes that are less energy efficient," VanKirk says.
Lennar's Everything Included Includes HERS
David Kaiserman, president of Lennar Ventures, the third-largest U.S. homebuilder, says HERS is the building industry's dominant standard. In fact, he says—because so many other green-building programs require a minimum HERS score—in many ways, HERS is the predicate for other programs and standards.
Lennar has been using HERS for years as just one tool in its comprehensive quality assurance program now called PowerSmart. Kaiserman likes the fact that HERS is an energy label that gives consumers an MPG rating, much like what is used to compare automobiles. Consumers can effectively evaluate home energy use. He hastens to add that "today's new homes are more energy efficient than ever before."
Lennar's Web site opens with the phrase, "Everything's Included, even joy," as the lead-in to Lennar TV. Lennar TV viewers hear, "Taking care of the environment shouldn't be an upgrade." Lennar TV even includes a children's' program entitled "Energy Comes from Within: A Green Living Story by Lennar." The bug hero named Joules (named after a unit of electrical energy) notes that the world is changing, but offers viewers lifestyle choices, such as recycling, before getting to step 5—which is building green homes that help save the world.
Lennar TV on PowerSmart: "Saving the environment—that's smart. Saving the environment while saving money—that's PowerSmart. Introducing PowerSmart by Lennar. A dream home that's also a green home, combining the power of technology and Lennar's relationships with our building partners to build a smarter home for your family. Reducing the amount of energy you use, and reducing the amount of money you spend.
That's PowerSmart. Including some of the finest green features available today, and empowering you to create a better tomorrow. Save money. Save the environment. That's PowerSmart by Lennar. The next generation of living. For details on PowerSmart homes in your part of the world, power on at www.lennarpowersmart.com."
Though Lennar currently focuses on its own program and brand, the U.S. Environmental Protection Agency (EPA) honored Lennar with a 2011 Energy Star Leadership in Housing Award, reporting that its homes had an average score of 67. Lennar Central Florida showcases homes with a HERS index of 54.
Lennar Homes also include Nexia Home Intelligence home automation to manage homes for energy efficiency. More advanced, more automated, more efficient. The company has an iPad app for monitoring homes and energy use.
David Weekley Homes Constantly Improves Its HERS
Seventeenth-largest U.S. homebuilder David Weekley Homes uses HERS in conjunction with its own Environments for Living (EFL), and has created the David Weekley Homes' EnergySaver Program.
David Weekley Homes' purpose is to build dreams and enhance lives," says Sales Coach Amber Cates. "Homes that perform at a very efficient energy level save our customers money on their utility bills. The program supports the value that saving energy has to our customers."
Cates says, "HERS first came to light with David Weekley Homes during our certification process for the 2006 Energy Star 2.0 program. A minimum score of 85 was required to reach that certification, so we made the adjustments we needed to achieve that score." But that was only the beginning.
"As 'green' became a more mainstream term that never seemed to have clear qualifications, we felt we needed to identify specific components that we were incorporating into our homes that would help differentiate our homes from our competitors in the marketplace. That led us to energy and how it relates to 'green.' If 80% of all environmental damage is related to green, we decided to focus specifically on energy," Cates says.
"In 2008, we made some important decisions related to HERS. We knew lower utility bills were something everyone could understand. We also knew that customers could use our homes' utility bills to make comparisons with their own bills. With the HERS scale, one could actually make fact-based energy usage comparisons on both new and old homes. It was the first way we saw to legitimately compare a homes' energy performance to our competitors and to homes of different ages," Cates says.
"In 2008, we focused on the EFL program which offered a Heating and Cooling Guarantee, and required (at that time) a lower and more energy-efficient HERS score of 75. By 2011, the typical home scored 70, and this year, the typical David Weekley home score is 63 company-wide. However, in some of our markets it's closer to 58," Cates says.
The company uses its Green Room in each model home to demonstrate behind-the-wall displays. "The sales teams use our Green Rooms to demonstrate the different components of our EnergySaver program and discuss the benefits that each feature has in the home working as a system. We use the Heating and Cooling Guarantee that we provide as a clear indicator of value. We also share actual utility bills from our homeowners within the community so potential buyers can see the impact building an EnergySaver home with David Weekley can have on their pocketbooks," Cates adds.
M/I Homes Finds More Satisfied Customers and Fewer HVAC Service Calls
M/I Homes, the nation's sixteenth-largest homebuilder, "uses the HERS Index as the measurement of energy efficiency in our Energy Star homes. We also have the M/I Homes Whole Home program, which features all of our green building, water saving, air quality and energy-efficiency details," says Larry Sekely, vice president of national accounts.
The company has been using HERS for two to three years, Sekely says. M/I Homes concentrates on the installation quality of those items "behind the walls," such as proper installation of insulation, air barrier techniques and sealants. This allows HERS scores to be meaningful to consumers, because buildings that look alike on the outside may perform much differently because of what is invisible, hidden within the walls and under the roof.
M/I Homes' Whole Home program is based on the HERS Index as a measurement of performance. In most of our models, the company seeks to make the hidden features visible, with cutaway ceiling displays—featuring sealed mastic ducts, radiant barrier roof sheathing and insulation. The installation quality of these components is documented utilizing the third-party HERS rater. Though it varies by home size and building, most M/I Homes range from the low to mid-60s HERS, Sekely says.
"We display a HERS Index in our models as a 'home as shown' measurement. We advertise that our homes receive a duct blaster, blower door test and a thermal bypass inspection performed by a RESNET-certified rater," Sekely says.
The company also works with utility companies at the local level and participates in their programs.
HERS scores have improved over time. The general public is becoming more familiar with HERS. "Our New Home Consultants work with our buyers to explain termss such as 'projected' versus 'confirmed' HERS scores, as well as demonstrating the energy efficient features of our homes," Sekely says.
Sekely praises professional realtors. He says they tend to be very knowledgeable on HERS ratings, and have been supportive of the ratings as a sales tool. M/I Homes has always enjoyed the reputation of being a quality builder, and Sekely says HERS helps solidify that reputation—and use of the ratings also has improved sales. In the category of energy efficiency, the company has seen customer satisfaction scores steadily improve, at the same time HVAC service calls have declined.
---
© 2016, Green Builder Media. All rights reserved. This article is the exclusive property of Green Builder Media. If you would like to reprint this content, you are free to extract a short excerpt (no more than 1/4th of the total article), as long as you 1. credit the author, and 2. include a live link back to the original post on our site. Please contact a member of our editorial staff if you need more information.