Florida eliminates solar rebate programs; meanwhile, California curbs Homeowners Associations from prohibiting drought-tolerant plants.
FLORIDA
Regulation Information:
In late November, the state's Public Service Commission (PSC) voted 3-2 in favor of a utility-backed proposal to eliminate solar rebate programs by the end of 2015 and lowering the state's energy efficiency goals by more than 90 percent. This was decided after a very lengthy debate that lasted almost two hours, and the debate might not be over. Environmental groups are considering whether the PSC violated state law by instituting a policy that leaves utilities with virtually no energy efficiency requirements.
The utilities lobbied that the energy efficiency programs were not cost effective. They claim it's less expensive for them to produce a kilowatt of electricity than it is to save one. This certainly varies from other states, like Vermont, where they meet 2.12 percent of their energy needs through savings. Florida saves 0.25 percent, and that number is likely to fall after this decision.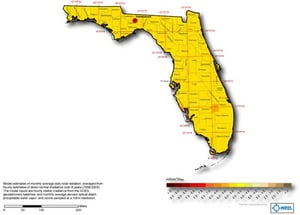 A new regulation eliminating Florida's solar rebate programs will make it harder for people to take advantage of the Sunshine State's ample solar resources.
Meanwhile, consumers won't see a big difference in their wallets. Depending on their utility, consumers will see their bills reduced by anywhere from $0.16/month to $1.94/month. However, in looking deeper at those numbers, the savings are generated by lower fuel prices, from which the utilities neither control nor profit.
Observation(s):
This issue might be more palatable if the utilities would just be upfront with what they're trying to do. They are trying to lower their costs, increase their profit margins and better position themselves to compete in a marketplace where rooftop solar is eating away at their revenues.
We've seen this movement pop up in multiple states, including Arizona, Ohio, Illinois and New Hampshire. We'll be monitoring these developments, and you'll be reading more about this in the future.
DECATUR, GA
Green Code Information:
The city unanimously passed an ordinance in mid-November that requires green building certification for all new commercial and residential buildings, as well as most of the renovation projects for such structures. According to Carl Seville, who was integrally involved with the ordinance's development, the residential requirements are:
One-and two-family projects and multi-family low-rise buildings up to three stories, whether new or involving substantial renovations, must meet one of the following certifications:
NGBS Silver
LEED for Homes
EarthCraft House, Renovation, or the new Sustainable Preservation program
Mid-rise and high-rise multi-family, whether new or involving substantial improvements, must meet one of the following certifications:
NGBS Silver
LEED for Homes or LEED BD+C
EarthCraft House, Multi-Family, Light Commercial, or Sustainable Preservation
Green Globes "Three Globes"
The new construction requirement goes into effect in November 2015, while the renovation requirement will start in February 2016.
Observation(s):
This ordinance is far from perfect, as it calls for a 5 ACH50 requirement for new construction and 7 ACH50 for renovations. (The Georgia energy code is the 2009 IECC, which allows a 7 ACH50. This compares to a 3 ACH50 level in both the 2012 and 2015 IECC.) There are also exemptions if certification and verification costs exceed 10 percent of construction costs, which seem reasonable. However, it is unclear how the city will enforce the certification requirements. There is concern there might be a large number of non-compliant buildings if there is a lack of incentive to obtain certification.
But the overriding element of this story is that Decatur is a community that has shown great leadership by adopting this ordinance. They expect more from all their buildings. Kudos to them.
BALTIMORE, MD
Green Code Information:
In November, the Baltimore City Council adopted the IgCC. However, this isn't the first time the city has required green building.
In 2007, the city started requiring LEED Silver or an equivalent energy and environmental certification for specific buildings. Three years later, the city unveiled its own green building standards, which were mostly based on a version of LEED. In 2014, with the presumed arrival of LEED v4 around the corner, a councilman introduced a bill that would replace the city's soon-to-be-outdated standards with the IgCC. However, there are numerous exemptions:
One- or two-family dwellings
Multi-family dwellings that are no more than three stories above grade and contain no more than five dwelling units
LEED Silver-certified properties
Residential and Mixed-Use Buildings of five stories or more that comply with the ICC 700 at the Silver Performance Level for Energy and Bronze Level for other categories
Structures that comply with ASHRAE 189.1
Certain temporary structures
Equipment or systems that are used primarily for industrial or manufacturing purposes
Code officials may also exempt buildings if "the permit applicant demonstrates substantial evidence of a practical infeasibility or hardship, a determination that the public interest would not be served by requiring the IgCC, or other compelling circumstances as determined by the Code Official."
This law affects all new permits applied for after April 1, 2015.
Observation(s):
The councilman's decision to introduce the legislation looks downright visionary, given the recent merger of the IgCC/ASHRAE 189.1/LEED development efforts. Sadly, residential gets overlooked yet again, doing a great disservice to the residents of Baltimore. We also can't think of a reason why the public interest wouldn't be served by utilizing the IgCC. In this day and age, there should be a minimum requirement for sustainability of all new structures.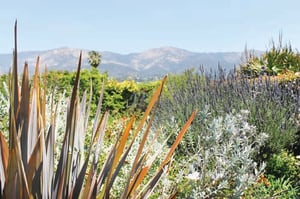 A new amendment to California's Civil Code stipulates that Homeowners Associations (HOAs) can't prohibit the use of drought-tolerant plants.
CALIFORNIA
Regulation Information:
The state amended its Civil Code to prevent Homeowners Associations (HOAs) from prohibiting the use of low-water-using plants. It furthers eliminates a HOA's ability to assess fines for reducing or eliminating "the watering of vegetation or lawns" if a state or local emergency (due to drought) is declared.
Observation(s):
File this one under common sense, and congratulations to California for taking steps to negate the oft-overlooked HOAs' authority on this vital matter. It's downright silly to penalize people for not watering their lawns when they are in the midst of a drought, especially given the severity California has experienced for the past three years running.
Sources:
"Florida regulators approve plan to gut energy efficiency goals, end solar power rebates" by Ivan Penn, Tampa Bay Times, November 25, 2014. http://bit.ly/11SQrbK
"A New Green Building Ordinance in Decatur, Georgia" by Carl Seville, December 1, 2014. http://bit.ly/1ESaCr2
Unified Development Ordinace, Decatur, GA: http://bit.ly/1x71b4F
"Baltimore City Council Adopts IgCC" by Matthew Kimball, JDSupra Business Advisor, November 24, 2014. http://bit.ly/1HUUKSV
Assembly Bill No. 2104: http://bit.ly/1DpHQO9
---
© 2016, Green Builder Media. All rights reserved. This article is the exclusive property of Green Builder Media. If you would like to reprint this content, you are free to extract a short excerpt (no more than 1/4th of the total article), as long as you 1. credit the author, and 2. include a live link back to the original post on our site. Please contact a member of our editorial staff if you need more information.