USERS OF THE WEB-BASED software available through the Green Building Administrator (GBA) will now be able to compare the ecoSelect™ green building program to Energy Star v3, LEED for Homes and the National Green Building Standard. As Executive Director of the Green Builder Coalition®, I believe users will readily see the simplicity of ecoSelect™ when compared to the established, in-depth green building programs. Homebuilders who are looking to move their business in a green direction should examine this program closely.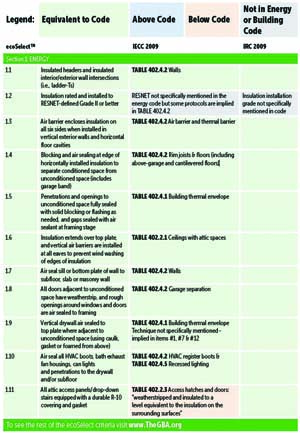 A Path to Green. The ecoSelect™ program provides a simple checklist of items in the categories of energy, indoor air quality and water.
The ecoSelect™ program is a practical, performance-based new home certification platform. Straightforward standards measurably improve home performance, and powerful marketing tools clearly communicate the value and benefits of a high-performance home to homebuyers. Designed to support home energy rating organizations and the builders they serve, the program's web-based management system provides tools and answers on demand, while third-party verification ensures quality and consumer confidence. (For more information, visit www.buildecoselect.com.)

"ecoSelect™ is proud to be included in the GBA," says Bob Kingery, the company's co-founder. "We created the ecoSelect™ program to support the growth of green building by simplifying the process for those entering the green building marketplace. The program is growing rapidly due to our integrated sales and marketing strategies, which are designed to help builders and home energy raters work together to communicate the value of better building practices. We see the GBA as an excellent companion tool to help builders and raters, who are ready to explore the next steps, build their green building expertise."
The GBA has two levels of access: a public version and a member version. The public version is free of charge and allows the user to compare two programs or codes at a time, side-by-side and provision-to-provision. The member version is included in Charter Membership, allows three programs or codes to be compared and provides a detailed comparison of each.

The Green Builder® Coalition is a national, not-for-profit association dedicated to amplifying the voice of green builders and professionals to drive advocacy and education for more sustainable homebuilding practices. We unite individual small builders, building professionals and suppliers to drive policy change and education for more resource-efficient homebuilding standards. We are an action-oriented community of green builders and professionals dedicated to uniting and growing our joint expertise, values and voice to create stronger standards for sustainable, more environmentally responsible homebuilding.


---
---
© 2016, Green Builder Media. All rights reserved. This article is the exclusive property of Green Builder Media. If you would like to reprint this content, you are free to extract a short excerpt (no more than 1/4th of the total article), as long as you 1. credit the author, and 2. include a live link back to the original post on our site. Please contact a member of our editorial staff if you need more information.