President Obama announces executive actions and private sector commitments that promote the use and development of smart, simple, low-cost technologies to help America transition to cleaner, more distributed energy resources.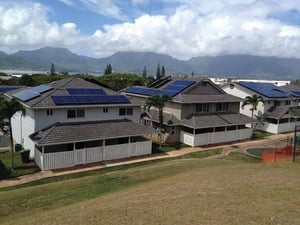 One of the provisions in the new White House initiative seeks to provide solar installations to housing on 40 military bases throughout the country.
ON AUGUST 24TH, the White House issued a lengthy press release detailing a significant commitment to renewable energy and energy efficiency. Through a combination of executive actions and private sector commitments, the announcement includes goals to reduce carbon pollution while creating jobs. Here are the highlights of this wide-ranging initiative:
Making $1 billion in additional loan guarantee authority available and announcing new guidelines for distributed energy projects utilizing innovative technology and states looking to access this financing;
Unlocking residential Property-Assessed Clean Energy (PACE) financing for single-family housing to make it easier for Americans to invest in clean energy technologies;
Launching a new HUD and DOE program to provide homeowners with a simple way to measure and improve the energy efficiency of their homes, by increasing homeowners' borrowing power;
Creating a DOD Privatized Housing Solar Challenge and announcing companies are committing to provide solar power to housing on over 40 military bases across the United States, while saving military families money on energy bills and making military communities more energy secure;
Announcing $24 million for 11 projects in seven states to develop innovative solar technologies that double the amount of energy each solar panel can produce from the sun;
Approving a transmission line that will support bringing online a 485-megawatt photovoltaic facility. To be constructed in Riverside County, this facility will produce enough renewable energy to power more than 145,000 homes.
Creating an Interagency Task Force to Promote a Clean Energy Future for All Americans; and announcing independent commitments from local governments, utilities and businesses that are stepping up to drive energy efficiency in more than 300,000 low-income households; and investing more than $220 million in energy-saving activities for veterans and low-income customers to help decrease their energy bills.
The SAVE Act
THE SENSIBLE ACCOUNTING TO VALUE ENERGY, or SAVE Act, introduced by Senators Isakson (R-Ga.) and Bennet (D-Colo.) in June 2013, seeks to improve the accuracy of mortgage underwriting used by federal mortgage agencies by including a home's expected energy cost savings when determining the value and affordability of energy-efficient homes. Utility bills are usually larger than either real estate taxes or homeowners insurance, but they are currently ignored in mortgage underwriting.
According to a source involved with the SAVE Act discussions, there is some good news to report. The SAVE Act has passed the Senate Energy and Natural Resources Committee as a part of the Shaheen-Portman bill, and there is companion legislation in the House (McKinley-Welch). Things did get a little complicated when Chairman Murkowski also championed a comprehensive energy bill that lacked the components of S-P through the same committee. There are also a lot of obstacles in getting the SAVE Act passed this fall, including the impending Iran discussions. But, as followers of this effort know all too well, unrelated hurdles are nothing new on the SAVE Act's winding road to passage.
Observation:
As long-time supporters of the SAVE Act, this specific item drew our attention:
"Increasing Homeowners' Borrowing Power to Make Energy Efficiency Improvements: HUD's FHA Energy Efficient Home Program and DOE are launching a program to provide potential homeowners with an easy way to measure and improve the energy efficiency of their homes. Under the new HUD and DOE Home Energy Score partnership, in areas where the Home Energy Score is available, single-family households will be able to increase their access to financing tools to make energy efficiency improvements. DOE's Home Energy Score offers a "miles per gallon" type rating to estimate a home's energy use on a 10-point scale. A "1" corresponds to the least energy-efficient homes, and a "10" corresponds to the most energy-efficient homes, while the average U.S. home will score a "5." Through this new partnership, homebuyers or homeowners who want to obtain an FHA-insured purchase or refinance a mortgage for a single-family home that receives a Home Energy Score of 6 or higher will be eligible to increase their income qualifying ratio by 2 percentage points above the standard Single Family FHA limit, making it easier to secure financing to make these improvements."
The new HUD/DOE proposal falls short of the SAVE Act, since under that bill, the underwriter could apply the net present value of the financial savings in addition to the qualifying ratio. Still, this new effort does have a positive effect on the financing of energy-efficient homes. This is a step in the right direction for the industry, but we hope this is merely the first step in improving the appraisal and lending process.
Resources:
FACT SHEET: President Obama Announces New Actions to Bring Renewable Energy and Energy Efficiency to Households across the Country: http://1.usa.gov/1Ee0b1U
Home Energy Score: http://energy.gov/eere/buildings/home-energy-score
---
© 2016, Green Builder Media. All rights reserved. This article is the exclusive property of Green Builder Media. If you would like to reprint this content, you are free to extract a short excerpt (no more than 1/4th of the total article), as long as you 1. credit the author, and 2. include a live link back to the original post on our site. Please contact a member of our editorial staff if you need more information.