Wright's Prairie Style Architecture Goes Green with Geothermal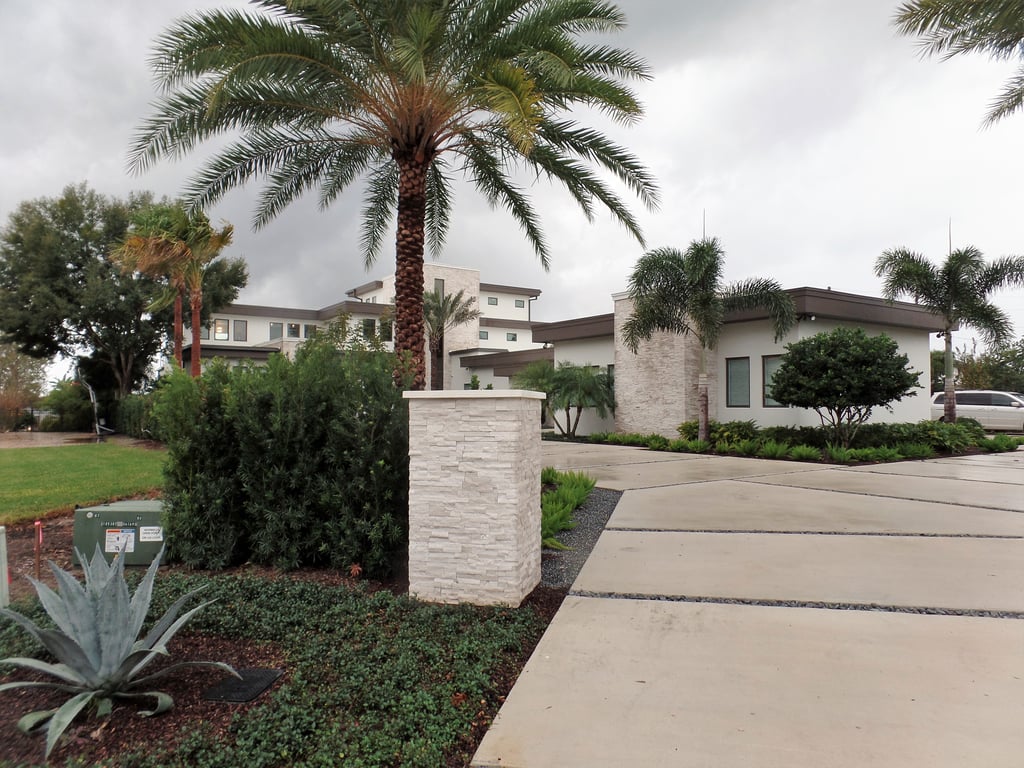 WHILE LARGER CUSTOM HOMES ARE NOT SO TRENDY, it's at least refreshing to see a sizeable modern home built with the classic Frank Lloyd Wright architectural style of yester-year. Nestled in Windermere, FL with neighbors such as Shaq, Palmer and Woods, this homeowner decided to go with Wright's Prairie Style. But he didn't want any outside equipment or noise. That leaves only one choice, which also happens to be the most environmentally friendly type of heating and air-conditioning, according to the US Environmental Protection Agency.
Geothermal heating and cooling eliminates the outside equipment replacing it instead with an all-in-one geothermal heat pump (GHP). The heat pumps go just about anywhere the homeowner likes, pretty much like a standard air handling unit. Whether in an air handler closet, or in the attic, it really doesn't matter, because GHPs are whisper quiet.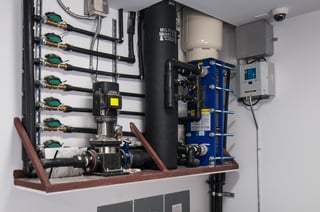 Geothermal is extraordinarily versatile. One geothermal loop can feed multiple heat pumps; in this case the owner even has a geothermal pool heat pump capable of heating and cooling his pool. Yes, tropical Florida actually stays warm enough that they need to cool the pool at times.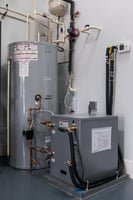 As you look through this splendid home, you will also find a dedicated geothermal domestic hot water heat pump. All of the individual heat pumps actually share energy. When cooling the home, the by product is heat energy, which can then be channeled into the pool or hot water tank.
Outside, out of sight and undergorund, the geothermal exchange system either extracts heat from the earth, or rejects excess heat back into the earth.
Usage of waste heat from the compressor for Domestic Hot Water and the pool heating (instead of exhausting it to outside air in the summertime) further reducing wasted energy
Reduced electrical consumption compared other heating and cooling systems (resulting in fewer emissions from power plants)
Reduced Noise Pollution (from outside equipment cycling noises and distractions)
Longer life expectancy for the geothermal heat pump (GHP), because it's normally housed inside the structure
Stormproof; because there is no equipment outside that can be damaged
The energy efficiency aspect of geothermal is a bonus. We get all of the best attributes attainable in the HVAC world, and the highest energy efficiency possible as a bonus.
Wouldn't it be nice to purchase your dream car, and find that it had the best mileage rating on the market? That's essentially what geothermal is.
Geothermal; Luxury and Peace of Mind
Jay Egg is a geothermal consultant, writer, and the owner of EggGeothermal. He has co-authored two textbooks on geothermal HVAC systems published by McGraw-Hill Professional. He can be reached at jayegg.geo@gmail.com.
©EggGeothermal 2016