Standardized Energy Retrofit Packages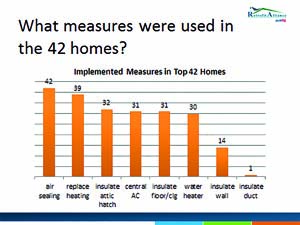 STANDARDIZING RETROFIT PACKAGES for certain building archetypes and or climate regions can save money while ensuring the most effective measures are implemented. Specific Building America (BA) projects have been exploring methods to consistently meet high levels of energy performance in existing homes.

Home Performance with Energy Star: Packages to Generate 30 Percent Savings
Question: Which packages of measures used in the New Jersey Home Performance with Energy Star program will generate 30 percent savings?

Building America Research Alliance (BARA) worked with the New Jersey Clean Energy Program to identify the 50 projects that achieved the most energy improvements in the mixed-humid climate, 42 of which had achieved at least 25 percent. BARA analyzed the data to identify the most commonly implemented measures, and from there came up with a standardized package of recommendations to achieve 30 percent energy savings.

Key Findings


42 had modeled savings of at least 25 percent.
Blower door tests revealed air sealing measures improved air tightness of the homes marginally, from an average of 13.8 ACH to 10.4 ACH, post-retrofit.
Most (39 of 42 homes) had heating systems replaced.
Average modeled savings was 27 percent, and the cost of improvements was $15,460; for the three homes that did not replace heating/cooling equipment, the average modeled savings was 25 percent and the cost was $8,325.
A 30 percent energy savings can be achieved with envelope measures; BARA recommends addressing the envelope before replacing equipment.
BARA Envelope Package:
Air sealing in attic and basement to BA standards.
Adding insulation in key areas: attic hatches, attic knee walls, basement rim joists and basement walls.
Appropriate for homes without prior air sealing and/or homes with suboptimal insulation in attic and foundation (basements).
BARA Envelope + Mechanicals package
Includes everything in the Envelope Package, plus HVAC.
Appropriate for homes in which HVAC equipment is nearing the end of its useful life, or which have low-efficiency units (80 percent AFUE or lower).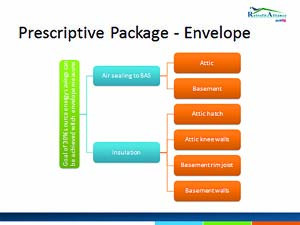 Affordable Housing Renovation Packages: The Retrofit Challenge
Questions: How can we apply systems engineering to existing home? Can we develop standardized guidance for existing homes?
The Building America Partnership for Improved Residential Construction (BA-PIRC) works with various partners throughout Florida to purchase and renovate foreclosures, then sell them in the affordable housing sector. BA-PIRC conducted a field study of 70 homes of various ages in the hot-humid climate of Florida, then used pre-retrofit audits and analysis to develop recommendations for reaching a 30 percent improvement based on real market conditions. They also generated a first-year cash flow analysis for each home, showing the cost of financing the improvements versus the money saved by doing them. BA-PIRC then launched a pilot study to implement and refine those best practices; this study provided the foundation for the Retrofit Challenge initiative (see Sidebar: The Retrofit Challenge).
Key Findings
The analysis generated a list of 13 key recommendations, based on prevalence:
46 out of 70 Renovations achieved 30 percent or better HERS Index score improvement.
No one-size-fits-all package; however, a similar treatment produced similar end results, despite diversity of housing stock.
Improvements fall into four categories:

Low-cost, no-cost measures.
Health, safety and durability measures. Example: combustion safety
Moderately higher performance replacement. Example: 15-SEER heat pumps.
Efficiency enhancements. Example: R-38 attic insulation.

Retrofits and deep retrofits utilized many of the same strategies.
Combining efficiency strategies results in more savings.
Most of the retrofits cost between $2,500 to $5,000.
Packages can substitute as a standardized method, but the approach may miss unique opportunities and won't address every condition that's going to arise in the field.
---
Resource: Building America Webinar: Standardized Retrofit Packages

Presented by Scott Yee, program ASSOCIATE at the Midwest Energy Efficiency Alliance and partner with the PARR Building America Team; Christine Liaukus, senior research architect at New Jersey Institute of Technology Center for Building Knowledge and partner with the BARA Team; and Janet McIlvaine, senior research analyst at the Florida Solar Energy Center
The Energy Retrofit Challenge After the field survey, BA-PIRC and the Florida Solar Energy Center took their best practices and started looking for new partners to adopt and implement them throughout Florida. The cities of Fort Myers and Melbourne added the best practices to their standard rehabilitation guidelines; now BA-PIRC is hoping to repeat that process with more partners in the hot humid region. The Retrofit Challenge initiative invites affordable housing agencies and other stakeholders in the existing homes industry to aim for high savings and high performance.
The Retrofit Challenge website includes reports, case studies and short and expanded versions of the best practices checklist. Learn more at www.ba-pirc.org/retrofit/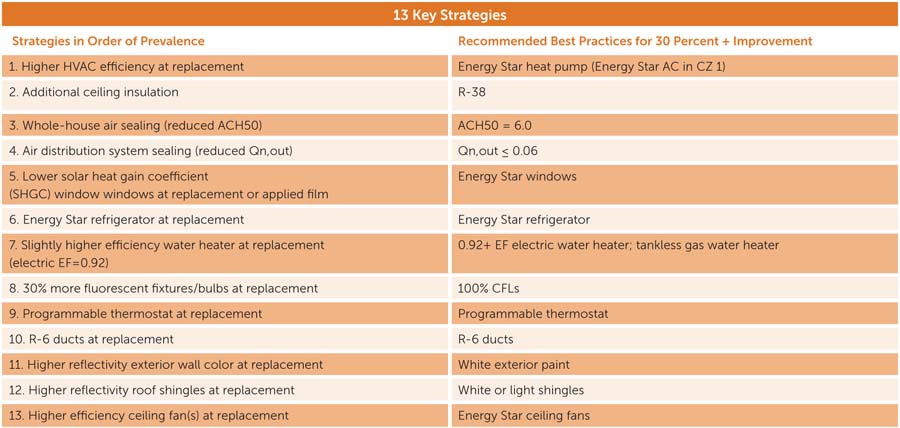 asdf