An experiment with silica and rusty iron led this researcher to what some are saying could be the first really promising low-impact substitute for Portland cement.
DR. DAVID STONE THOUGHT his experiment failed when, as a student, he mixed a bubbling slurry. He threw it away only to discover the next day that it had cured into what has developed into IronKast's "Ferrocrete™", a remarkable, carbon-negative green building product that sparkles in the sun.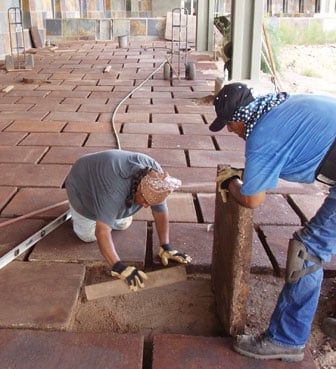 As the EPA puts it, Stone's process takes two wastes -- glass and steel particulates -- and uses a greenhouse gas we have too much of -- carbon dioxide -- to form an iron carbonate material. "The final product traps a portion of the greenhouse gas making it 'carbon negative' ."
Lab Accident
In the fall of 2002, University of Arizona doctoral student in environmental sciences David Stone mixed some 40-year-old silica powder with iron powder and water, hoping it would coat the iron and prevent it from rusting.
The mixture hissed, steamed and spat, and produced rust rather than preventing it. Into the garbage it went. But the trashman did not empty the trash. The next day Stone discovered the material had hardened. It became the focus of his doctoral dissertation, a project with the Tohono O'odham Community College (TOOC) and became his univeristy spinoff technology company, IronKast.
Stone's Rock Wears Like Iron
Rust, he discovered can be a binder. Stone's process exposes the iron to water and carbon dioxide, which combine to make carbonic acid -- seltzer water. With the addition of an aggregate, in his case pulverized glass, Stone created a cement substitute-a potential game-changing discovery.
EPA Grant Runs Out
TOCC got an EPA grant to explore the product. Stone is commercializing his invention. He has formed a company, IronKast, supported by the University of Arizona's Tech Launch Arizona.
Two waste products that use and sequester a green house gas! Imagine what that will do. And it could be a resilient housing product, too.
Lots of Available Glass
The Tohono O'odham Nation's Solid Waste Facility, in the center of the Tohono O'odham Reservation, collects roughly 50 tons of glass each month as part of the 500 tons of overall waste collected that must be trucked 65 miles to a landfill south of Tucson, AZ. The reservation is about the size of the state of Connecticut.
The reservation also has a housing shortage and can benefit from readily available green building materials.
"Traditional cement manufacturing," the EPA says, "is energy-intensive, uses large amounts of fossil fuels, generates pollution, and produces one ton of carbon dioxide for every ton of cement."
The EPA gave TOCC a grant. Through the Tribal ecoAmbassador project and with partners at the University of Arizona and Arizona State University, the tribal college tested different formulas "for compressive strength, stability, weather resistance and other qualities."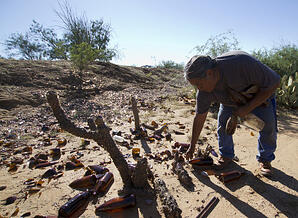 As part of the project, Stone and his students collected glass waste found scattered across the reservation. Originally they crushed the glass by hand, but then bought a "glass-pulverizing machine that can reduce more bottles to cullet (glass aggregate) in one hour than student participants could crush by hand in an entire day. The project also inspired collaborations with other organizations across the Tohono O'odham Nation. The Solid Waste Department placed recycling bins for glass around the community and the Tohono O'odham Environmental Protection Office and the Public Safely Police Department coordinated clean-ups with Stone and his students."
Bottle-colored Sparkle
The TOCC project has produced brownish red blocks in which specks of glass shimmer. One size is 16-inches long by eight-inches wide by four-inches tall. These blocks were used as courtyard paving in Tohono O'odham Cultural Center and Museum.
The material is strong. Arizona State University civil engineering doctoral candidate Sumanta Das put the material to the test and discovered that Stone's iron-based glass-aggregate cement, now known as Ferrock, is twice as strong as concrete made with Portland cement.
To learn more, here is a link to a paper by Dr. David Stone.
This link leads to the IronKast "Ferrocrete™" Web site, which in part says,
"IronKast is in the early stages of commercializing the patent for its "Ferrocrete™" product with a focus on pilot implementations in marine environment applications with the goal being to certify for widespread use the preliminary mixtures and techniques already tested and benchmarked by the University of Arizona.
The potential for Ferrocrete™ is as a widely used green, alternative building material that could be made from over 95% recycled material.
Ferrocrete™, which posesses significantly greater flex characteristics and immunity from many of the chemicals and reactions that break down normal concrete in salt water or waste water environments, is ideally suited for environments where traditional concrete is vulnerable.
Ferrocrete™ is ideal for:
Structures in salt water or marine environments
Seismically active areas where foundations are subject to displacement
Material conveyance systems such as water and waste pipes."
Click on this link for a pdf with lots of pictures that explains the two year TOOC project in detail.
---