Green Builder Home of the Year award winner, Hammer and Hand, to open an exhibit with AIA Portland on building performance techniques.
Builder Hammer & Hand is teaming up with AIA Portland to open "Evolution of Enclosure: the Anatomy of Building Performance," an exhibit that will explore the building science that guides high performance assemblies.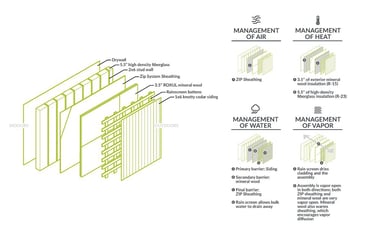 Hammer and Hand, a winner of two 2014 Green Builder Home of the Year awards for Karuna Wall Assembly and Pumpkin Ridge Passive House, specializes in design-driven construction in both Portland and Seattle but has no designers on staff, so collaboration with architecture firms is essential to the builder.
The AIA Portland exhibit will explore the building science that guides high performance assemblies, drawing on built Passive House and Zero Energy Building projects in Portland and Seattle designed by four leading NW architecture firms: Holst Architecture, Scott | Edwards Architecture, SHED Architecture & Design, and The Miller Hull Partnership.
"We've designed the exhibit to work on two levels," said Sam Hagerman, co-owner of Hammer & Hand. "First, to provide the general public with a basic understanding of building science principles and how they can guide zero energy building, and second to speak to industry professionals who may be coming in with a more advanced knowledge base."
Four full-scale wall assembly cross sections, a suite of building science illustrations, and an interactive set of high performance building animations will show how buildings can go from net consumers of energy to net producers: building as climate action.
The exhibit Opening Party will take place at AIA Portland on Thursday, August 6, 6-8pm, and will include the unveiling of the winning entries of the perFORM 2015 Building Design Competition. Evolution of Enclosure will run through September 10.

---