Partnering with National Grid, The Rhode Island Office of Veterans Affairs launched a movement to replace outdated facilities and build a state-of-the-art community for these individuals. This partnership ensured that the facility featured the best in energy efficiency measures and provided a comfortable and safe living environment for well-deserving veterans.
According to the Housing Assistance Council, there are 62,890 veterans currently living in Rhode Island. An alarming 13,036 veterans in the state live in homes with one or more major problems of quality, crowding or cost. To give older veterans a welcoming place to call home, the Rhode Island Office of Veterans Affairs embarked on a project to build a new, state-of-the-art nursing and residential care facility.
With a mission to give the state's veterans a deserving space, the Rhode Island veterans community began a movement in 2008 to replace the existing facility built in 1955. This outdated facility, growing in need of repairs, reflected the institutional environment common of that era. The issue was put on the ballot in 2012, and Rhode Island voters ultimately approved the bond referendum.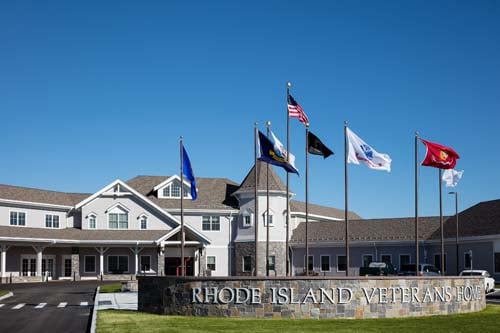 With the project ready to move forward, the Rhode Island Office of Veterans Affairs tapped Brewster Thornton Group Architects (BTGA), SFCS Architects, Gilbane Building Company and Peregrine Group for the design and construction process. According to Nate Ginsburg, AIA, partner at Brewster Thornton Group Architects, the Rhode Island Veterans Home was one of the first in the country to be designed around federal community living guidelines.
The 110-acre campus features six single-story neighborhood buildings, each housing 32 residents, located around a two-story commons building. This 85,597-square-foot common space houses administrative offices, operations and various resident amenities, such as a dining hall, gym, medical suite, library and aquatic therapy room. To enhance the small-town feel, neighborhood buildings feature outdoor courtyards and green spaces with gardens.
To enhance resident comfort, reduce energy costs and create a small carbon footprint, sustainable design was key. The Rhode Island Office of Veterans Affairs partnered with National Grid to ensure the new Rhode Island Veterans Home would feature the best in energy efficiency measures for a quality living environment. In fact, the building was designed to meet Rhode Island's green building initiative in compliance with the International Green Construction Code (IgCC).
"We designed the facility with all the comforts of a community environment, including individual bedrooms and bathrooms for every resident," Ginsburg said. "Our goal was to create a community where residents had the social connection of a neighborhood while maintaining an independent lifestyle."
Heating and cooling systems were designed with a focus on efficiency and are 20 percent more energy efficiency than code requirements. These systems are monitored through the automatic temperature controls and central building management system to track and confirm energy efficiency goals.
"Residents also have the flexibility to control their own air conditioning and heating," Ginsburg said. "This not only saves energy costs for the building but adds to the comfort of each resident."
The building's design includes high efficiency LED light fixtures, lighting controls and daylight harvesting techniques to reduce overall electricity usage. A photovoltaic array, or solar power system, was added to the rooftop to generate renewable energy.
"Our mission was to create a residential facility with a neighborhood feel to serve as inspiration for other veterans' facilities across the country," said Rick Baccus, administrator at the Rhode Island Veterans Home. "Throughout the project, every decision was based around the comfort, safety and overall experience of our residents."
To encourage a higher level of energy efficiency and a reduction in carbon emissions, National Grid provided $280,000 in incentives toward the energy efficiency upgrades.
"Working with National Grid was a great double-check on the efforts of the design team – it helped us to confirm our energy efficiency decisions," Ginsburg said. "The incentives were key in pushing the design at all levels toward energy efficient solutions."
Since its opening, the new facility saves approximately 306,188 kilowatts of electricity, 36,644 therms of natural gas, and carbon emissions of nearly a million pounds each year. All of the energy efficiency strategies together generate cost savings of approximately $773,000 per year.
The Rhode Island Veterans home was nearly a decade in the making. Today, a stone monument at the entrance reads, "To the veterans of Rhode Island from a grateful nation." The facility houses a majority of World War II and Korean War veterans and will continue to serve as a resource for generations to come.
True to Rhode Island's official state motto of "hope," this project has given hope to the state's veterans. According to Baccus, the new Rhode Island Veterans Home has received positive feedback from residents, their families and members of the community.
"I've talked to people who never considered the old Rhode Island Veterans Home, and now they've changed their mind because the facility looks so great," Baccus said. "The response from veterans and their families has been amazing."
---
Jerry Drummond is a lead energy efficiency representative at National Grid and can be reached at jerry.drummond@nationalgrid.com to learn more about energy efficiency incentives and programs available to hospitals and healthcare facilities by National Grid.
---