Electric Floors Zoned with Smart Thermostats May Be An Old Home's Greenest Solution
Electric heating sometimes gets an undeserved bad wrap. Floor-based electric—done right—can be a highly efficient way to warm individual rooms on demand.
UNDERFLOOR HEATING is often overlooked as a viable "green" product for improving energy performance in older homes, especially.


What makes this type of heating green? It operates at a lower temperature than standard hydronic (water-based) radiators or baseboard heating, and heated floors "feel" warmer to occupants.

When you pair electric underfloor heating with smart floor heating thermostats, you can zone your heating systems by room, which is typically the best way to cut overall space heating costs, especially in older homes. Cold floors are hard to solve with forced hot air furnaces.

As the image below shows, it's much easier with floor-based heating to achieve a comfort level that people accept. The image, from pahydronics.com, references a hot water radiant system, but the principle is the same for electric resistance.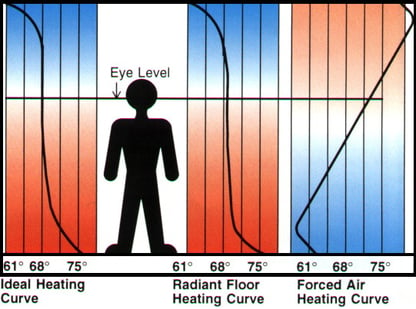 Electric floor warming systems are not complicated to install, easy to maintain (no moving parts, so once it is in the floor installed correctly you are all set), cost-efficient, and can be installed on a room by room basis.
So as you look around your home for ways that you can go green, try looking down and consider implementing electric underfloor heating as part of your strategy. There are many fine products out there to consider.
Editor's Note: I would add one caveat to consider in the "big picture" of electric resistance heating in homes. Most electricity from power plants arrives at your home at about a 32% efficiency, due to distribution and other losses. That's not even close to the efficiency of a 90% AFUE boiler. The argument about floor heating is valid, as is the point about zoning one room at a time. I'd say electric floors do have their merits: used as spot heating in place of badly zoned hot air furnaces, but they can't really stand up to a hydronic radiant floor system run by a high efficiency boiler.—Matt Power, Editor-In-Chief
---
David Mckiever has worked in the floor heating business for years, now providing everything from technical support to blogging about various topics related to the industry. He is a published children's book author, a musician in his own right and a lover of most anything sci-fi.