What's The Situation?
Recent increases by model energy codes for insulation levels reflect an increased confidence in the cost effectiveness of highly insulated homes. Over-insulating a home is possible, however. Beyond a certain point, investing in additional insulation isn't the best use of homeowner dollars—and can detract from other, more critical energy investments.
Building America's Take:
BA experts agree the question isn't how much insulation is needed, but how much thermal control is needed. To answer this question we must consider thermal bridging, thermal mass, and air leakage. There are minimal levels of thermal control needed for comfort and condensation reduction, but standards outlining optimal levels of insulation are currently lacking. The following guidance was provided on how to evaluate optimal levels of insulation, in the context of overall envelope performance:
Installation Matters. Insulation performance is suboptimal, due to thermal bridging and air leakage; installation must be addressed.
Math Omission. Homeowners should consider the price of energy over the life of the mortgage (25 years) and heat loss relative to insulation value. There is a declining rate of return.
Open Book Marketing. Buyers need to be shown real-world energy trade-offs and cash flow. Mass market penetration requires the lowest capital cost option.
Best Practices Vary. Code minimum requirements make sense in some regions. In others, there are huge opportunities where increased insulation could improve building performance (hot humid, hot dry, cold).
Smarter Codes Needed. It's time to to address installation quality of insulation as well as payback information by climate. State officials could use this info to develop local codes.
More is Not Always Better. For 2"x6" wall systems, 1"-2" of exterior foam sheathing are currently the maximum recommendations, depending on climate.
Derived from responses by John Straube (BSC), Ren Anderson (NREL) and Todd Taylor (PNNL) at the 2012 Building America Technical Update Meeting.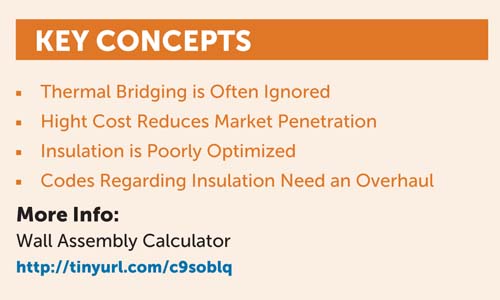 ---
---