Smart green marketing means knowing who your buyers are. Here's a look at men as a vital demographic for new homes.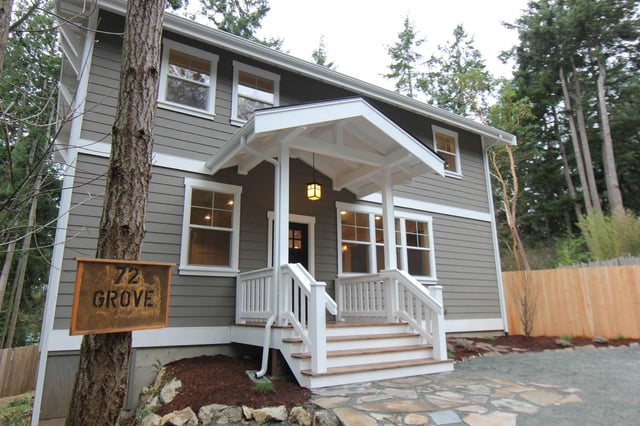 "Whatever home means to you, we'll help you find it."
This powerful tagline to Zillow's new ad campaign illustrates the deeper meaning of the word "home." Home isn't only a structure; it is the people inside the house that make it unique and give it meaning.
In advertising, the woman is most frequently targeted as the primary decision maker for the home. In fact, we often call her the "Chief Purchasing Officer" there. This is because numerous studies have indicated precisely that – estimating females make up to 80 percent of the standard household-related purchasing decisions.
We don't argue that point.
However, Zillow's new ad campaign, entitled "Home," clearly shows that they understand there isn't a "standard household" in America anymore. In fact, they take a refreshing approach to a shifting environment.
Their campaign features real people, not actors, sharing their personal stories of what home means to them. While Zillow's "Home" series does feature various target profiles, it takes special care in breaking stereotypes by telling the stories of men – and why home is important to them.
Gunnar's Home
"It's not your standard family situation … just me and my four daughters," says Gunnar.
This butterfly-wing-wearing dad plays patty-cake with one of his daughters as he shares that there are a lot of pageants, dancing and singing that happens inside his home. Through this 30-second commercial, you hear the love in his voice as he expresses how awesome it is to see his girls doing their own things, even though he's had to accept the fact that his toes and fingernails will always be painted.
Seeing a single mom is something the media uses often, but we rarely see single dads – and hearing Gunnar's story is heartwarming and reflective of the changing times.
Glen's Home
Sometimes home means the realization of a life-long dream.
"I've always had a dream – my whole life. I wanted to live on waterfront property." Glen is a middle-aged man, and many of us – male and female – can relate to his story. He is dressed in a plaid shirt and jeans as he walks out to his deck, holding a cup of freshly brewed coffee. As he takes in the morning view of the water, he describes the welcomed sound of a distant boat motor and the delayed predictability of waves making his deck footers squeak a little bit.
For Glen, home is "where I want to be."
Reggie's Home
Home can be a celebrated accomplishment and a reminder of just how far you've come. For Reggie, his story begins by recounting that when he moved to Boston at the age of two, "there were 14 of us in a two-bedroom apartment in the projects."
Although his newly purchased city condo is sparsely furnished with just a chair, a lamp, a few tables and a bike tucked in the corner (presumably his mode of transportation), you can hear the pride in his voice as he shares this accomplishment.
As he welcomes members of his family through his door with hugs and smiles, he continues, "To be the first kid to buy a house in my family – actually, I just realized that. I am the first kid to buy a house. It's a very proud moment."
Kudos to Zillow for breaking stereotypes and reminding us all that there is no longer a "standard family." With their "Home" campaign, they have found a way to make 30-second spots into some of the most powerful, authentic and heartwarming commercials on air today.
Steve Kleber is a passionate force within Kleber and Associates. His past presentations and white papers include an exploration of Small Spaces, Social Media and Search as it relates to ROI… and consumer trends in relation to specific demographic groups. He is president of the National Remodeling Foundation and the immediate past president of the National Kitchen & Bath Association's Center for Kitchen and Bath Education and Research. If you enjoyed this article, learn more about this subject here.
---
© 2016, Green Builder Media. All rights reserved. This article is the exclusive property of Green Builder Media. If you would like to reprint this content, you are free to extract a short excerpt (no more than 1/4th of the total article), as long as you 1. credit the author, and 2. include a live link back to the original post on our site. Please contact a member of our editorial staff if you need more information.