The daily grind of magazine and online editing would be, could be, might be—so much easier, if only PR firms would do their homework.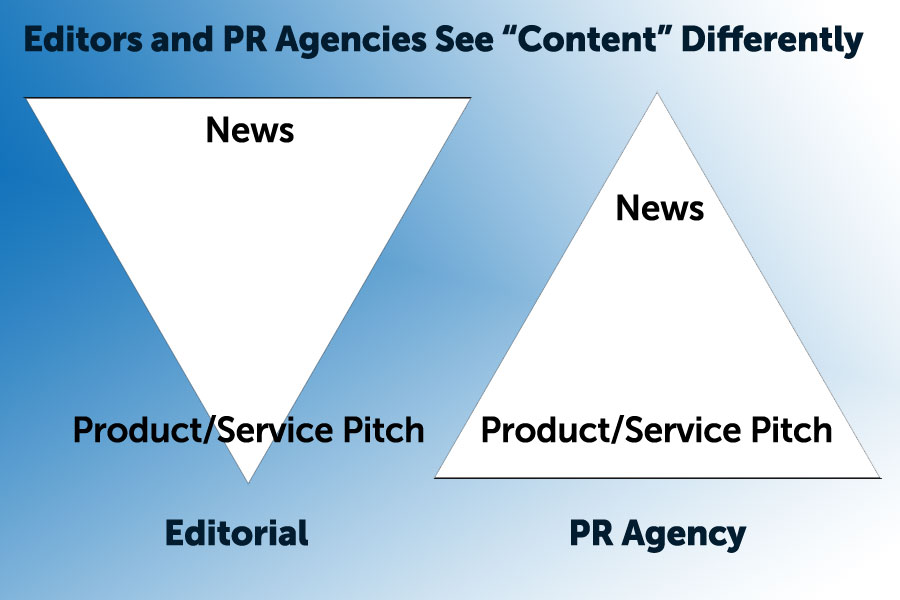 Different Strokes. Too often, blogs and articles submitted by PR firms for publication have to be completely rewritten, because they have the story "upside down" from the perspective of editors. To avoid this, make sure the interesting narrative of the story comes first and takes priority, and the product or service pitch is simply a footnote or source of further information.

BACK IN THE DAY, I used to answer every phone call from New York, Chicago, LA or DC. That's because I knew, with relative certainty, that I might get a useful, relevant tip about a project, product or event.
Nowadays, I rarely answer the phone. I'm not sure what's happened to the PR business, but I'd guess that 90 percent of the calls I receive are dead ends. The caller knows nothing about our audience, the type of stories we cover, and most of the time doesn't even know which publication we represent. Sad, but true.
Let me help us both out. You want influential, (and free) coverage for your company. Editorial coverage is still the most powerful form of influence you can have on potential buyers. Here are seven ideas to consider before you pick up the phone.
1. Identify the Audience. It's so ridiculously easy to check a publication's audience with a Google search that it verges on insulting when a cold caller pitches you a story irrelevant to your readers. Our Green Builder magazine core readers, for example, are builders, architects, landscape designers, code officials and appraisers, not homeowners looking for green cleaning products. Our online blogs, site pages and webinars, however, have a wide and varied audience of both pros and the general public. Who needs to hear your message?
2. Target the Right Person. Read the masthead or staff page of the media organization carefully. The more specifically you can aim your pitch, the better the chance it will make it into print.
3. Use Photos to Break the Ice. Photography is expensive and more valuable thatn mere words to most editors. Send a great photo ahead of your email or phone pitch, and you may turn a cold call into a plan for coverage. A good rule of thumb is to lead with a smaller sized jpeg image that links to a high-res version (don't include the high-res in the email).. By high-res, I mean at least 5 inches wide, 300 dpi.
4. Offer Assets, Not Bylines. Most reputable magazines that command any type of reader loyalty don't publish bylined articles by PR firms. To be blunt, after 20 years as a B2B editor, I've never seen a single bylined article that I would publish without major cutting and pasting. As shown in the graphic above, PR people tend to submit stories that are "upside down," and require a lot of re-casting before they're suitable for print. Otherwise, they damage editorial credibility, which is the currency that makes a media organization valuable.
Every publication has a voice and a style, and readers see right through a third-party advertorial, so give us a great idea, some great photos, and you may get some great coverage, written by trusted voices.
5. Keep Promotions to Yourself. Your corporate and structural musical chairs may seem like a tsunami of change at the company headquarters, but unless you're pitching a management publication, no one else cares. Save those pitches for your in-house newsletter.
6. Respect Editorial Roles. Maybe you know the CEO or owner of a publication, and you think you can go "over the heads" of editors and have this person leverage a story into print for you. To most editors, that's a hostile play. Even if you get coverage once, you could end up burning bridges for future coverage. Be honest, be direct, and respect the professionals who do the grunt work of producing the publication or blog content.

The Source Matters. Audiences tend to react negatively to messages they see as advertorial. Thus, bylined articles can actually damage a publication's editorial clout. It's best to work through editorial channels if you want the message to be trusted.
7. Add Value, Not Work. Almost every editor I know feels overwhelmed by the sheer volume of work and deadlines. A valuable PR contact will keep communications brief, preferably only using the phone when absolutely necessary, supplying hot links in short email messages. Don't call to check up on a story or offer more help, unless you include a new photograph or graphic that might help the story. Don't ask to pre-read articles or bug editors about when the story will be published. If you're Zen about the whole process, pleasantly helpful and hands off except when needed, you'll form a lasting, positive relationships with editors. GB

Matt Power is Editor-In-Chief of Green Builder magazine.
---
© 2016, Green Builder Media. All rights reserved. This article is the exclusive property of Green Builder Media. If you would like to reprint this content, you are free to extract a short excerpt (no more than 1/4th of the total article), as long as you 1. credit the author, and 2. include a live link back to the original post on our site. Please contact a member of our editorial staff if you need more information.