Zena Forest Products Hardwood Flooring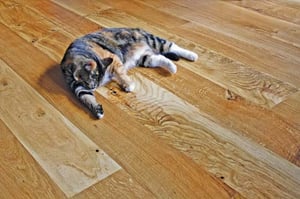 With wood flooring, homeowners are increasingly gravitating toward extra-wide planks and locally sourced product. Zena Forest Products meets those criteria with its engineered hardwood flooring line, designed to withstand seasonal temperature and humidity swings.
The flooring design blends durable construction with local materials from ecologically sound sources and is aesthetically "show-stopping." Fashionable and functional, Zena's engineered hardwood floors also provide a more-sustainable flooring option because they use nearly three times less lumber than solid hardwood flooring, allowing Zena to stretch the precious resource of local trees.
Dimensional stability is another plus. With wider planks, too much seasonal movement can cause gaps in the seams, roughness and squeaky floors. With Zena's site-finished, engineered flooring, the seams between the boards disappear, leaving a monolithic and mostly impermeable surface. Zena's engineered floors have a 3/16-inch hardwood wear layer that is laminated to an 11-layer plywood core on the back. The plywood provides the necessary stability in the floor, and the extra thick wear layer means the floor can still be sanded and finished just as many times as a traditional solid floor. And, down the road, it means peace and quiet.
For more information: www.zenaforest.com/flooring1