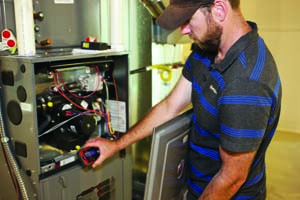 THE RESIDENTIAL ENERGY SERVICE NETWORK, or RESNET, was established in 1995 as a nonprofit organization to help builders construct the most energy-efficient homes possible, with the primary objective of keeping utility bills to a minimum. RESNET trains and certifies professionals, who can then audit homes and rate their energy efficiency by using the HERS Index. The lower the score, the more efficient the home.
It's no easy feat to be certified by RESNET; the training is rigorous, and professionals are held to the highest of quality assurance standards. RESNET raters test and retest a home's energy efficiency, both during construction and at completion.
RESNET is recognized by several federal agencies and organizations, including the EPA, the Department of Energy (DOE) and the U.S. Mortgage Industry; often they work in conjunction to establish industry-wide standards. In fact, RESNET was initially formed by a group of mortgage professionals in 1981, which established the National Shelter Industry Energy Advisory Council as a means to measure the financial savings resulting from a home's energy-efficient components, as well as to grant credit for that savings into a mortgage loan. The Council, in turn, formulated the Energy Rated Homes of America, the forerunner of RESNET.
More than anything, RESNET has helped to revolutionize the green building industry by creating awareness of best practices and methods for achieving desirable HERS scores. Today, many builders, including some well-known national production builders, routinely collaborate with RESNET to ensure their homes meet their energy performance goals and standards.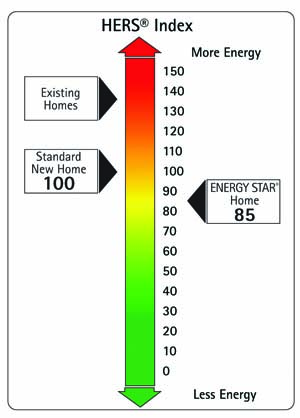 The HERS Index
RESNET developed the HERS Index, short for Home Energy Rating System, to provide an objective way to rate the energy performance of homes. The nationally recognized HERS Index takes into account such variables as air leakage, windows, ductwork and HVAC systems. The lower the score the better: a score of 100 represents the typical new home built to code; a score of zero represents a home that produces as much energy as it consumes.The HERS score for a given home is determined relative to a "reference home" of similar size and shape.
Knowing a home's HERS rating also has great predictive value regarding the amount of money a homeowner can expect to spend each year in utilities. A home's HERS score can only be determined by a certified HERS rater, whose presence on a job site helps builders and contractors assess the building as it is being constructed.
---