I won't jump on the bandwagon that's fueling the career of young Kendall Jones, a teenager who has gained notoriety for killing African Wildlife. But I think the fact that her name is being kicked around on Facebook points to a bigger problem in U.S. culture.
Bad storytelling is shaping us into a nation of cowards.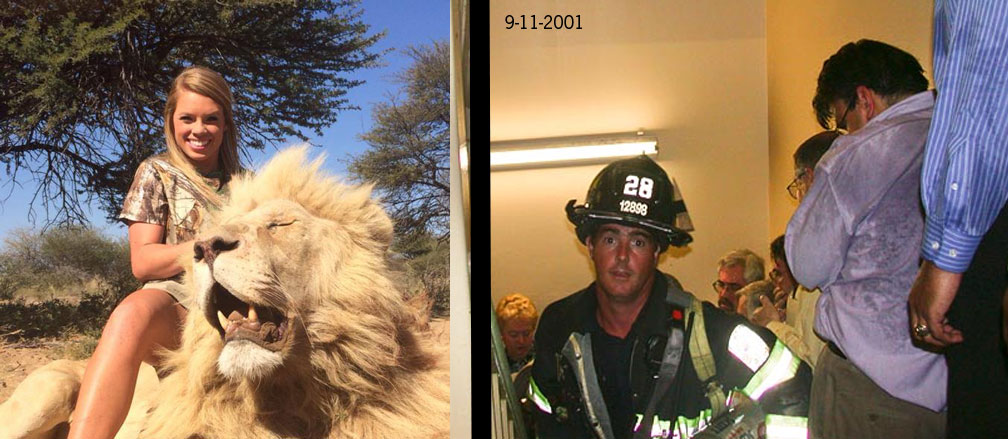 Cultural Shift. Can you spot the real hero?
The Hunger Games is a good example of how that shaping happens. The characters in Suzanne Collins' dystopian universe are tossed into a mosh pit of death, a situation where the author would like us to believe they have no alternative but to kill their fellow "tributes."
But the obvious choice, for any person with a heart and a brain, is neither. A true heroin would refuse to kill, even at the cost of her own life. That's bravery.
Yet that doesn't make good theater, right? Wrong. In the original Star Wars series, why did Obi-Wan Kenobi sacrifice his life to Darth Vader? Because his personal heroism meant something: It pried something loose in the heart of Darth Vader--something that manifested later, and brought redemption and love back into the universe.
Why do we twitter and gawp at stories about selfish creeps and cowards? Haven't we beat the anti-hero concept to death? These narratives are making us into lesser people. Where's the evidence that today's dystopian views have any basis in reality? Are you being shot at in the street? Has your home been broken into ? Did Obama take your guns away? Are you being forced to do ANYTHING that you have no control over whatsoever?
We're being lied to. The future is bright. We don't need to lash out in fear at the scary, scary world. When was the last time a story really moved you? I'm betting it wasn't Kendall Brown standing over a lion she shot from 300 yards away. I'm betting it was some firefighter climbing the stairs of the World Trade Center to save the lives of people he had never met. Or a kid standing in front of some tanks in Tianamen Square. Or a scientist blowing the whistle about a drug that has deadly side effects. Or your dad telling you he's going to be alright even though mom is gone.
Those are real heroes. Let's live as if we all have that kind of courage, and stop rewarding bad behavior toward each other and callous disrespect for other species.