Wind Energy Demand Reaches New Record
The nation's wind capacity can now supply electricity to 5 million homes per year.
Wind power's growing popularity and innovations in energy technology have led to a record number of annual procurements in 2019. Commercial and industrial companies are buying almost 4,500 megawatt (MW) of U.S. wind capacity—enough to generate electricity for 5 million homes annually. Total corporate agreements are approaching 17,000, according to a new report from the American Wind Energy Association (AWEA).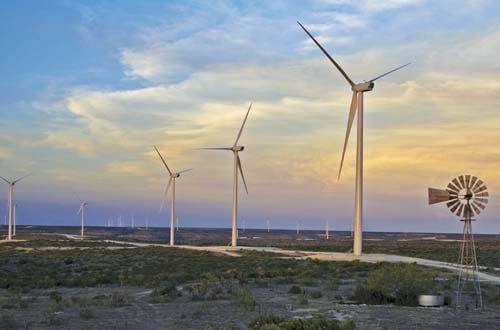 As companies continue to try to meet sustainability goals, wind power has become an attractive, ever-reliable energy source.
Corporate customers from the various U.S. industry sectors now purchase 10 percent of all wind capacity nationwide, according to AWEA's first Wind Powers American Business report. Total contracts have risen from fewer than 800 MW at the end of 2013 to more than 16,800 MW at the end of 2019, as businesses strive to meet sustainability targets and improve their bottom lines.
"These companies are leaders in their industries, making sustainability commitments that are good for business and good for the environment," says AWEA CEO Tom Kiernan. "The U.S. wind industry is proud to not only power millions of American homes, but to also provide affordable, reliable, and zero-carbon electricity to the brands that are driving this country's economy forward, even as the U.S. continues to recover from the global pandemic."
More than 140 companies have purchased U.S. wind energy. Google is the top corporate wind energy customer, with 2,397 MW contracted. Facebook is the second-largest purchaser, with 1,459 MW, followed by Walmart, AT&T, and Microsoft.
---
Alan Naditz is managing editor of Green Builder Magazine. He has covered numerous industries in his extensive career, including residential and commercial construction, small and corporate business, real estate and sustainability.