It's hard to find words to describe this Presidential election, but there is no doubt that it comes down to two platforms of polar—and polarizing—opposites. When it comes to the climate, this election represents much more than the lesser of two evils—it may go a long way toward determining the fate of humans on this planet.
The last time a major political party nominated a Clinton for President, the world was very different. Free trade, domestic crime, deficit reduction, and welfare reform were the critical issues then, and climate was all but ignored (only mentioned twice in the Democratic party's 1996 platform).
Today, climate is one of the hottest, and certainly most contentious, topics in our national political debate, and it illustrates one of the sharpest contrasts between the Democratic and Republican parties.
This election cycle, the Democrats have ratified the strongest climate platform to date, placing renewable energy as a main driver of job creation and economic growth. The platform, a giant leap forward from the deeply flawed "all of the above" strategy from 2012, encourages the transition to a sustainable economy and recognizes the impact that climate change has on communities of color (specifically referencing the Flint water crisis) as well as often overlooked indigenous populations. It also empowers the Department of Justice to investigate fossil fuel companies for their suspected climate denial activities and alleged deliberate deception of the general public about the environmental dangers of burning oil and gas.
In stark contrast, 350.org called the Republican platform "a Christmas wish-list for the fossil fuel industry," calling for the construction of the Keystone XL pipeline; the abandonment of the Paris Climate Agreement; the rejection of the Clean Power Plan; and the increase of as much fracking, mining, and drilling as possible on public and private lands.
Interestingly, Donald Trump wasn't always a climate denier. In fact, in 2009 he signed an entreaty, which ran as a full-page ad in the New York Times, addressed to President Obama and the U.S. Congress, declaring: "If we fail to act now, it is scientifically irrefutable that there will be catastrophic and irreversible consequences for humanity and our planet."
But, he has always been a master of pandering to the crowd, and is he certainly playing to his constituency. Over the past few years, Trump has changed his tune, and now he asserts that climate change is a myth (in a signature Tweet, he even claimed that "The concept of global warming was created by and for the Chinese in order to make U.S. manufacturing non-competitive.")
To add insult to injury, Mike Pence, considered by many to be a shill for the Koch brothers, calls climate change a hoax, and the United States GOP is the only major conservative party in the world to refute the science of climate change.
Denial was abundant in last week's Republican convention—the only mention of the topic included a reference to coal as a clean source of energy and an emphatic suggestion that, should Trump get elected, he would rid the country of the noxious EPA and lift all oppressive regulations that prohibit the growth of fossil-fuels.
Compare that to this week's national political convention, the DNC, in which the Democrats gave climate action, clean energy, and the transformation to a sustainable economy a hip-hop tribute.
To emphasize the urgency, Bernie Sanders made climate a central part of his endorsement of Hillary Clinton, saying, "This election is about climate change, the greatest environmental crisis facing our planet, and the need to leave this world in a way that is healthy and habitable for our kids and future generations. Hillary Clinton is listening to the scientists who tell us that—unless we act boldly and transform our energy system in the very near future—there will be more drought, more floods, more acidification of the oceans, more rising sea levels."
With the encouragement of advisors (including Sanders) and supporters, Clinton has accepted the torch of environmental responsibility, which could be a more important contributor to her success than Republicans would have us believe—a recent Gallop Poll showed that two-thirds of Americans support climate action and want our nation to take a leadership positon on the environment (the respondents that were not supportive were mostly from coal country.)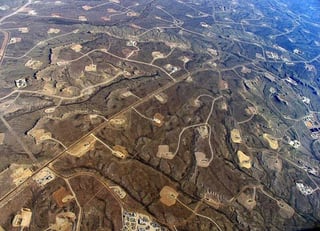 But, it's important to note that while it is certainly progressive, the Democratic platform is imperfect. To begin with, it advocates for fracking as a bridge fuel (both Clinton and Kaine have a long history of supporting fracking as an interim solution.) As Greenpeace has pointed out, "fracking has no place in the platform of a party that wants to 'lead the fight against climate change around the world.' By not advocating a national ban on fracking, the Dems are falling short of the action we need to avoid its catastrophic health, climate, and public safety impacts."
The Democratic platform also doesn't oppose the portions of the TPP that would provide increased corporate influence over environmental decision-making and would enable fossil fuel companies to more easily export natural gas with nominal environmental review, thereby enhancing the economic incentive for fracking.
And, while the platform does protect the Arctic and Atlantic Oceans from offshore drilling, it takes a fairly tepid stance on keeping fossil fuels in the ground (it calls for reforming fossil fuel leasing on public lands and phasing down extraction, but it conveniently sidesteps clarification or details.)
Nonetheless, the Democratic platform is light years ahead of the Republican one when it comes to the environment. So, the choice is clear—we can vote for what promises to be the transition to a clean, healthy, sustainable future, or we can vote for policies, regulations, attitudes, and inactions that would very likely mean game over for life as we know it on this planet.
Will you use your vote to protect our precious planet?
Write to me at sara.gutterman@greenbuildermedia.com or follow me on Twitter or Facebook.
For more information about green building and sustainable living, visit Green Builder Media at www.greenbuildermedia.com, like us on Facebook, and follow us on Twitter for regular updates and breaking news.