Its time for everyday climate heroes in the building industry to lead by example.
WHY IS THERE ONLY ONE BILL MCKIBBEN? If you're holding a conference on saving the world, who comes to mind as a keynote speaker? Bill McKibben. If you wrote a book about living more simply, who will sing its praises on the back cover? Bill McKibben.
You might start to think that Bill McKibben the only person on Earth who has anything wise, or prescient, or quotable to say about saving ourselves from ourselves. That's not true, of course.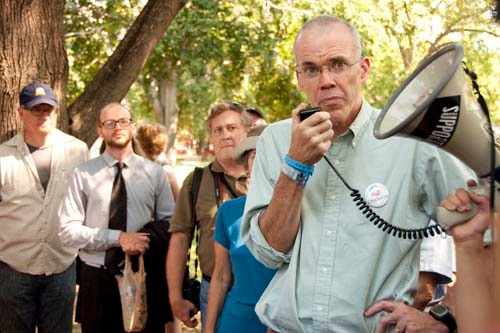 Bill McKibben is a journalist and environmentalist who has led a number of campaigns to protect the environment.
Thousands of less well-known people work on environmental issues every day—from water conservation to renewables. Most of us haven't put as much skin in the game as Bill, of course, with his willingness to often take the unpopular views that we all need to hear. Sure, we recycle and install CFL lightbulbs—the easy stuff. But when it comes to choices that really matter in terms of our overall resource impact, we're stubborn. We still fly and drive too much, eat meat and have too many kids—and resist any effort to restrict those activities.
Let's leave those individual choices for now, and talk about professional decisions. Thanks to building science, we now know which products and materials require the biggest CO2 footprint over their lifespan.
What if every builder or remodeler radically changed just one process or material, and made it a standard for every new project? It's ridiculously easy to be "radical," in the building industry, because you're up against so many status quo competitors. Switch to any one of these approaches, and you instantly become more "McKibben-like."
Install frost-protected shallow foundations. This saves 7 or 8 cubic yards of concrete over a full basement foundation, a major source of CO2 pollution (due to cement).
Avoid synthetic carpets and pads. Not only do these pollute indoor air, they're one of the highest embodied energy materials in any home. What's worse, they need frequent replacement.
Design exteriors for gardens and orchards instead of lawns. You'll be setting the stage for a lifetime of pesticide-free landscaping with no combustion engine pollution every weekend.
Create a multi-family product for compact, high-efficiency studio apartments in urban areas desperate for affordable housing.
Build net zero, and install mini-split or geothermal heating with solar PV power.
That last item might sound a little ahead of its time, but last week, I interviewed Gene Myers with Thrive Home Builders in Denver. I asked Myers about the viability of powering mini-split heat pumps with solar arrays. In effect, this would create a zero-impact HVAC solution.
"Oh, we've been installing those on all of our new homes for the past year," Myers says. "More than 200 homes so far." Thrive homes average a HERS score of 0 for Zero Energy Homes, 29 for single family homes and 53 for rowhomes—up to 100 percent less energy use than a typical home of the same size.
Now there's a green building hero that could give Bill McKibben some much-deserved time off.