As scorching temperatures plague the nation from coast to coast, wildfires rage in even the most unlikely places.
MENTION WILDFIRE, and the scorched hills of California, parched western plains of Washington, and beetle-infested forests of the Rocky Mountains come to mind. The wilds of Alaska aren't generally considered to be a high risk location, but as it turns out, 2015 is shaping up to be the state's worst wildfire season ever.
With over 5 million acres (the size of the state of Connecticut) already charred, experts claim that the changing climate—which has resulted in reduced precipitation, accelerated snow melt, and a 3 degree temperature increase in Alaska (a much greater increase than in the lower 48)—is exacerbating wildfire conditions. Considering that Alaska is home to seventeen percent of U.S. forests, the dramatic increase in wildfire risk is concerning.
While the pace of the burn is slowly moderating, scientists say the fires are just the latest indicator of a climatic transformation that is reshaping and redefining Alaska—its forests, its coasts, its glaciers, and perhaps most of all, the frozen ground beneath—more than any other state in the nation.
Throughout the U.S., the wildfire season prognosis is grim. As drought extends its relentless stranglehold on the West, mega-fires—faster, hotter, and more explosive than ever—continue to annihilate forests that have few natural defenses remaining to fend off fire's threat.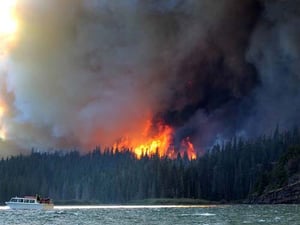 In this photo provided by Erin Conwell, taken Tuesday, July 21, 2015, fire and smoke from the the Reynolds Creek wildfire rises above the landscape at St. Mary Lake in Glacier National Park, Mont. The fire burning in the drought-parched northwestern Montana park doubled in size Wednesday, leading officials to evacuate homes along St. Mary Lake and visitors to flee hotels and campgrounds in the nearby community at Glacier's eastern entrance. (via Erin Conwell/AP and Staunton News Leader).
California is experiencing yet another epic wildfire season—since January 1, about 5,200 fires have burned on state and federal lands, according to the U.S. Forest Service. That's 10 percent more than last year (although the 74,000 acres burned is approximately 6 percent less.) Montana has experienced a 200% increase in area burned by wildfire in recent years, and an 80% increase in air pollution resulting from those fires.
The U.S. Forest Service has confirmed that wildfire seasons are increasing in length and intensity. In fact, a recent study published in Nature Communications indicates that there is "a significant lengthening of fire weather seasons across 25.3 percent of the planet's vegetated lands, leading to the elevation of mean fire season duration by up to 18.7 percent." Furthermore, "the locations, which have become prone to burning due to the long periods of fire weather, also increased by 108.1 percent."
Such persistent wildfires will undoubtedly affect international ecosystems, economies, and societies. Fire suppression costs have increased fourfold since 1985, from approximately $440 million to nearly $1.8 billion in 2014, and firefighting, once relegated to a defined season, has become a year round and full time occupation.
Beyond the economic implications, the forest denudation caused by wildfire is reducing the planet's ability to remove greenhouse gasses from the atmosphere. In fact, studies show that we have reached a tipping point where our Western forests are releasing so many greenhouse gasses through forest fires and tree deaths that they have become a net carbon emitter, rather than carbon sink. In this way, wildfires are creating "positive feedback" in the climate system – both worsened by warming, and also making warming worse.
In some areas, the fire risk is so pervasive that the only solution remaining is to have faith that the ecosystem itself will come up with a quickly available bio-solution. However, since hope is not viable strategy to preserve our precious forests, governments throughout North America are developing wildfire mitigation plans. For example, under the assumption that dead pine stands represent a menacing fire hazard, the British Columbian government is harvesting wide swaths of affected forests that interface with urban development.
Even as wildfire risk proliferates, the trend towards building homes in wildfire-prone areas is growing. The Inland West, which includes cities along the Rocky Mountain range, experienced the most rapid population growth (21%) in the country over the past decade. Since many new residents are settling next to wilderness areas and national forests—called the Wildland Urban Interface, or WUI, which is expected to grow 30% in population by 2030—cities like Boise, Denver, and Salt Lake City are being forced to develop cost-effective solutions that minimize risk and protect homes from wildfire
The financial and environmental impacts of wildfire are potentially massive, posing a serious threat to property, infrastructure, watersheds, human health and safety, wildlife, habitats, and local economies. The federal government (particularly the Forest Service)—and ultimately the American tax payer—bears large costs to manage fires, and those costs have been steadily rising as wildfires have spiraled out of control. Our ability to mitigate these costs depends on coordinated actions by federal, state, and local agencies, policy makers, and insurance companies
It also depends on building professionals and homeowners, and the choices that we make to protect our homes and communities. At Green Builder Media's latest demonstration project, the VISION House at Mariposa Meadows, we're acutely aware of wildfire since the property is an inholding—surrounded by millions of acres of national forest and wilderness area—and we're particularly keen to protect the structures.
We're therefore working with the National Fire Protection Association (NFPA) to identify and deploy site-specific wildfire risk mitigation practices. We're also making fire-wise decisions about the products that we're using for the buildings. To begin with, we're using a standing seam metal roof from Fabral and fiber cement siding from James Hardie. According to James Hardie, "Fire feasts on wood, and it melts vinyl almost instantly. But James Hardie siding will not ignite when exposed to a direct flame, nor will it contribute fuel to a fire."
And of course, we simply wouldn't build a home anywhere today without a fire sprinkler system from Uponor, which seamlessly combines with our cold-water plumbing system to ensure ample water supply in case of fire.
Given the urgency of the situation, it's all hands on deck to increase public awareness, enhance fire related codes and policies, develop effective risk mitigation strategies, and create comprehensive Community Wildfire Protection Plans. Land owners, communities, and businesses that are already located in wildfire-prone areas will need to invest in fireproofing measures. Municipalities will need to plan on assuming firefighting costs and making better—and sometimes difficult—planning and zoning decisions in high risk areas.
If we fail to take appropriate action and create effective plans to mitigate further destruction, it's possible that we might not have the luxury in the future to see the forest for the trees.
Have recommendations for ways that we can continue to reduce our fire risk at Mariposa Meadows? Write to me at sara.gutterman@greenbuildermedia.com or follow me on Twitter or Facebook.
For more information about green building and sustainable living, visit Green Builder Media at www.greenbuildermedia.com, like us on Facebook, and follow us on Twitter for regular updates and breaking news.