Whirlpool Corporation
Achieving net-zero water through rainwater collection, efficient appliances and graywater reuse.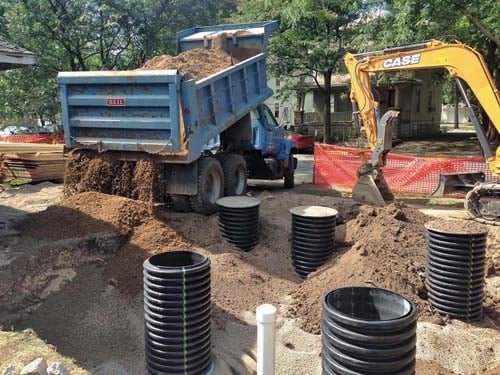 An underground rainwater collection system at the ReNEWW House in Indiana has a carrying capacity of 3,000 gallons.
Company Profile
Founded: 1911 by Lou Upton and his uncle, Emory, as the Upton Machine Company
Headquarters: Benton Harbor, Mich.
Leadership: Jeff M. Fettig, CEO
Products and Services: Whirlpool Corporation (NYSE: WHR) markets Whirlpool, KitchenAid, Maytag, Consul, Brastemp, Amana, Bauknecht, Jenn-Air, Indesit and other major brand names in nearly every country throughout the world.
Employees: 97,000 worldwide
Website: www.whirlpoolcorp.com and www.insideadvantage.com
WHIRLPOOL CORPORATION is forging new paths on its ReNEWW House—a retrofit of a 1920s bungalow in West Lafayette, Ind., that aims for net-zero energy, water and waste. The project is a "living lab" for green innovations that consists of three phases.
Earlier this year, we covered the first phase that focused on net-zero energy (http://bit.ly/295oulS). Phase two focuses on water and was completed just a few months ago. During phase two, Whirlpool partnered with Kohler to achieve net-zero water using a three-pronged approach: rainwater collection, energy-efficient appliances and reusing graywater.
Rainwater Collection
An underground rainwater collection system was installed with a carrying capacity of 3,000 gallons. The rainwater comes from gutter systems connected to the roofs. From there, the water goes through a filtration system and is purified with UV light.
The system includes an automatic bypass that switches to city water if anything goes wrong or if it's unable to collect enough rainwater to meet homeowner needs. In ReNEWW House, 90 percent of all water used is rainwater collected outside.
Energy-Efficient Appliances
Whirlpool installed state-of-the-art energy-efficient appliances that use less water, including the dishwasher and clothes washer, as well as toilets and showers. These appliances are able to save up to 50 percent more water than traditional machines.
All of the appliances installed in ReNEWW House are available to the average consumer. And they work just as well as less efficient models of the same appliance.
Reusing Graywater
All water from the house's two showers goes into a graywater system to be purified using microbial and ozone treatments, and it's later reused in the toilet. But they aren't done thinking about more ways to save water with graywater.
"We're exploring ways to use graywater to do clothes washing," says Ronald Voglewede, global sustainability director "Then, you could use it for toilet flushing and clothes washing. To me, that represents a huge advantage."
Whirlpool's next phase focuses on net-zero waste, minimizing waste production and reusing waste that is produced on site.
Did You Know?
The average person uses 80 to 100 gallons of water per day. Here's how:
5 gallons per minute in the shower
6-16 gallons per dishwasher cycle
25-60 gallons per clothes washer cycle
3 gallons per toilet flush
Not to mention the water we use to drink, brush our teeth and wash our hands.
Credit: The USGS Water Science School