Water's life-giving force is nowhere more obvious than at our very own Mariposa Meadows.
THE SWOLLEN RIVERS are a telltale sign that spring has come to the Colorado Rockies. As the cold chill of winter reluctantly loosens its grip on the high country, milder weather moves in, resurrecting the landscape's vitality that had been dormant during the darker months.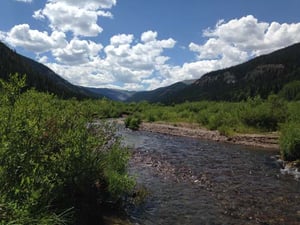 Signs of change are everywhere. Clumps of shaggy winter coats lay strewn across the hillside. Fresh claw marks on trees as furry hunters prepare their paws for a much anticipated springtime feast. Mothers of all kinds patiently and gently guiding their young in the essential ways of survival. Colorful flowers bursting open to greet the brilliant summer sunshine. And most striking of all—the rushing abundance of life-giving water, everywhere.
At this time of year, water oozes from the very mountain itself, streaming out of rocks and crevasses as packed snow transforms to liquid, bringing sustenance to everything it touches. Moss swathes babbling brooks and seasonal springs. Bowls and basins that remain hopelessly dry in other seasons leap to life, joyfully overflowing with the gush of water.
Spring is an enchanting time in the mountains, with no place more so than our very own Mariposa Meadows as it masterfully manifests the age-old story of water and sunshine—essential elements that make magical ecosystems.
We are blessed with abundant, pure water at Mariposa. Other than the moose and beaver, we're the senior upstream users of the pristine water that flows directly from the towering peaks of the San Juan Mountains. By the time this very water travels through the Colorado River Basin and reaches the Pacific Ocean (which, sadly, it no longer does on a consistent basis), it has been touched by millions of people and recycled at least 12 times—a daunting fact that makes us acutely aware and appreciative of the precious resource.
Because we are the first users, we are particularly cognizant of how we treat the water that runs through the natural and built environments at Mariposa Meadows. By conserving, recycling and protecting each treasured drop, we can play our small but vital role in the world's unfolding water drama: owing to years of crippling drought, California has too little; after a punishing barrage of torrential rain, Texas now has too much; and 1/3rd of Americans and countless people around the world only have access to water that is too dirty.
But at Mariposa, we're lucky. We have both clean and ample water, which makes it that much more important that we recognize that water doesn't come from the tap, and it's certainly not free. It seeps from the wild places of the world and makes its intricate way through a byzantine network of natural and manmade systems, stopping only very briefly to quench the whims of our various personal, municipal, agricultural, commercial, and industrial uses.
When I try to imagine a drop of water wending its way from alpine peak to briny ocean, I can't help but wonder, how is it that we continue to squander and contaminate water, profligately treating it like a disposable commodity rather than what it really is—the fundamental nucleus of life?
How do you think we can learn to use water wisely and respectfully? Write to me at sara.gutterman@greenbuildermedia.com or follow me on Twitter or Facebook.
For more information about green building and sustainable living, visit Green Builder Media at www.greenbuildermedia.com, like us on Facebook, and follow us on Twitter for regular updates and breaking news.