At Green Builder Media's recent Sustainability Symposium 2019, former Santa Fe Area Home Builders Association Executive Director Kim Shanahan shared his insights about the future of the building industry, limits to growth, and the most critical topic of our time: water.
They say that once a builder, always a builder. But this outspoken, pioneering, hero of sustainability has broken the mold. As the former Executive Officer of the Santa Fe Area Home Builders Association (SFAHBA), Kim Shanahan had the unique opportunity not just to show by example how to build high performance, water-saving, durable homes, but he has also been able to influence the industry from the inside.
Shanahan's no-nonsense, collaborative style, along with his uncanny talent for always being informed and prepared, make him an excellent liaison between builders, policy makers, homebuyers, and other stakeholders. Shanahan has played a pivotal role in shaping a national dialogue about water stewardship.
That's why we asked him to present at Green Builder Media's third annual Sustainability Symposium, where he shared insights into the future of the building industry, limits to growth, and the most critical topic of our time: water.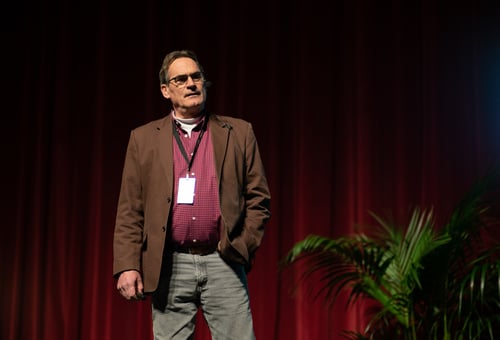 Shanahan asserts that the SFHBA is considered the most radical of any HBA in the country, and he proudly points to the organization's track record of sustainability and water conservation. But, he admits, the progress he and others have made in Santa Fe hasn't been without challenges and headaches.

"When I moved out to the Western United States in 1986, we were in an era of no growth—that's what us 30-somethings believed was essential," reminisces Shanahan. "At the time, we believed as gospel the Edward Abbey quote, 'Growth for the sake of growth is the ideology of a cancer cell.'"

Shanahan and his colleagues came to understand that no growth wasn't realistic. "We recognized that growth isn't something that we could stop. In fact, trying to slow growth makes it more expensive." So, they began thinking about what smart, sustainable development would look like in the American West.

But, as they explored the various angles of sustainability, they bumped up against a very real limitation: water.

In fact, due to a quickly diminishing water supply, Santa Fe was about to place a moratorium on all new construction. "We simply didn't have enough water, even though we were only growing at about 1% per year," he recalls.

As necessity is the mother of invention, Shanahan and his colleagues got to work. "We were at a point when our governing body almost told us—and legitimately so—that there would be no more building permits because our water supply simply couldn't accommodate continued population growth. We had to find a way to extend our 'sustainability failure point', or the time when the vectors for growth and available water resources collide," he explains.

First, Shanahan and his colleagues created a water bank. "The city of Santa Fe spent $1 million and purchased 10,000 low-flow toilets, which we gave away. Our water consumption dropped substantially overnight."

Along with the water bank, the city developed a toilet retrofit program, in which plumbers could change out toilets in homes for free in exchange for credits, which they deposited into a bank. These credits were then purchased by builders or developers when they wanted to pull a permit.

"The water bank that we created has kept the homebuilding industry in Santa Fe viable," avows Shanahan. "It needs to be replicated around the U.S., because the reality is that no water means no growth."

Shanahan and his peers also started building net-zero water homes. "We now capture roof water, put it in holding tanks, treat and filter it, bring it back into our homes as drinking water," he says. "This has pushed out our sustainability failure point so that we can accommodate continued growth."

To further reduce water use, Santa Fe placed a high price on water. With some of the highest water rates in the country, Santa Fe now boasts the lowest daily per capita water usage in the country at 87 gallons per capita per day (as a point of reference, Las Vegas, another low per capita water use municipality, is at around 200 gallons per day.)

Shanahan is concerned about our water future, given that the national demand for water is growing rapidly—especially in water parched areas. By 2030, experts predict over 100% growth in states like Nevada and Arizona, 60% in Texas, and upwards of 30% in California and Colorado. Which doesn't bode well for our already thinly-stretched stressed water resource.

Shanahan reminds us that the biggest user of water is not irrigation or agriculture, as many people believe, but rather, energy production. "The energy-water nexus is very real. It takes a great deal of water to generate electricity, and it also takes a great deal of energy—and therefore water—to pump water out of aquifers to our cities and homes."

"We have to start taking net-zero water seriously, because, for as precious as water is, it's too cheap. There is no real market driver that will induce the average consumer to invest in making their homes net zero water," he asserts.

To solve our growing water crisis, Shanahan proposes a blend of radical thinking and government action. He advocates for water off-set programs, in which homes and buildings are required to show zero-net demand on aggregate water supply in order to receive a permit.

He also supports enhanced water conservation codes and regulations. "For the sake of the building industry, we need to embrace water conservation codes rather than fighting against them, because we can't build anything unless we have water."

Shanahan admits that achieving net-zero water can be challenging and expensive. But he asks a poignant question, "How much is the next building permit worth to a builder or developer? When we think about it that way, it's not about saving money for consumers or fighting against regulation, but rather what are we, as an industry, willing to do to stay in business?"

Want to hear more from Kim Shanahan about the growing water crisis, as well as innovative solutions? Check out his presentation on the Sustainability Symposium 2019: The Desert Shall Bloom microsite.

Want to read more? Follow me on Twitter and Facebook. For more information about green building and sustainable living, visit Green Builder Media at www.greenbuildermedia.com, like us on Facebook, and follow us on Twitter for regular updates and breaking news.