Water Conservation: Putting It All Together
The water crisis will prompt us not only to rethink our approach to landscaping, but how we treat, use and recycle water inside our homes.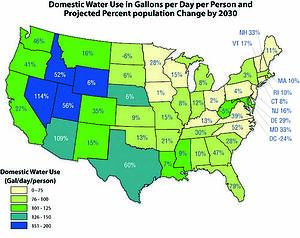 States that already experience high per capita water use will feel the crunch as their populations grow.
WATER SECURITY IS a growing concern, not just in arid developing nations, but here in the United States. Public awareness is starting to catch up with this reality. According to the EPA, many of the states that have projected population growth increases also have higher per capita water use. This translates into heightened competition for an already limited resource. But the consequences of climate change, including unpredictable and prolonged droughts, are already spurring watering restrictions and higher utility rates.
Conservation is critical, and the residential built environment has a huge role to play. Outdoor water use accounts for 30 percent of the typical home's water budget—more in drier areas. Rethinking the function of landscaping is essential—seeing it as an integrated extension of the home, rather than "icing" to be applied once the project is complete. This means choosing landscape plants that are appropriate for the region and for the site-specific conditions. It also means capturing and managing rainwater and reusing graywater onsite, which will not only recharge groundwater and keep pollutants out of waterways, but save the energetic and monetary cost of transporting and treating water at a centralized facility.
But reducing usage indoors is equally important. As with energy, the best strategy is to first reduce demand, then incorporate onsite storage and recycling solutions. Choosing fixtures and appliances certified by the EPA's WaterSense program is a good place to start. WaterSense-certified fixtures save both water and energy, since less heat is required for a smaller volume of water. The EPA estimates that replacing just one showerhead with a WaterSense labeled model annually saves the average family the amount of water that it takes to wash 70 loads of laundry, and conserves enough energy to power a home for 13 days.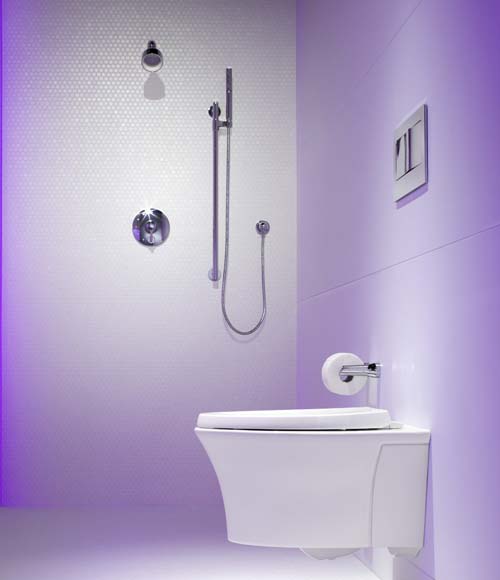 The Veil wall-hung, dual-flush toilet from KOHLER offers a choice of 0.8 or 1.6 gallons per flush (gpf) and includes a toilet seat with bidet functionality.
Green Builder® Media is exploring a broad spectrum of water conservation strategies, along with rainwater harvesting, filtration and reuse practices at the VISION House® at Mariposa Meadows, located high in Colorado's Rocky Mountains.
"At Mariposa Meadows, we're incredibly lucky when it comes to water," says Sara Gutterman, Green Builder® Media's CEO. "We're the first user of the snow that melts from the Continental Divide. But our plentiful water makes it all the more important that we are aware of its sanctity and that we act as stewards—not just for Mariposa Meadows, but for all of those downstream from us."
Conservation will start with water-saving appliances from Whirlpool. Architect II dishwashers with AquaSense technology decrease overall water use by reusing the water from the last cleaning cycle of a wash for the first cycle of the next load. The Duet front-loading washer saves water by automatically adjusting water levels for the size of the load. WaterSense Partner KOHLER will provide low-flow faucets, showerheads and toilets, including the Purist multi-function handshower and Sensate touchless kitchen faucet.
Demonstrating the Future
The Mariposa Meadows project will also explore rainwater harvesting and other recycling strategies. Because of the remote rural location, these measures will face few code restrictions. But what about projects in urban and suburban areas?
National homebuilder KB Home has been challenging the status quo with its Double ZeroHouse projects. These demonstration homes, located in drought-prone central California, are designed not only to achieve net-zero energy, but to demonstrate water conservation, both inside and outside the home. Double ZeroHouse 2.0 was built in Lancaster, California. More recently, Double ZeroHouse 3.0 was completed in KB Home's Fiora at Blackstone community in El Dorado Hills.
Both homes feature Nexus eWater graywater treatment systems. These combine the eWater Collector, the NEXtreater, which treats graywater to near-potable standards, and the NEXservoir, which stores treated graywater. The Double ZeroHouse in Lancaster uses treated graywater to irrigate landscaping, saving up to 40,000 gallons a year. The El Dorado Hills project uses the graywater to flush toilets and also features the NEXheater, which uses a heat pump to extract heat from graywater and uses it to heat incoming potable water.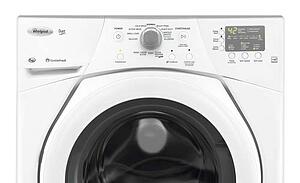 Whirlpool's Duet front-loading washer is both Energy Star and CEE Tier III certified, making it one of the most water- and energy-efficient models available.
Other strategies contribute to water savings. Double ZeroHouse 3.0 uses the KitchenAid Architect Series II water-recycling dishwasher, and all fixtures, including a touchless kitchen faucet, are WaterSense certified.
A holistic approach to reducing energy loads includes increased insulation, high-performance windows, efficient HVAC equipment and "smart" Whirlpool appliances. A solar PV array from SunPower supplies renewable energy and sends the excess to the grid. Ford's MyEnergiLifestyle energy management system integrates appliances, car charging and solar PV system, and modulates energy usage to take advantage of lower rates. Together, the energy and water-saving strategies at Double ZeroHouse 3.0 should save $4,500 a year.
Just as pioneering net-zero energy projects made possible the wave of net-zero homes coming on-line today, so should projects that demonstrate comprehensive water conservation strategies show the way to a water-secure future.
---