Andrew Winston, sustainability expert and author of Green to Gold and The Big Pivot, holds nothing back when asking tough questions about our future. A tepid approach, he believes, would be irresponsible—even negligent—since he avows that we're out of time for timid responses and flaccid action. His approach is bold and his vision is big. With wakeup calls all around us, he wonders if we have the wherewithal to listen.
Green Builder Media is in the throes of planning for our fourth annual Sustainability Symposium 2020: Improving the Human Condition, scheduled for January 20, 2020 on the UNLV campus in Las Vegas. Known for being one of the most compelling and thought-provoking events of the year, the Sustainability Symposium is designed to elevate the national dialogue about intelligent solutions for a sustainable future.
Once again, our speaker lineup is incredible, packed with visionary leaders and sustainability mavens, including Andrew Winston, globally celebrated business expert and author of Green to Gold, The Big Pivot, and Green Recovery.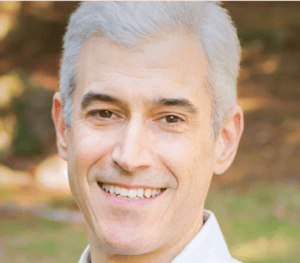 Winston specializes in providing practical roadmaps that help leaders build resilient, thriving companies and communities in a volatile world. While he recognizes that the world's challenges are great, his healthy level of practical optimism leads him to firmly believe that we have the tools, resources, and creativity to build a prosperous world.
Nonetheless, he questions if our society will have the astuteness to pay attention to the wakeup calls occurring all around us.
"The impact of record setting heat, droughts, and floods, which cost us billions of dollars on an annual basis, along with the relentless increase in demand for resources as a billion people enter the middle class, is causing a fundamental shift in how the world works," asserts Winston.
He worries about the current trajectory of our economy. "While prices for consumer goods, food, and other items across the economy dropped steadily during the 20th century, we're seeing prices for those same products increase dramatically in this century, effectively wiping out 100 years of productivity gains in just 10."
"We are now living in a hotter, more volatile, and more expensive world," he declares.
But he believes in the power of human ingenuity as well as technological innovation. He is confident that business can tackle the challenges ahead, but only if we transform the trillion-dollar energy, transportation, construction, and consumer products sectors—an effort that he calls The Big Pivot.
"Today, businesses maximize short-term earnings, and then address social and environmental challenges when they can achieve easy wins or receive enough pressure from outsiders," Winston says. "But we need to flip our priorities, operating in a way that tackles our biggest challenges first, and then work backwards to leverage capitalism."
To accomplish radical change, Winston contends that we need to fight the plague of short-termism in business. "Corporate leaders are trying to please Wall Street, which is now more of a casino than a market. When over half of the shares available are bought and sold in less than a millisecond, how can that reflect fundamental value?"
Winston also challenges our society to set bold science-based goals. "In business today, we set our targets bottom up, asking people how much they can do. But that's not going to work moving forward. We know how fast we need to go—we need to reduce the amount of carbon per dollar of GDP by more than 6% per year indefinitely. So let's do it."
Finally, he encourages everyone to pose what he calls heretical questions. He asks, "Can we collaborate with our direct competitors and critics to solve important challenges? Can we operate with no fossil fuels or water? Can we develop regenerative businesses and products that improve the world?"
No doubt, the solutions to our global mega-challenges are tied not just to financial health, but also to our psychological and environmental wellbeing.
That's why, at our Sustainability Symposium 2020: Improving the Human Condition, we will focus on the nexus between sustainability, social equality, and financial abundance. We invite you to join us for a day of inspiration, education, and networking, as Andrew Winston and other internationally esteemed experts impart their wisdom.
And, don't miss the celebration of our annual Home of the Year and Sustainability Awards winners at a special gala dinner on January 19, 2020 on the Zappos Campus.
Click here to register for the Sustainability Symposium 2020: Improving the Human Condition and Sustainability Awards gala. Space is strictly limited and by reservation only, so reserve your seat today! Register for the Symposium before November 22, 2019 using the code EarlyBird and you'll receive a $50 discount.
A sincere thank you to our generous sponsors, Ingersoll Rand, Mitsubishi Electric Trane, and Zappos, for helping to make the Symposium and gala dinner possible.
To learn more about the Sustainability Symposium 2020: Improving the Human Condition, visit the event microsite.
Have questions about our annual awards program or Sustainability Symposium? Write to me at sara.gutterman@greenbuildermedia.com.
Want to read more? Follow me on Twitter and Facebook. For more information about green building and sustainable living, visit Green Builder Media at www.greenbuildermedia.com, like us on Facebook, and follow us on Twitter for regular updates and breaking news.