VISION House Seattle Cascades: First Cost vs. Full Cost
The building industry practice of driving cost out of new home construction to the detriment of long-term durability and energy efficiency is the worst way to build a house. VISION House® Seattle Cascades demonstrates a better way.
C.R. Herro is building a sustainable house. It isn't just his dream house; it is the culmination of all he has ever learned about home building in the 10 years he has served the residential home building industry. Currently the vice president of innovation for Meritage Homes, he knows firsthand the tradeoffs that happen between cost and value, how to educate buyers on the importance of incorporating sustainability as a system, and how total value represents a better business model.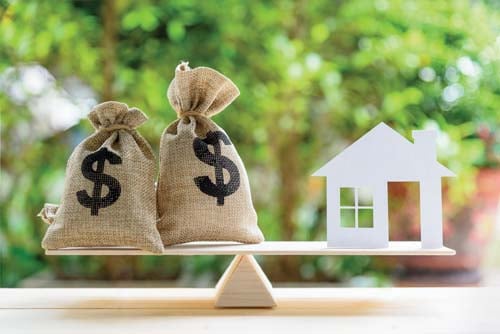 Builders need to understand the net impact of operational costs before they can focus on the "first cost" of building a home—material and labor.
Herro is eager to go through the home building process himself and come out the other side with a completed house that meets his needs while also providing a scalable, customizable "template" for homes to be conceived and built today.
A tall order, to be sure, but Herro is on a mission. He believes home building in its current state is overdue for disruption. "For the last 100 years, most people have focused on the first cost of building a home—the material and labor costs to produce a home," he explains. "And this is because there isn't an understanding of the net impact of operational costs or durability of the home."
Herro has spent the past decade challenging builders' assumptions that all they can do is control first costs. "That assumption is wrong," he says. "The full cost of a home is the mortgage, utilities and maintenance, and it is a part of the value equation for builders and buyers." Those last two terms—utilities and maintenance—are significant in the life of a 30-year loan. "The operation and durability of a home can be hundreds of thousands of dollars in benefit or cost, depending on the thoughtfulness of the upfront design and construction," Herro says. "Most consumers today do not understand the opportunity of spending an extra dollar to save two."
The general public is beginning to understand that products such as LED lights, efficient water heating and HVAC, low-e windows and better insulation are worth the upfront cost. "A house as a system works under the same principle," Herro explains. "A small investment in better materials and thoughtful design can drastically reduce operating and maintenance of homes, representing hundreds of thousands of dollars in value for those who own that home."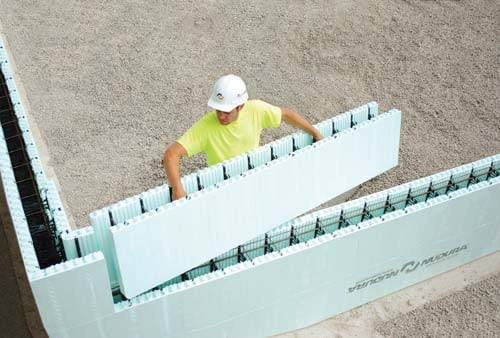 NUDURA's advanced insulating concrete form (ICF) design combines two panels of Expanded Polystyrene (EPS) foam with the structural strength and thermal mass of concrete, for a house hurricane wind resistance up to 250 miles per hour and an energy-efficiency rating as high as R-50.
Goals of the Build
The VISION House Seattle Cascades presented by Green Builder Media is just out of the chute, with groundbreaking planned for fall 2019. This article was being reported as the home-performance hypotheses were being made and therefore it encapsulates the intentions of the build. Once the house is completed, Herro and his team will gather data for two years to validate building performance, which will be shared here in Green Builder.
Because the building envelope has the most impact on the home's performance, the VISION House team allocated money to the envelope to eliminate mechanical heating and cooling demand, including using insulating concrete form (ICF) walls, structural insulated panel (SIP) roof structure, light-gauge steel interior framing and ultra-high-performance windows. Plus, the use of smart ventilation appliances that take advantage of temperature cycles ensures steady humidity and temperature control.
"The highly insulated envelope means the house needs very little heating and cooling during the season to make it operate properly," says Stace McGee, the project's architect and founder of Environmental Dynamics, Inc. "We also added mass materials in the home so it can hold internal temperatures as outside temperatures swing up or down—radiating heat or absorbing heat to maintain comfortable temperatures."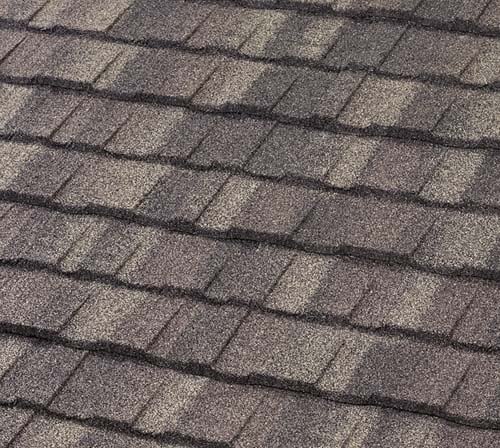 Owner C.R. Herro selected Boral Steel-Stone Coated Roofing, a product that comes in five profiles, including the enhanced high-definition, two-color blend Cottage shingle.
Even smaller details add to the performance of the building. The team will use a steel coating designed for thermal protection of steam pipes for the steel beams. "This coating goes on like paint but is layered in six coats and builds up 10 mils of thickness, making it R-5," explains VISION House builder Ted Clifton of Clifton View Homes. "So by coating the steel penetrating enclosure from the inside and outside, with R-5 on each side, the steel beams go through an R-10 opening, which is better insulated than windows. These are the kinds of things that provide durability, protection against fire, and energy efficiency. So it may be $120 a gallon compared to $40 a gallon, but it is key to the total cost story of this house."
And let's not forget the dollar savings this represents. As designed, the house is projected to operate using a quarter of average energy demand of an equivalent home built to contemporary standards while having no negative impact on comfort, convenience, or quality of life. "Reducing 75 percent of monthly operational cost of house is equivalent of adding $150,000 value to the house," says Herro. "In terms of environmental implications, the carbon footprint of the operating house would be 25 percent of the carbon footprint of conventional construction, and when you add renewables, we can get to carbon neutrality on this house."
Building for the Unknown
According to McGee, the building industry and home buyers need to think even bigger than first cost versus total cost. "When looking at long-term costs there are variables, and the biggest are climate change and severe weather," he says. "The operations and maintenance point of view is peanuts in terms of challenges we will face 10 years from now."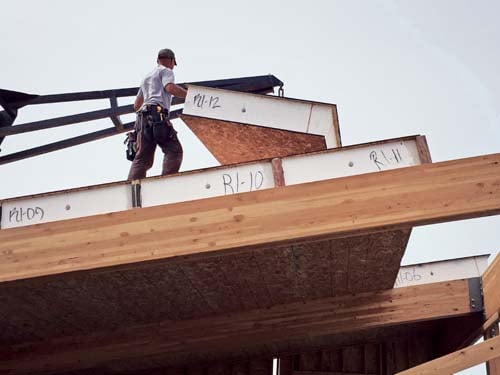 The VISION House® uses Premier SIPs, which install 65 percent faster than traditional roofs, offer increased strength capacity of roof sections, and are super energy efficient.
McGee notes that while he and Herro were designing the VISION House, California was having its first ballot over forest fires. The team decided that although the house is not located on the wildlife urban interface, it would be smart to make the home as fire proof as reasonable.
To address fire resistance, the team went through the design and decided that there would be no wood in the project (except for finished interior wood/cabinetry). The roof is a fire-resistant assembly, with Boral's stone-coated steel roofing. "We addressed the roof and how air moves through it," McGee says. "The assembly allows heat to go up and out, and stops heat conduction from the sun or fire. We have a good handle from the energy model how it will perform so that operations and maintenance costs won't be a wild card."
That's just one example, McGee continues. The entire house was looked at through numerous lenses: thermal bridging, fire resistance, water resistance. "The industry used to do what met building code and was cost effective," he says. "Then, when people added in energy efficiency, things like drainage planes and durability got the focus. Now, we are adding climate change and radical weather."
To further reduce the ongoing operating costs of the home, the team specified products that would hold up under the windy, wet conditions of the site—notably, products made from concrete and steel. "This house can last forever as opposed to conventional low-cost timber construction, which can degrade in this wet mountain climate," Herro notes.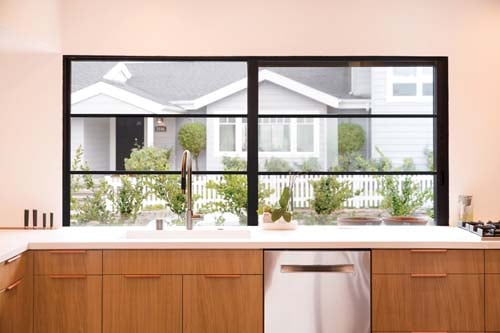 The VISION House will use Western Window Systems' Series 7000 aluminum windows, which offer U-value ratings as low as 0.19 and design pressure ratings above 50.
The upshot is that building for climate change and severe weather adds a little bit of cost, McGee says. "But if you are super energy efficient you are choosing to buy materials not just based on aesthetics but also on climate change, energy efficiency and durability," he notes.
In the end, McGee believes that the insurance companies will have an impact on how we build, and smart builders will get out ahead of that. "Even if your house didn't burn in Northern California, you're going to get an insurance hike. Insurance companies are going to require things—have a real impact on what products can be used based on what certain climate zones are experiencing, like hail or fire."
McGee matches Herro when it comes to mission orientation. "What we do for a living just keeps getting more complicated, and because of that we need an overall conversation on the nitty gritty of long-term costs," he says. "Why are we doing what we are doing? What is the conversation we are trying to raise up? We need to help prioritize these issues for the industry."
From Uphill Battle to New Reality
Outside this VISION House project, the battle to elevate the conversation around first-cost versus full-cost will continue, at least in the short term.
"It is basic to human nature to skip to the bottom line and just skim through the specifics," says Green Builder Media Founder and President Ron Jones, whose design/build firm produced award-winning, high-performance custom homes in the Southern Rockies for more than two decades. "So in home building, like any industry, it's difficult to be competitive but still take buyers one by one and walk them through all the elements that add up to that final number, especially when everyone is so focused on first cost."
Jones believes that many builders, as well as buyers, understand the concept that first cost is not the same as full cost; that better quality and higher performance are much more cost-effective in the long run. "But sometimes, it's impossible to embrace the reality that the long game is in everyone's best interest if they don't feel it's in their immediate interest," he says. "Even the builder with the best of intentions and highest standards often has to choose between delivering a truly superior product or watching a potential customer walk out the door in search of a 'better deal.'"
VISION House Seattle Cascades aims to be a definitive proof point in this education process. "The VISION House will show real people what they can really do," says Clifton. "If builders say, 'In my price range I can't do that,' then we have missed what we are trying to accomplish."
Herro is secure in his belief that this house will ultimately illustrate the value of looking long-term when designing and building homes. "As a builder, I am keenly aware that we can't do amazing building science if negative impacts are experienced by the homeowner," he says. "This home is designed so a 36-year-old mom would have no idea about the building science in it. It's crazy smart physics and building science, but the experience of living would just be easier, more comfortable…and cost a bunch less."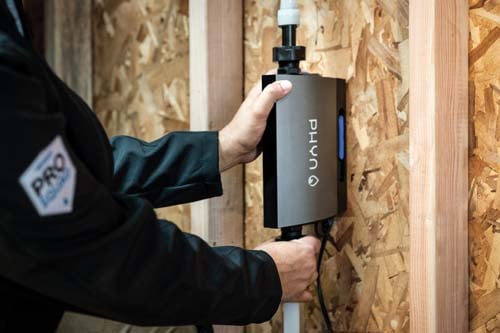 Resilient Water
Climate change, extreme weather and an off-grid site prompts the VISION House Seattle Cascades team to address water from many angles.
Herro and the VISION House team wanted to address fire resistance, not just by using noncombustible materials in the house construction, but also by using a fire sprinkler system. Turns out, it was required anyway because the remote location and siting of the house makes fire department service difficult. The house is not on public water, so the team put in a cistern that is filled by rainwater and water pulled from the air by an atmospheric generator. The generator runs off a three-panel photovoltaic (PV) system and can pump out up to 80 gallons of water a day. "With climate changes we are going to see more-robust sprinklers become standard in homes," predicts McGee. "In addition to the interior sprinkler system, we are exploring installing sprinklers on the eaves of the house. If there is a fire and Herro isn't there, the sprinklers will turn on automatically or he can turn the sprinklers on with his smart phone. Herro can watch the level of water in the cistern to make sure it is used appropriately." For the home's interior fire sprinklers, plumbing and radiant floor heating, Herro selected Uponor. "The AquaSAFE combined plumbing and fire sprinkler system is a smart choice for this house," notes Ingrid Mattsson, director of sustainable brand development, Uponor North America. "Having a combined system incorporates the fire sprinklers into the home's cold-water plumbing. This ensures fresh water is always available if it is ever needed in the event of a fire." Mattsson notes that a combined plumbing and fire sprinkler system makes a lot of sense for builders. "With more jurisdictions across the country requiring fire sprinklers in homes, the AquaSAFE multipurpose system is a smart solution for builders. It can save on installation and materials costs compared to a separate plumbing and fire sprinkler system, and oftentimes the fire sprinklers can be installed by the builder's trusted plumber already on the job." Mattsson says that it isn't just the changing climate and wildfires that are prompting people to use fire sprinklers. It is also important to have them because of the synthetics in today's home decor. Synthetics burn faster and hotter than natural materials. "Smoke detectors are important, but fires happen so quickly in homes," she notes. "Fires used to take about 15 minutes to flash over and now it's three minutes. Fire sprinklers save structures, yes, but more important, they give you time to exit the house." When it comes to cost versus value, the fire sprinkler conversation often comes up, Mattsson says. "The reality is, fire sprinklers are like insurance: You don't know its value until you use it. You pay for it and hope to never have to use it." However, she notes, builders have an opportunity to differentiate their houses, particularly with the recent heavy press given to natural disasters: "They can say, 'My houses are beautiful, well built and safe.'"