VISION House Orlando: The New Urban Farmhouse

Ed Binkley, Guest Columnist
1 min read
I have finally come up with an architectural style for the 2011 Vision House, and have dubbed it the "New Urban Farmhouse". Taking its roots from familiar architectural styles in the Orlando fringe community such as Folk Victorian, Florida Coastal, and Greek Revival.
Familiar elements include the gable roof, front porches on both floors, and extended vertical columns, but with a twist. All of the architectural elements have been redefined and unplugged. The porch railing is an industrial system of steel mesh also carried through to the interior stair and loft railings as well as the second floor terrace in the rear between the main house and detached garage.
The galvanized metal roof, in its natural color, is used as a vertical design element on the two story side pop out portion of the house, which will bring the roof material all the way to the ground. The exterior lighting includes re-introduced industrial gooseneck fixtures reminiscent of those found on rural barns and industrial buildings.
The interior spaces are also somewhat unplugged in its redefining of floor plan layout. The first floor is wide open from the front to the rear door giving the space a very "loft like" flow of openness and flexibility. The kitchen is the "true" heart of the home which all other activities revolve.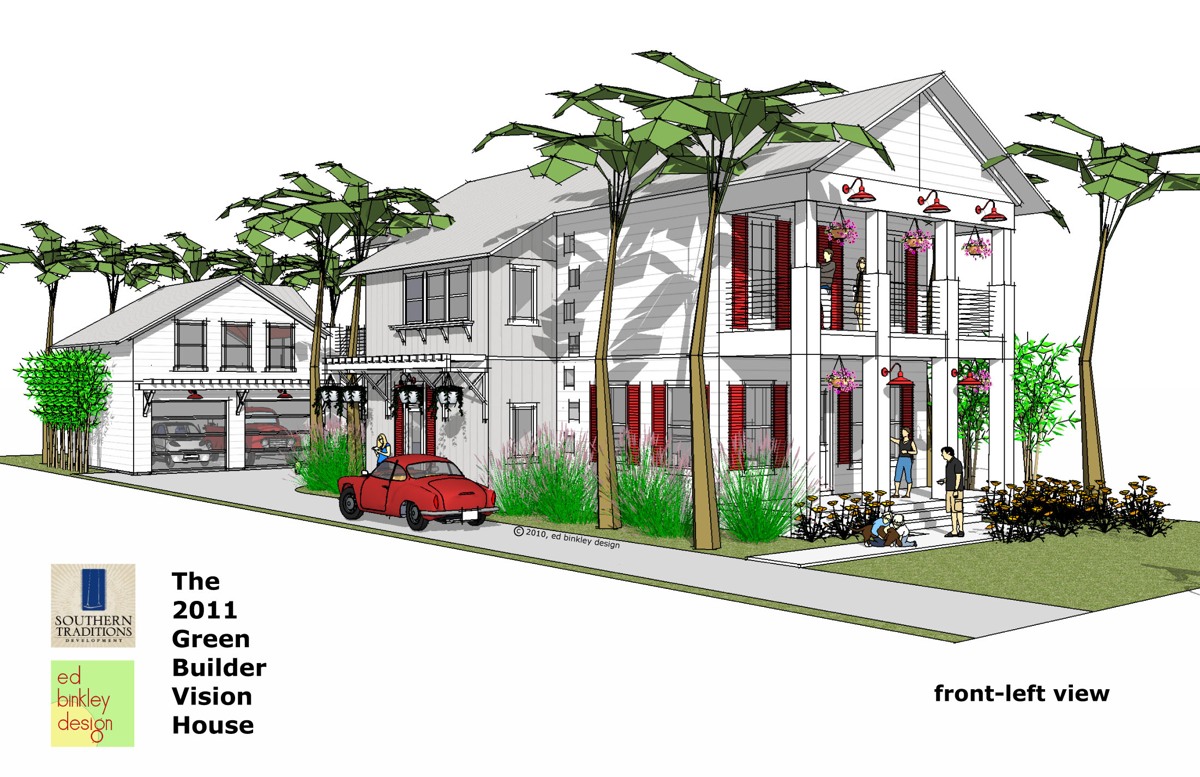 The white horizontal siding and galvanized aluminum roof make the home appear as if it could comfortably rest in a picturesque rolling hill farmstead setting, but with the familiar thread of an urban infill housing style.
It is a home that will require a second look as one passes due to the subtle, but deliberate, choice of detail, animation and whimsy.
---

Ed has been instrumental in responsive housing design since 1985, having been a partner with two national architectural firms in the past, he opened "ed binkley design, llc" in July of 2009. He has a strong focus on an affordable, green, systems approach to housing, which coincides with his development of "the shelter series", a collection of small rapidly built homes that incorporate sustainable principles. Ed's experience also includes work with national and international green housing programs and the design of several demonstration homes that highlight sustainable design principals. He is a frequent speaker at symposiums, contributing editor to national publications and has been featured on a variety of HGTV and radio programs presenting his green building philosophies. Ed has a strong belief that green design starts with a responsible program and client…and the end result is only as successful as that collaboration is strong.