No civilian activity that I'm aware of is more an exercise in "hurry up and wait" than building, and trying to build in a remote location just exacerbates the realities of that syndrome even more. A sudden opportunity to meet with someone, a surveyor or a building official or an excavation contractor, whom you may have been trying to connect with for days, weeks, or maybe even longer, will appear without warning—and you realize you have to seize the moment or risk starting the frustrating cycle all over again.
The distance from the nearest town to our job site at Mariposa Meadows is only 13 miles, but because of the terrain and the last three miles of unpredictable unpaved road, round-trip travel time takes a minimum of an hour—and that's just the time behind the wheel. You have to add whatever time is actually spent on the ground; as a result, a visit to the site rarely takes less than two hours to complete.
My first attempt to have the grading contractor walk my proposed access route with me actually occurred late last fall. We almost made it happen, but a sudden snowstorm had the county road crews scrambling, and since I was only visiting at the time and limited to a borrowed vehicle, I had to reluctantly agree to postpone our get-together.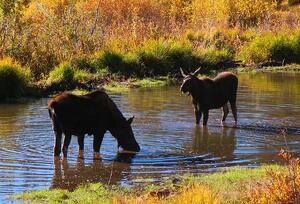 It would be more than half a calendar year later before the contractor and I finally clattered down the last mile of the forest road that follows the stream, a ride that provided a chance to ease into a comfortable dialogue and which was highlighted by the roadside appearance of a cow moose and her calf, so new that it was tawny brown, more the color of a fawn, in contrast to the sable-black of the mother.
Eventually we stopped the truck and started to explore the project site. The hillside is not all that steep, but breath can be hard to find at 10,400 feet, and we both appreciated the unhurried pace as we wandered along, allowing the route up the slope to show itself to us, rather than mentally bulldozing a path through the aspens and occasional blue-tipped spruce. The long, slow curves that will eventually soften the climb from the road to the small cluster of buildings began to emerge as we compared thoughts and studied the subtle features of the terrain.
Back at the truck, the discussion turned to permits and schedules and budgets, the necessary evils of conducting business, and thus the next chapter of "hurry up and wait" was put in motion as we agreed to our individual tasks—steps that would take us at last to the turning of ground. But the real progress had been made, almost imperceptibly, while we were exploring the route, by virtue of the expression of common values and respect for the place we are about to alter.
The long wait had been worth it.


---