Energy Efficient Projects Recognized at Annual Meeting & Conference
The 13th Annual Structural Insulated Panel Association Building Excellence Awards were announced Tuesday evening during the association's 2015 Annual Meeting & Conference in Tucson, Arizona. Winning submissions demonstrated exceptional performance in quantifiable energy efficiency using structural insulated panels (SIPs); design and structural engineering innovation; creative use of SIP construction; and environmental sustainability.
The 2015 winning projects and award recipients are: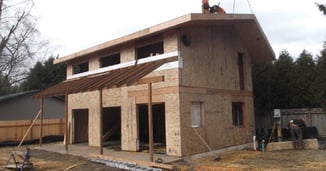 Cedarwood Zero Energy Home-winner of Single Family Homes under 3,000 sq. ft.
The competition's Overall Winner and winner of the Single Family Homes under 3,000 sq. ft. category is the Cedarwood Zero Energy home submitted by Premier SIPs by Insulfoam. This extremely energy-efficient home achieved a HERS Index of 13, with air infiltration tested at just 0.67 ACH50 by a blower door test—creating a home with exceptional comfort and indoor air quality.
Taking the Overall Competition Runner Up spot was the Park Row Apartments, submitted by Energy Panel Structures. As the winner of the Multifamily category, these low-income apartments demonstrate how a high performance SIP building envelope can lower utility bills and speed up construction on large-scale multifamily projects.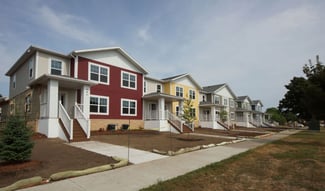 Park Row Apartments-Multifamily category winner.
The Plattner Farms shop took top honors in the Agricultural category. At nearly 10,000 sq. ft., the building provides an insulated work area for farm equipment, storage, and office space. A high-efficiency radiant heating system paired with the SIP walls helps keep utility cost low for the building owners.
In the Commercial Buildings over 10,000 sq. ft. category, the Moffatt Products manufacturing facility claimed the victory. Sixteen-foot-tall SIP walls were installed as single panels to avoid air leakage. Other energy-efficient features include a passive solar design and LED lighting with sensors that dim electric lighting when daylight is present.
The Pizza Ranch in Storm Lake, Iowa was named the winner of the Commercial Buildings under 10,000 sq. ft. category. Submitted by Energy Panel Structures, the 5,374 sq. ft. restaurant utilized SIP walls to reduce utility cost, downsize heating and cooling equipment, and save on temporary heat during construction.
Production homebuilder Quadrant Homes demonstrated how SIPs and energy efficiency can be incorporated into a modern, high performance design with the Evoke Model Home. Its 10-inch thick SIP roof and ductless mini-split heat pump system helped the home reach a HERS Index of 63.
All submissions used SIPs for at least 50 percent of the building envelope. To see additional photos and projects that received Honorable Mentions, please visit SIPA's Building Excellence Awards page.

SIPA is a sponsor of the VISION House at Mariposa Meadows presented by Green Builder Media. Special thanks to ACME Panel Company, Enercept, Inc., Energy Panel Structures, Inc., Extreme Panel Technologies, Inc., FischerSIPS, LLC, Foard Panel, Inc., General Panel Corporation, Green Mountain Panel, Innova Eco Building System, Insulspan SIPs by Plasti-Fab, Korwall Industries, Inc., Lamit Industries, Murus Company, Inc., PFB Manufacturing, LLC, PorterSIPs, division of Porter Corp, Premier SIPs by Insulfoam, R-Control SIP.
This content was originally published by The Structural Insulated Panel Association (SIPA). SIPA is a non-profit trade association representing manufacturers, suppliers, dealer/distributors, design professionals, and builders committed to providing quality structural insulated panels for all segments of the construction industry. SIPA has been in existence since 1990 and has made tremendous progress in advancing energy-efficient construction with structural insulated panels.