Design Assistance Means a Perfect System for Your Home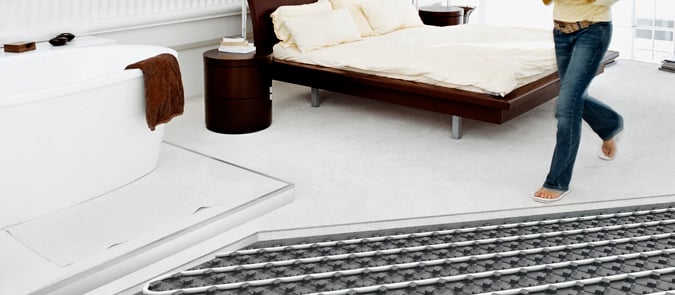 Uponor Radiant Floor Heating Systems for the Home Uponor, formerly Wirsbo, was the first to bring radiant floor heating to North America more than 40 years ago. Today, Uponor radiant floor heating systems are bringing the energy-efficient luxury of radiant floor heating to the masses for a simple, affordable solution to home comfort.
In an Uponor radiant floor heating system, warm water flows through flexible, durable crosslinked polyethylene (PEX) tubing that is embedded under the floor. The warmth radiates up from the floor to warm objects and people in a room. It is the purest form of human thermal comfort.
Request a Complete Design Assistance Manual by clicking here.
Videos: Watch and Learn
Installing a radiant system with Uponor's Radiant Ready 30E, Fast Trak and Uponor's PEX-a tubing is quick and easy. In this case study, an entire basement installation was completed by two installers in less than 7 hours. Click here to watch.
For more videos, visit Uponor's library of 37 videos here.
Case Studies
Best way to decide if radiant floor heat is for you is to check out how it is used in actual projects. Click on the following for detailed case studies:
Case Study: Lakeville, MN Home
Case Study: UNLV Solar Decathlon Home
Uponor Systems in Habitat for Humanity Eco Village Homes
---