VISION House Los Angeles Highlights
VISION House Los Angeles was part of Green Builder Media's VISION House Series. With local builder, Structure Home, the projected included more than 80 companies in the design and construction of the home - 27 national sponsors, 50 local sponsors and subcontractors and seven project partners.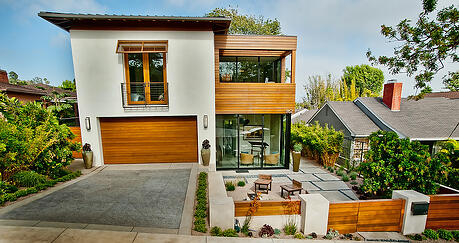 The water supply in the house, by LifeSource Water Systems, is filtered by a high-grade blend of coconut shells-a proprietary Granular Activated Carbon that uses no salts or potassium.

With further attention to water, more than 50% of the vegetation are drought tolerant and drip irrigation was used exclusively in the landscaping.

The permeable driveway is PermaKrete Pervious Pavement from Ramco. Water flows through a retention basin to filter and remove toxins before water runs into the street to help protect and replenish the aquifers.

Kohler provided state-of-the-art, low-flow faucets, toilets and plumbing fixtures and could potentiall save 20,000 gallons of water annually, based on average household use.

Revolutionary, lightweight Kerdi-Board from Schluter-Systems was used in all tile installation. Kerdi-Board helps eliminate the potential for moisture to seep into the mortar bed or the tile backing on walls.

VISION House Los Angeles also has both a live roof and a standing seam metal Titan Cool Roof from Custom-Bilt Metals which reflects up to 70% of the sun's energy and can reduce cooling costs by up to 20%.