VISION House Builder Awarded
On February 12, Tucson builder John Wesley Miller won the first Tucson Electric Power (TEP) BrightEE Award for Lifetime Contribution to Residential Energy Efficiency.
In awarding its Lifetime Contribution to Residential Energy Efficiency, TEP called John Wesley Miller "a national leader in energy conservation and green building practices." Indeed he is.
For more than 50 years, John Wesley Miller has been building some of the most energy-efficient homes in Tucson. His company has received numerous awards. Never one to rest on his laurels, Miller has constantly improved his energy conservation and green building practices. One of his latest such projects is Vision House Tucson, which has an incredibly low HERS Index of -17.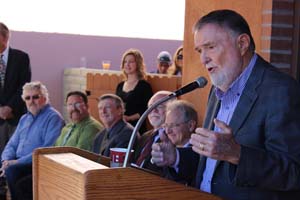 Miller's pioneering environmental roots include Biosphere 2 in Oracle, Ariz., where Miller "served as general contractor for all support facilities and acted as energy consultant for the project as a whole."
As a consultant, Miller worked Arizona's Pima County to promote a program for energy efficient homes and the use of solar energy, and with the University of Arizona's Environmental Research Laboratory to develop new energy saving products and technologies.
Miller's interest in sustainable communities led to the creation of Tucson Solar Village, now known as the Community of Civano, and the inner-city Armory Park del Sol, home of Vision House Tucson. He has also renovated downtown Tucson's historic McLellan Building into a high tech, energy-efficient building. Like Armory Park del Sol, the McLellan Building combines history, high tech and energy efficiency. Miller has even been the Tucson home builder for Extreme Makeover Home Edition. Active in the local Southern Arizona Builders Association (SAHBA) and the National Association of Home Builders (NAHB), he is a Senior Life Director.
Tucson Electric Power (TEP) delivers electricity to more than 400,000 Tucson area customers. The TEP BrightEE Awards honored eight for "energy savings achieved through the company's successful energy efficiency (EE) programs."
In addition to Miller, TEP awarded its BrightEE to Carondelet Saint Mary's Hospital, Vroom Engineering, Inline Electrical Resources, Sunnyside and Marana Unified School Districts (which not only upgraded mechanical equipment and lighting but also distributed energy-efficiency kits for students to take home), Primavera Foundation and Meritage Homes.
Energy efficiency (EE) programs cost less than building new power plants and help reduce reliance on fossil fuels, which results in reduced air pollution and water usage. Program measures enacted in 2013 alone produced enough energy savings to power more than 14,000 home annually.