VISION House Aspen Glamorously Green
VISION House Aspen, a spec home built to showcase green technology, takes advantage of the natural surroundings in its design. But while it's highly efficient, some question the premise of a large "green" vacation home.
Writer: Catherine Lutz, Aspen Daily News Staff Writer
Can a large second home be sustainable?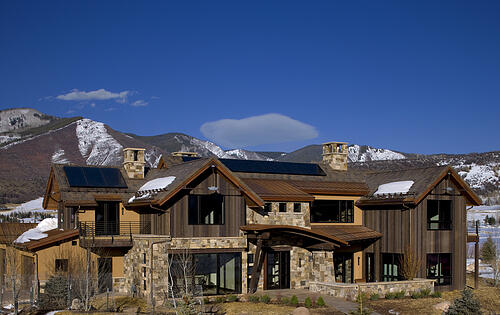 The house has five bedrooms and six-and-a-half bathrooms, a three-car garage, five fireplaces and all the luxury finishes one would expect in a spec home being marketed to the wealthy second (or third or fourth) homeowner. It sits in a semi-rural setting with an extensive outdoor snowmelt system and no public transportation option for either the future part-time residents or the anticipated small army of help that will likely be needed to keep the place running.
On its 6,700-square-foot surface, this mansion would appear to be the poster child of inefficiency.
It's not. In fact, it's a model of "green" building, the first residence in the Aspen area to achieve LEED (Leadership in Energy and Environmental Design) gold certification.
Dubbed VISION House Aspen, the custom spec home in the W/J neighborhood off McLain Flats Road is the latest in a series of homes around the country that are being built to showcase green technology and philosophy. Sponsored by Green Builder magazine and a multitude of green building consultants, the luxury green project was a challenge for developer Gerry Hazelbaker, president of Paradigm Construction Corp. in Basalt.
"All home building is a very extractive process, so we're trying to address resource use, resource efficiency," said Hazelbaker. "Building is going to continue and high-end homes are going to continue; we're going for a much more responsible way of building."
"Balancing our commitment to sustainable building with the consumer demands in a market like Aspen presents an interesting philosophical challenge," Green Builder Media Co-founder Ron Jones said in an article in the magazine.
It is a challenge that some skeptics would say cannot be met by the very nature of the home. A 2007 study by local nonprofit the Sopris Foundation found that 61 percent of Aspen's residential emissions come from vacation homes, which the study estimated were unoccupied 277 days per year.
"It's kind of sad because even though the house might be much more efficient per square foot, consumption per occupancy day is probably pretty high," said John McBride, a developer who founded the Sopris Foundation.
Large, empty and green?
Walking through the spacious, meticulously designed and decorated home at 101 Byers Court would give an average person no indication that the home is in any way energy-efficient or green.
And indeed, a lot of the inefficiencies are invisible. The house uses a geothermal system as its primary source of energy, with solar photovoltaic and solar thermal as secondary sources. An energy management system controls the lights. A gas backup system kicks in when it's colder than minus-10 degrees Fahrenheit outside (and there are several gas fireplaces and gas grills) but "we think it will turn the meter back" when no one is home, said architect Stace McGee.
The house has achieved a new record for minimal air leakage, according to McGee, which even further improves the efficiency of its heating and air systems. In fact, the house has 43 percent less greenhouse gas emissions than the baseline requirements in the Pitkin County code, said McGee.
"This is considered a very high achiever," said Hazelbaker.
A tour with Hazelbaker highlights some of the other efficiencies the building has achieved. The dining room sports a reclaimed oak floor, and all the trim, doors and carpentry are made of sustainably forested materials. Natural clay plasters instead of toxic paints cover the walls, and a large fireplace in the center of the house uses locally mined stone.
Clever use of recycling also plays a part in the home. Excess flooring materials became a ceiling treatment in one room, an "eco-leather" product made from the seats of old BMWs is a wall treatment in another. There's recycled content in the tile and glass work in the bathrooms, and one countertop is made from a grass-and-seed material.
On the grounds, some of the dirt from the excavation of the home was reused, and the castoff was buried, reducing dump runs by over half, said Hazelbaker.
One of the challenges, said Hazelbaker, was to find "green" materials that also would meet the quality standards his clients would be seeking. And the home itself, at less than 7,000 square feet, is actually on the small end of the luxury second-home market in Aspen.
"We're showing how you can do a smaller home in the Aspen market in a glamorously green way," said Hazelbaker, who noted that the market in general was trending downward in size to more modest homes.
And while they were not able to generate a net-zero emissions house, Hazelbaker said, "we created a package that finds a compromise, reduces the net energy consumption.
"There are those who say the only green house is one that doesn't get built ... but this is the reality and this is an industry we have and it happens to feed a lot of people here."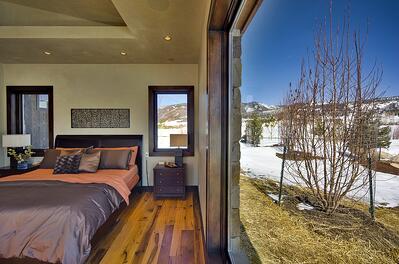 Questioning the premise
McBride, of the Sopris Foundation, believes that the mere premise of building a scantily-used large home is the wrong direction to take.
The VISION Aspen home had to buy a TDR (transferable development right) in order to build up to 7,500 square feet — the particular lot it was built on only had the right for 5,000 square feet. TDRs are part of a unique program to Pitkin County in which development rights extinguished in more remote parts of the county are used in exchange for more square footage in more developed areas. The McLain Flats neighborhoods are one of those areas where TDRs, which are traded on the free market, are allowed to "land."
"We save some land and then we build some big empty housing around town," said McBride, who questions the logic of TDRs. "On the receiving end it should go to benefiting locals, but to just support and encourage more second homes ... there's no benefit to the community."
Hazelbaker said the decision was made to buy a TDR for two reasons. One, the land cost — $3.5 million, according to public records — necessitated a certain square footage to make sense in the marketplace.
"We also had to make compromises to the high-end buyer," he added. "We were trying to find a balance of what we could do from a green perspective and what made sense dollars and cents wise."
Because of its size — more than 5,000 square feet — the house would normally have had to pay a $5,000 fee to Pitkin County's Renewable Energy Mitigation Program (REMP).
"The first lesson in green building is keep the house small," said Tony Popish in the county's building department.
But developers are also given the option of installing energy-efficient systems to mitigate the greater amounts of energy a large home naturally produces. The VISION House did that, and is much more efficient than the average large home. In fact, it got such a large credit for its efficiencies that Popish said it likely would have been less expensive for them to just pay the fee.
Another REMP fee would have been assessed for the 4,400 square feet of snowmelt around the home. That too was waived, because of the solar hot water collectors and 3-kilowatt photoelectric system installed.
Hazelbaker said he almost didn't put the snowmelt system in — "we really shouldn't be heating the outdoors," he said — but in the end it was a marketing decision: "We still have a clientele that expects a certain amount of things."
Who will buy it?
Who that clientele is, Hazelbaker admits, is unknown. The house will cost more than a traditionally built vacation home (a final listing price for the home was still being determined, Hazelbaker said earlier this week), and because green building is still an industry in its infancy, it's unclear whether there is a demand for large, sustainably built second homes, especially in Aspen, he said.
And that might be another risk to calling the home sustainable, noted McBride.
"If it sits for five years it's totally ungreen," said McBride.
But Hazelbaker would like to think there is a benefit to the project in itself. He himself has learned a lot about green building throughout the process, and all the subcontractors who participated probably did too. The home was built in part as an educational tool for both the industry and the market, so potential high-end buyers could benefit from looking at a home that defies their stereotypes of green building.
And the effect of greening a large home is going to be greater, said Hazelbaker, which is all the more reason to do it.
"My premise is not to judge people in their lifestyles. These kind of homes are still being built but not at rapid a clip as they once were," he said. "The fact is this is not the last luxury home being built, and what we're building ought to be more responsible. It's the right thing to do." lutz@aspendailynews.com.
Originally published on Aspen Daily News Online