Green Products on Display in VISION House at Epcot
Sustainable products on display in VISION House at Epcot
By Lori Johnston
The VISION House® at Walt Disney World has a message: Green living doesn't have to be a fantasyland. The creator, Green Builder® Media, says the home demonstrates how to incorporate mainstream green products and systems for everyday sustainable living. LED lighting from Sylvania, engineered hardwood wide plank floors by Armstrong, Boral's cultured stone, bricks and permeable pavers and photovoltaic solar panels from Hanwha Solar are among the products on display in the VISION House in INNOVENTIONS at Epcot®. If you're visiting the theme park during the summer, the indoor display offers a break from the heat, as a Disney guide leads tours from the front exterior to the open living room, dining room and kitchen, then to the laundry room, bathroom and bedrooms, ending on the patio (still inside the building). These five eco-friendly and energy-efficient items caught our attention and caused tourists to gawk, too.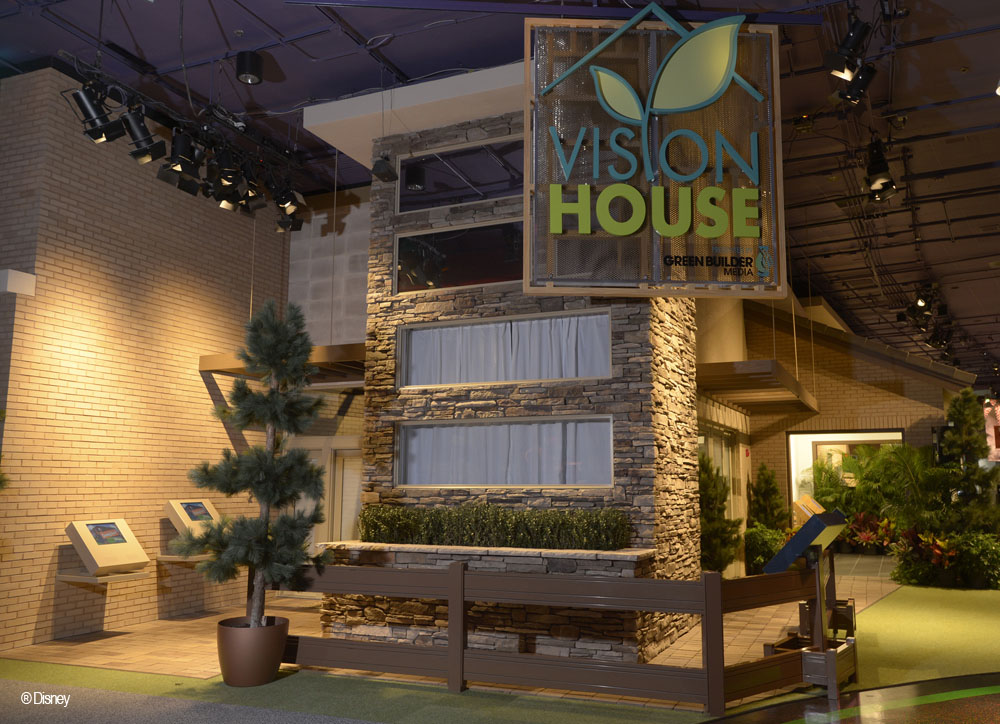 1. Numi Comfort Height Toilet: Kohler's "most advanced toilet" is a splurge, priced at $5,978 (according to Kohler.com). It's visually striking, which you can't often say about a toilet, plus the dual-flush technology is water efficient and the seat height is adjustable. It has plenty of bells and whistles: a motion activated cover and seat, heated seat, deodarizer, bidet, foot warmer and music (Bluetooth compatible). A touchscreen remote adjusts features including the seat temperature, ambient light in the bowl, position of the seat and flushing levels.
2. Heat-resistant fireplace glass: Robax, a transparent glass by Schott in front of the contemporary-looking fireplace keeps sparks and smoke from coming into the room. Robax can withstand extreme heat or temperature changes. Schott also makes the Ceran glass ceramic cooktop panels, which made Green Builder's 2014 list of the Hot 50 Products. The magazine notes: "Ceran panels are perfect for use with increasingly popular induction heating technology, which requires no pre·heating or post-cooling."
3. Zodiaq quartz countertops: Stylish features include DuPont's Zodiaq quartz surfaces, which are heat and scratch resistant, according to the company. The Zodiaq countertops are GreenGuard Indoor Air Quality Certified, and the Terra Collection is made from 25 percent recycled glass.
4. Boral Smog Eating Tile: The concrete roofing tiles, which can be used for new construction or to re-roof a property, are sustainable and help fight air pollution. Boral says it works like this: When the tiles are exposed to sunlight, it speeds up oxidization. In one year, 2,000 square feet of the tiles mitigate the same amount of nitrogen oxide (a major component of smog) produced by one car driving up to 10,800 miles.
5. Wireless Deadbolt: Schlage's home automation system uses a keypad, reducing the need to replace keys when selling or renting or to frantically search for your keys. The system has built-in alarms (even the folks at Disney lock it with each tour group). As Green Builder magazine notes, the deadbolt is also on its 2014 list of Hot 50 Products and connects to the Nexia Home Intelligence system so that homeowners can control home security.
Originally published in the Green Living section of AJC.com.