Looking for the best practice to address ASHRAE 62.2 addendum J (Multifamily), which concens ventilation rates? Here are some answers.
MULTIFAMILY BUILDINGS PRESENT unique ventilation challenges, such as air transfer from other apartments, problems with applying traditional air-tightness measurement techniques to compartmentalized spaces and problems with developing and applying make-up air strategies.
Building America's Take
New ASHRAE Rules
The requirements for meeting ASHRAE 62.2 are changing in 2013. The details are outlined in the new standard, however, here are some examples of air flow rate requirements:
500-sq.-ft. 1-bedroom condo
62.2 2013: 30 cfm (0.45 ACH)
62.2 2010: 20 cfm (0.30 ACH)
2,000-sq.-ft. 3-bedroom condo
62.2 2013: 90 cfm (0.34 ACH)
62.2 2010: 50 cfm (0.19 ACH)
ASHRAE 62.2 (addendum J) attempts to deal with some of these issues for multifamily buildings. In multifamily buildings, exhaust ventilation strategies are the norm for meeting both local exhaust and whole-unit ventilation, but di‰ erent approaches are taken for providing make-up air. Understanding how make-up air strategies interact and integrate with other building systems is also important. The following expert recommendations include simple approaches for complying with the ASRHAE 62.2 2010 and 2013 standards.
Key Expert Comments/Recommendations
Building scientists first o‰ffered some general "best practices" guidelines for multifamily ventilation:
Strict Flow Control. All airfl ow should be controlled closely, by making spaces as tight as possible, also by use of compartmentalization, and avoiding dropped ceilings and other interstitial spaces. Floor planes must be sealed along with walls and ceilings.
Vent Cooktops. Kitchens should not include unvented combustion appliances. The best practice is to use a range hood ducted to the outside. Induction cooktops help a bit, but you still need a range hood to vent cooking byproducts.
Typical Best Practice Scenarios
Here are three examples of how three ventilating systems and approaches might be used to achieve good performance in a multifamily project:
Option 1: Direct Exhaust
This method relies primarily on a single central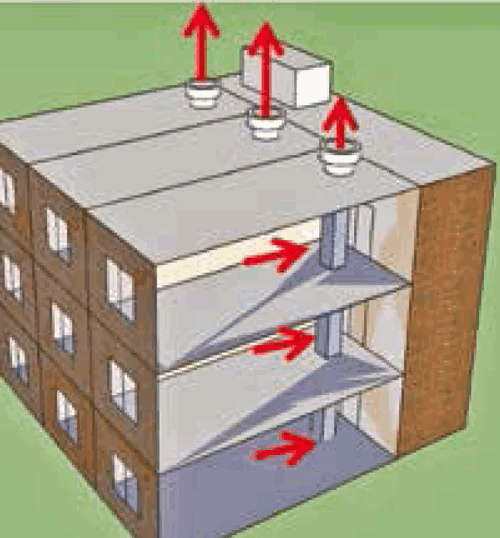 exhaust in a vertical shaft. Each unit includes its own balancing damper, and there are many grilles on many floors that allow air equalization. Other factors include wind and weather. Each compartmentalized unit typically has an air regulating (CAR) damper that balances unit flows. Additional small, individual fans with relatively low flow are eš cient and quiet.
PROS:
Method can be used in either 2010 or 2013 version of ASHRAE 62.2.
Specifying a continuous bath exhaust will meet the standard.
Overall system is simple and robust (low maintenance).
CONS:
No control over makeup air, and building could become depressurized.
Exhaust vents can be challenging to get to the exterior in multifamily buildings.
Option 2: Tempered Air Supply
Expert Tip:
Addressing Duct Leakage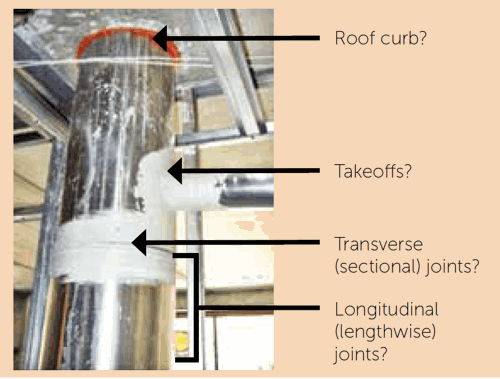 Duct leakage can be especially problematic. Trade contractors need to address duct leakage for both central and unitized ventilation. A best practice is to include specifications for duct tightness in construction documents. For example:
Good: 10 cfm50/register
Best: 5 cfm50/register
This method is a more mechanical approach—in that it relies on the installation of an HRV/ERV that creates a slight positive pressure at all times. It has the advantage of controlling air sourcing and volume.
PROS:
Supplies makeup air from a known location.
This method be used in either 2010 or 2013 version of ASHRAE 62.2.
Operates in supply-only mode when kitchen or bath exhaust is activated.
CONS:
It can be hard to find space for ducts, and constant fan power use is an issue.
For any supply air—It can be difficult to find location on all buildings that is acceptable—and inlet filter maintenance an issue.
Option 3: Central Exhaust with Trickle Vents
Multifamily Ventilation Rules of Thumb
Achieving the desired air flow in any multifamily project, new or retrofit, should take into account the following criteria:
1. Understand ventilation requirements.
2. Select the simplest design to achieve both IAQ and energy objectives.
3. Build a tight building.
4. Install/ensure airtight ductwork.
5. Create/retrofit compartmentalized units.
6. Pay attention to installation quality.
7. Check to make sure ventilation actually works as engineered.
8. Educate clients/tenants about their role in ventilating.
Relatively new to the scene, these systems were proven effective in the 2010 version of ASHRAE 62.2.
PROS:
They perform quite well: air flow at typical building operating pressures is expected to be about 5-10 cfm at 5-10 Pa.
CONS:
Not every building is going to be the same; testing is important (trickle vent is shown.).
---
Derived from responses by Iain Walker of Lawrence Berkeley National Laboratory and Dianne Griffiths of Steven Winter Associates, Inc., and the Consortium for Advanced Residential Buildings.