Vegas Jackpot-Attendees of Eco-Friendly Symposium Get a Free Pass to CES
By registering for the one-day event in February, electronics enthusiasts earn a pass to CES, the enormous consumer electronics show happening in early January.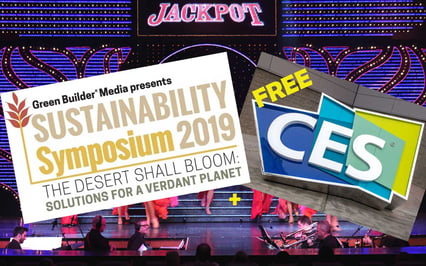 "IT'S A SWEET DEAL THAT SOUNDS TOO GOOD TO BE TRUE," says Green Builder CEO Sara Gutterman. "But it's the real deal." She and her team publish eco-friendly magazines, ebooks and online content, and also builds cutting edge exhibition homes. They also sponsor special "think-tank" style events, including the third annual Sustainability Symposium, to be held in Vegas on February 18th.
"Call it fate or good planning," she says, "but this year we have relationships with multiple organizations that hold their conferences in Las Vegas. As a result, we're able to offer everyone who signs up for our Sustainability Symposium a free CES pass, with a value of $300. So essentially, you're only paying $50 to attend the Symposium, a $350 value!
"Think about it," she adds. "Attendees can visit CES in January and explore thousands of innovative products and technologies—then apply what they've found to environmental challenges after our Symposium in February. It's a perfect knowledge-into-action scenario."
About the Symposium
This is Green Builder Media's third annual Sustainability Symposium 2019: The Desert Shall Bloom, to be held on February 18, 2019 from 9:00am-5:30pm at the Artemus W. Ham Concert Hall on the UNLV campus.
"This year's focus is the transformation to a sustainable economy," Gutterman says, "with special emphasis on the Southwest region of the United States."
The Symposium's agenda features global leaders, including:
Opening video remarks by Jeff Bridges, Academy-Award winning actor and climate activist (yes, 'The Dude'!)
General Wesley Clark (ret.), four-star general, former Army Chief of Staff, Presidential advisor, and fervent climate action advocate
Bill Walton, NBA All-Star icon and passionate sustainability enthusiast
Ron Jones, Founder/President Green Builder Media and industry provocateur
Susan Kucera, award-winning Director, Cinematographer, and Producer of eco-films including "Living in the Future's Past" (co-produced with Jeff Bridges)
Gwen Migita, Chief Sustainability Officer, Caesars Entertainment
Andrew Beebe, pioneering Venture Capitalist with Obvious Ventures working on robotics and automation solutions to address labor issues in the building industry
Kim Shanahan, Executive Director, Santa Fe Area HBA and national water expert tackling our nation's water challenges
General admission for the Sustainability Symposium is $350.
Please don't hesitate to email our CEO, Sara Gutterman, at sara.gutterman@greenbuildermedia.com if you have any questions or would like additional information about the Symposium.