Vantage: COVID-Accelerated Technology Adoption Enhances Efficiencies
The coronavirus has irreparably changed our economy, enhancing digitization, expediting the adoption of a wide spectrum of technologies, and creating new efficiencies. What does this mean for the building industry?
According to a recent survey conducted by McKinsey, COVID-19 has accelerated the adoption of digitization and enabling technologies by up to seven years in the U.S. market (and 10+ years in Asia.)
Sectors that have been most influenced include:
Healthcare/telemedicine
Financial services
Professional services
The building sector
Companies across the economy have accelerated the adoption of digital technologies to streamline customer engagement, supply chain interaction, and internal operations. Executives report that this quantum leap in technology adoption has increased productivity, creating long-term efficiencies, and increased profitability.
Perhaps the most mind-blowing part of the digital transformation is the speed at which it has happened. Respondents to the McKinsey survey said that instead of the anticipated 454 days that executives thought it would take to implement comprehensive remote working solutions, the average timeframe was only 10.5 days. And rather than the expected 585 days that businesses projected that it would take for customers to shift to online purchasing, it took only 21.9 days.
Online Purchasing Capsizes Brand Loyalty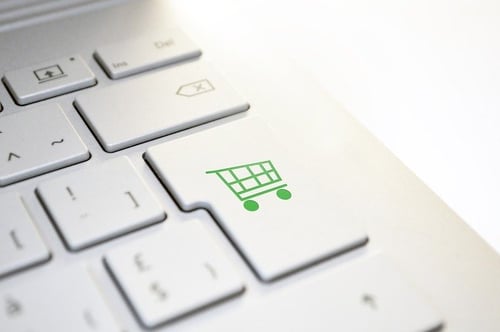 Beyond internal business operations, the rapid and massive adoption of digital technology has dramatically changed the way that consumers purchase goods and services.
According to COGNITION Smart Data, online shopping has increased by up to 50% in essential categories like groceries, household supplies, medicine, and personal-care products. Even online purchases in discretionary categories like apparel, skin care, and accessories are up 15-20%.
As consumers change how they purchase goods, they're also switching brands more often than usual due to a combination of lack of product availability, financial considerations, and shifting priorities. COGNITION Data shows that up to 50% of consumers have purchased at least one new brand this year—73% of those buyers plan to stick with the new brands they've purchased even after the pandemic subsides.
A recent survey conducted by Google also shows that the transition to online shopping has accelerated consumers' purchase decisions, speeding up purchase cycles by up to 12%.
Building Industry Metamorphosis
The building industry has acutely felt the impact of the swift shift to digitization. This is primarily because, when analyzing all sectors in the economy, the building sector has been second to last with respect to adopting advanced technologies to create enhanced efficiencies (only above hunting and fishing.)
Essential services like inspections, appraisals, and permitting have gone digital, creating new efficiencies that save time, money, and labor.
Digitization is also impacting the way that homes and buildings are constructed. Soaring lumber prices have added approximately $16,000 to the cost of an average American home, making factory-built panelized wall systems and prefab construction viable, cost-effective options. The precise, technology-based manufacturing process of panelized systems and prefab construction limits waste, manages quality control, address onsite labor challenges, and, ultimately, saves time and money.
On the home buying front, consumers are relying on online tools to drive their home buying experience more than ever before. Nearly 90% of home shoppers indicate that access to digital listing data, 3D home tours (which have increased by 600% this year), detailed photos, and video tours are essential.
According to COGNITION:
94% of consumers are now using technology in the home buying process.
44% of today's home buyers want proactive notifications during the home buying process.
24% of Millennials—now the homebuying sector's top influencers—indicate that they're willing to buy a home online, sight unseen.
No doubt, digitization has penetrated all sectors of our economy. Massive disruption is here, offering efficiencies, stress reduction, and widespread benefits to businesses, professionals, and consumers alike.
How are you doing in the time of COVID? We want to know! Click here to take Green Builder Media's short survey and enter to win a $100 Amazon gift card.
Want to read more? Follow me on Twitter and Facebook. For more information about green building and sustainable living, visit Green Builder Media at www.greenbuildermedia.com, like us on Facebook, and follow us on Twitter for regular updates and breaking news.
---
Image by athree23 from Pixabay