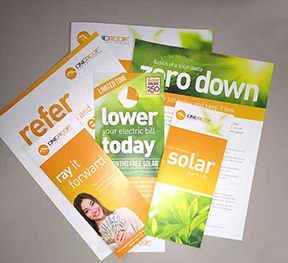 If someone offered you a magic bean that grew your business and cost you nothing to start, you'd be skeptical, right? Of course you would, and so would anyone else in your shoes. Homeowners feel the same way when presented with the opportunity "to lower their electric bill for zero-out-of-pocket". It sounds too good to be true.
While solar leases have been around for more than seven years, many homeowners have yet to fully understand what a solar lease is and how it can help them save on their electric bill. This is where solar providers need to step up and educate homeowners about the difference between myth and facts when it comes to solar leases.
Research has shown that 62% of the American homeowners want solar on their homes, according to U.S. Homeowners on Clean Energy: A National Survey. On the flip side of that stat, they also found that 55% of homeowners believe that solar costs the same or more than it did three years ago. While in reality, the cost of solar panels has declined by as much as 60% over the last two years, according to SEIA and GTM research.
It's not hard to see how these two numbers pose a conundrum for solar providers. They have to find homeowners who are interested in solar, while breaking down myths and false information about the industry. The first step in helping mass adoption of solar leases and PPAs needs to be education. One way to do this is through case studies. By providing your potential customers with interesting and engaging stories about your past customers, they get an opportunity to see how other people have saved money by going solar.
It's common knowledge that word-of-mouth marketing is one of the best ways to get new customers, which is why referrals programs tend to be so successful since they have some of the highest close rates and lowest costs of acquisition. Having a portfolio of case studies can work in the same way. You are providing testimonials to customers who may not have access to social proof in other formats.
In addition to using case studies, solar providers need to be targeting the correct demographics. The Center for American Progress found that the majority of solar installations are occurring in mainstream American neighborhoods. A UC Berkley report indicates that families with household incomes ranging from $40,000- $84,000 a year currently account for more than 60% of all installs. One explanation for this change can be credited to the solar lease. This financing option allows families who will benefit from solar get it affordably without requiring a major down payment or adding another loan to an already tight budget.
One of the best things you can do for your customers is to make everything simple and streamlined. Provide them with brochures, flyers, videos and other media that outline the advantages of a solar lease. Do you remember what it was like learning chemistry or calculus for the first time? We depended on our teachers to provide us a base of information so that we could digest these complicated subjects. While it's important to create trust by providing sophisticated content, it can also be overwhelming if homeowners don't have a foundation of basic solar power information.
Companies can use social media to help spread the news about solar in a fun and digestible ways. Do live Q&A sessions on your Facebook feed, host a Twitter chat or just pick a day to release trivia once a week, ie. Tuesday Trivia or Solar Saturdays. This short and fun content allows your users to learn new facts in an entertaining way that can lead to shares and nurture your leads.
It's a very exciting time to be a part of the solar industry. It feels like we are about to reach a tipping point where new adoption has passed and now massive adoption is right on the horizon. Taking the time to educate customers about the value of a solar lease and showing them how popular it has become with people just like themselves can help push your company to the next level. Besides, who needs magic beans when you have an amazing product that isn't just a pipe dream and can truly save your customers money?
Nick Hofer is the senior vice president of Sales and Marketing at OneRoof Energy.