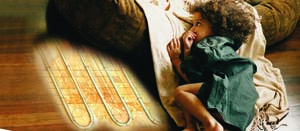 What is Radiant Floor Heating?
Radiant floor heating is a method of heating your home that circulates warm water underneath or within the floor. Comparable to warming yourself in the sun, this type of heating warms people and objects in contact with the floor, as opposed to raising the temperature of the air.
Radiant floor heating is not a new concept. In fact, it dates all the way back to ancient Roman times. It has been, and continues to be, used in many countries around the globe to effectively bring comfort in even the most extremely cold climates of the world.
Radiant floors can be used alone or in conjunction with a traditional forced-air heating system, and a radiant floor heating system is compatible under any type of floor covering — carpet, wood, slate, tile, stone, laminate, and even concrete — making design possibilities endless. And because it distributes heat evenly across each room, you don't have to crank up the thermostat to reach the chilliest corners. It's perfect for homes with vaulted ceilings or giant windows, which would otherwise waste heat.
---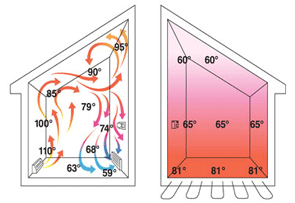 Radiant vs. Forced Air
The water in a radiant system has a capacity to transport energy 3,500 times greater than air, so it can heat (and even cool) using less energy than a forced-air system. This amounts to greater comfort at a lower thermostat setting, which provides lower energy bills. In fact, more people are comfortable with radiant floor heating at a lower thermostat setting than with forced-air heating at a higher thermostat setting.