Uponor Phyn Plus Intelligent Water Monitor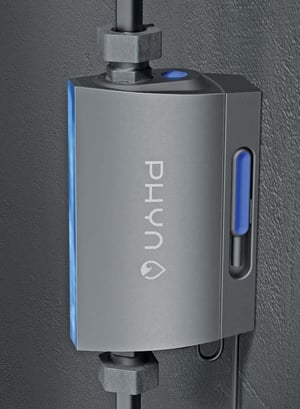 Uponor's Phyn Plus Smart Water Assistant + Shutoff is an intelligent water monitor that attaches to the main water line of homes. Utilizing Phyn's patented technology, including machine learning and artificial intelligence (AI), Phyn Plus measures tiny changes in pressure—240 times a second—to detect plumbing issues in real time. It can remotely shut off the main water supply to prevent costly damage. Early warning alerts can also prevent annoying but expenses mishaps, such as freezing-and-then-bursting pipes.
In addition to being a safe and reliable leak detection solution, the device helps eliminate water waste. Phyn Plus monitors a home's entire plumbing system and provides homeowners with unprecedented insight into how they use water. Usage trends can reveal how much a homeowner's irrigation, showers, washing machine, sinks and more are using.
Phyn can sync with Amazon Alexa and for water-controlling voice commands ranging from "How much water have I used today?" to "tell Phyn Plus to turn the water off." The system is compatible with a phone or tablet with iOS 9 or later, and Android 5 or later. And, the user can also monitor up to six different properties, controlling water shutoff wherever and whenever needed.