An old billboard covering finds a second life as carport awning.
BILLBOARD VINYLS ARE EXTREMELY DURABLE. They are engineered to endure the elements for years.

We recently received photos from a customer of ours, showing a "repurpose" project for the billboard tarps they purchased from us. They did some modifying and turned a standard highway billboard sign into a nice carport for a great looking '47 Ford Truck. When you compare the costs of using a recycled material like this to that of purchasing a new, heavy-duty vinyl carport, you'll find you're spending about half as much and getting a superior product—at the same time doing the right thing environmentally. For reference, a typical blue poly tarp is about 5 mil thick. Some billboard vinyls are 17 mil thick.
A note we received from the client who created the billboard vinyl carport: "Here's a picture of the carport and the 1947 Ford truck, this worked so well for what I am trying to do. I thank you for all the help and the tour..." - Randy L.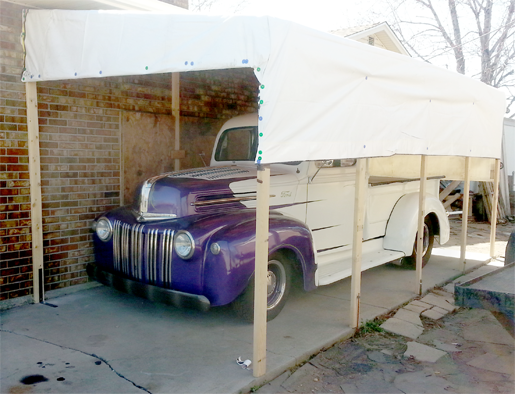 ---
Damon Carson is the founder & president of repurposedMATERIALS, based in Henderson, CO. His website can be found at www.repurposedmaterialsinc.com. Contact him at: damon@repurposedmaterialsinc.com.