The new SPOT mobile app features more than 45,000 products and allows users to obtain info on green products anywhere.
BIM project users attending NeoCon will be able to see a demo of UL Environment's new SPOT app for REVIT™ in Booth # 7-139A.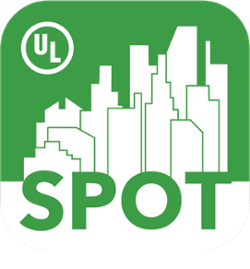 Launching soon, the new SPOT app for REVIT™ will allow users to access product data from SPOT, our sustainable product database, and assign it directly to their BIM project. This will provide unprecedented visibility into trusted green product information, enabling greater accuracy in green building reporting and certification to regional, national and international building standards.
SPOT features over 45,000 products that can be searched by product type, company name, certification and more. The mobile app is available on Apple App Store or Google Play.
Also happening at NeoCon will be a presentation on Sustainability for BIM Projects – Making Smart Choices, delivered by Mark Rossolo of UL Environment and Mike Collins from Global Product Data on Monday, June 12 from 9:30 am – 10:30 am. Attendees will learn:
The challenges with accessing product sustainability information

Evaluating the ways that new BIM tools can help specify sustainable products

List information that will be available in BIM tools and how it can be used in LEED and WELL projects
See you at NeoCon, June 12-14 in Chicago! Visit us in Booth # 7-139A.