As I was putting the final touches our Green Home of the Year Awards issue, a friend, looking over my shoulder at the pages, made a comment that I think warrants a detailed response. "To be honest, I don't see what's green about those houses," she said. "They look like something only a rich person could afford, and there's nothing especially alternative about them. How are they doing anything good for the environment?"
It's a great question, because I think it reflects the confusion that a lot of homeowners have about "green" housing. Fortunately, the award-winning homes in this issue operate on a higher plane of building science of a typical home, luxury or otherwise. Some have larger floorplans than we'd like to see, but most of those perform at net-zero energy levels, with extremely high HERS ratings. That's not something obvious in their appearance, but it makes all the difference when defending their environmental virtues.
The next time a client or friend asks you why the green home you built or designed is a far better choice than a conventional home - existing or new - here's what I'd tell her:
When this home was under construction, it behaved like a typical two-year-old tyrant - constantly demanding more, messy and destructive, producing mounds of trash. But schooled in the ways of a net-zero home, when the house was complete, it grew up and became a Buddhist monk. Now it's self-sufficient, even helpful, and can get by on a bowl of soup and some rice each day.
About ten years ago, the NAHB research center looked at the embodied energy of new homes. They estimated that construction of a house - whatever its size - accounts for just 6% of its lifelong energy use. In the U.S., lifespan typically refers to a ridiculously short 50 years, based on the maximum available product warranties. That means that water use, heating, cooling, repainting, replacing and repairing a home account for 94% of its total impact on the environment.
Now, consider a net-zero home: most of that 94% goes away. Compare that with one of the 80 million-plus poorly insulated existing homes in the U.S. A 1,200 sq. ft. bungalow with plants hanging in every window may look "greener" than a 3,500 sq. ft. contemporary home, but if the bungalow uses $1,500 worth of natural gas each year for heating for 50 years, and the large home uses just $350 worth each year, which home is doing more to underwrite fracking and its terrifying side effects?
There are other arguments to be made for homes like the ones in this issue. Every million dollar home built with geothermal heating, solar PV and super-thick walls helps strengthen those manufacturing categories. Photovoltaic panel costs are dropping like a stone - more due to markets overseas than local efforts - but we're going to need large, local manufacturers of renewable technologies if we're to wean ourselves from dirty fossil fuels. If affluent homeowners are doing most of the green building right now, more power to them. They could be taking the low road, building for comfort and cosmetics alone, shrugging at their environmental impacts.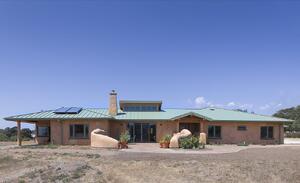 Of course, as I've often said, even net-zero-energy housing is not good enough. It's still a net TAKER of resources - land, materials and so on - not a GIVER. It's not the end game, just a major step up along the way. Eventually, we'll have houses that actually give back - supplying more energy (and perhaps food and clean water) than they use on site. But that's the next phase.
For now, we should celebrate the progress that builders, architects and homeowners are making toward truly sustainable shelter. We hope you enjoy this special salute to some of the nation's best performing new homes.