On Monday, President Trump announced his decision on the hotly debated solar trade case, imposing a 30% tariff on imported solar cells. While the decision will undoubtedly hinder the solar industry, the outcome wasn't the worst case scenario.
After agonizing for months over the Section 201 trade case brought to the International Trade Commission by manufacturers Suniva and SolarWorld Americas (ironically, both foreign-owned companies with U.S. operations), the solar industry is recalibrating in light of President Trump's decision to impose a 30% tariff on crystalline-silicon solar cells, decreasing by 5% over the next three years until it reaches 15%.
The decision also includes a 2.5 gigawatt exemption for imported cells (there is still confusion about whether this exemption is applied to importing companies or countries.)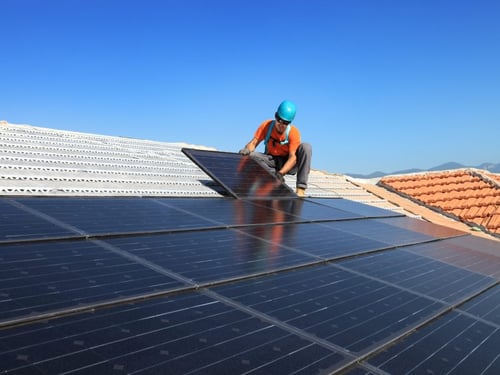 While the announcement certainly wasn't good news for the solar industry, it wasn't the worst case scenario—industry experts were bracing themselves for up to a 50% tariff.
Because solar manufacturers were expecting tariffs of some kind, they have been adjusting prices accordingly in anticipation of Trump's decision. While margins aren't as high as solar manufacturers would like (especially considering the price of solar panels has dropped by 70% since 2010), they're not too far off—so don't expect a dramatic change in pricing or a substantial market crash.
Although sensationalized news headlines would have you believe differently, most of my colleagues in the solar industry are feeling fairly positive, relieved that the excruciating waiting period is over and that the outcome wasn't a complete death knell for the U.S. solar industry.
GTM projects an 11% reduction in previously forecasted solar installations from 2018-2022 as a result of the new tariffs, translating into a 7.6 gigawatt reduction in installed solar PV capacity, from 68.9 gigawatts to 61.3 gigawatts.
And while the solar industry is expected to take a step backwards, at least in the short-term, from the aggressive growth it has experienced in recent years, it is still projected to expand (with 10 gigawatts of solar installations this year and 11.9 gigawatts next year), albeit at a slower pace than formerly forecasted.
Since there are many projects in the pipeline for the first half of 2018, experts predict that the full impact of the tariffs won't be felt until the second half of the year and into 2019.
One of the most significant impacts that the tariffs are likely to have on manufacturers has to do with where they decide to build new capacity. The U.S. currently imports 95% of its solar panels, mostly from Malaysia, South Korea, and a handful of other East Asian countries. The tariffs may compel companies to scale back operations abroad in favor of expanding capacity in U.S.-based facilities, despite the fact that building a solar plant in the U.S. requires a sizable investment (1 gigawatt of capacity is estimated to cost hundreds of millions of dollars).
And the tariffs may have other unintended consequences: by adding additional costs onto existing import fees on Chinese-made cells, the tariffs effectively price Chinese sourced cells and modules out of the market. China produces approximately 60% of the total global supply of solar cells and 71% of modules, and some experts project that the inability to cost-effectively source cells and modules from China will lead to a supply shortage, causing prices to increase even further.
It is unclear how the tariffs will affect the 260,000 solar industry jobs in the U.S. The Solar Energy Industry Association (SEIA) fears that up to 23,000 thousands of down-channel jobs will be lost due to the market downturn.
Once piece of good news for solar companies: unlike the previously implemented anti-dumping duties on imported solar panels from China, which get reviewed and assessed retroactively (causing a tremendous amount of uncertainty for importers), these tariffs are a final payment and cannot be modified in arrears.
It is expected that the residential solar market will be fairly insulated from any major market decline since residential solar customers are less sensitive to panel price changes.
The utility market is a different story, however. Utilities are hyper price sensitive, so any increase in cost will undoubtedly affect decision making. In many markets, solar has become a cheaper option than natural gas, so utilities have aggressively ramped up their solar portfolio.
The verdict is still out to see how much the tariffs will impact pricing within the utility market, and how those cost increases will affect the selection of natural gas over solar.
Certainly, some states that are newer to the solar market will cede ground, but solar-rich states like California and North Carolina may just experience a small ripple. Overall, it is expected that the utility industry will account for 65% of the anticipated 7.6 gigawatt decline in installations.
While some claim that the tariffs are President Trump's way to pledge further allegiance to the fossil fuel industry, the reality may be that he sees the writing on the wall—he could have obliterated the solar industry with a 100% tariff or something similarly as unreasonable. But it's possible that, by exercising what some call restraint, he recognizes that solar is real, competitive, bipartisan, and important to the American people (especially younger generations that are becoming increasingly more active and political.)
By artificially driving up solar cell costs and prices, the tariffs may provide added incentive for manufacturers to increase their investment in research and development to enhance module performance. Solar module pricing is so low that there really isn't any more fat to trim, so the only way for companies to improve their margins is to increase the efficiency of said modules.
In this way, the market has shifted dramatically over the past few years: instead of competing on lowest price, solar companies are starting to move up the innovation curve, increasing the energy density of each panel (since solar is sold on price per watt, not price per square foot, the more power a manufacturer can fit into a module, the more revenue potential they have.)
The end result of the tariffs may be their greatest irony: solar cells are the building blocks of modules. However, they are intensive to produce (they require substantial materials, people, energy, water, and so forth). Since it will likely be less expensive to import a solar cell rather than produce one in the U.S. or import an entire module, it's possible that U.S. companies will focus on importing foreign-made cells and assembling those cells into modules, thereby taking a step down the food chain and leaving the "transformative process" of solar cell manufacturing to foreign suppliers. In this scenario, more modules would be assembled here, but the higher value portion of the process would still be outsourced overseas.
The ultimate outcome? We can only wait and see. And don't expect for this to be the last you'll hear about the solar trade case—the World Trade Organization, which settles disputes between countries, will challenge the ruling in 2 weeks, spurred in part by China and South Korean's harsh criticism of the tariffs and threats of retaliatory trade measures. And even if Trump's decision remains unchanged, the case will be reviewed again in 2 years. In the meantime, we can only hope that the impact on the solar industry will be nominal.
How do you think the tariffs will affect the solar industry? Write to me at sara.gutterman@greenbuildermedia.com.
Want to read more? Follow me on Twitter and Facebook. For more information about green building and sustainable living, visit Green Builder Media at www.greenbuildermedia.com, like us on Facebook, and follow us on Twitter for regular updates and breaking news.