Trends From The Wood Stove Decathlon
Stoves have kept homes warm for centuries, but today's version bears little resemblance to its predecessors.
Nowhere was this more evident than in the technology and designs on display at the

Wood Stove Design Challenge

. Organized by the

Alliance for Green Heat

on the National Mall in Washington, D.C., the five day event was dedicated to showcasing the innovation, beauty, and efficiency of modern wood stoves and discussing the future of the industry through a series of panel discussions.

It was also a competition — 14 finalists displayed their ingenuity through low-emission, high efficiency, innovative, and affordable designs.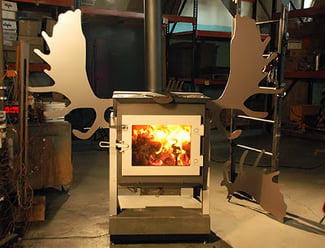 Image courtesy of Woodstock Soapstone.
The 10 industry expert judges crowned the stove from Woodstock Soapstone the overall winner. The New Hampshire company displayed innovation with its steel hybrid stove ranking among the top three across four categories, including market appeal, affordability, carbon monoxide emissions, and particulate emissions. To learn more about the technology behind these stoves, as well as where stoves are headed in the future, I caught up with David Agrell, Associate Editor, Home, who has been covering the Wood Stove Challenge for Popular Mechanics. Having profiled the finalists, he had a unique perspective on both the features that distinguished each entry as well as the larger trends in technology.
Innovation
1. Automation: While most stoves require manual maintenance, automated stoves monitor changes in the burning environment, such as oxygen and fuel, to produce the perfect fire without requiring homeowners to keep a constant eye on it. With entries like SmartStove, Mulciber, and HWAM Autopilot IHS, users could stock fuel, set an ideal temperature, and walk away, leaving the stove to electronically track temperatures and manipulate oxygen levels to ensure perfect temperature transfer and efficient burning.
2. Efficiency: The most enduring myth is that they're inefficient — even though they've been clean burning for nearly 20 years. In the Decathlon, efficiency counted as one-fifth of the score, spurring contestants to develop some of the most efficient stoves in existence. Each stove achieved peak efficiency of between 83 and 85 percent, with the Wittus Twinfire ranked most efficient among the field.
3. Retrofitting: Another stunning innovation came from the IntensiFire firebox insert. Although an untraditional stove entry, this insert was New Zealand inventor James Stewart's way to instantly transform an old, dirty stove into a clean-burning model of efficiency. James' low-cost IntensiFire downdraft device fits inside traditional wood stoves and burns wood up to 60 percent more efficiently.
4. Aesthetics: David noted that efficiency is irrelevant if no one uses the stove. For that reason, the aesthetic appeal of a stove is just as important as its efficiency, and it's not difficult to achieve, much to the credit of heat-resistant glass-ceramic. All 14 stoves in the competition used glass to offer a view of the fire and better appeal to a market in which enjoying the fire as it burns is just as important as efficiency. Therefore, glass that resists smoke and ash buildup has become just as important in preserving views.
The Future
1. Green focus: Today's wood stoves burn 50 percent more efficiently than traditional ones and produce 70 percent less particle pollution indoors and outdoors. Whether it's a retrofitted device that improves older stoves or an advance in materials like glass-ceramic, innovations are likely to focus on maximizing efficiency.
2. Automation: Several contestants explored automation in their entries, and it's likely we'll see the development of even more automatic stoves in the future. As the younger, tech-savvy generation purchases houses and installs heating systems, they'll be looking for a simple, hands-off option that offers the warmth and visual appeal of the fire without requiring the homeowner to build or maintain it.
3. Market appeal: The greatest challenge facing modern wood stoves is the perception that they're dirty and heavily pollute the environment. While glass provides an undeniable appeal, manufacturers must educate consumers about the truths about stoves. Few who attended the Challenge were even aware that, effective until Dec. 31, 2013, the federal government was offering a tax credit for purchasing a stove that's at least 75 percent energy efficient. Education, just as much as technology, is crucial to the future.
Despite warming homes for hundreds of years already, stove technology is constantly being refined, and, as David pointed out, the combination of aesthetic appeal, efficiency, automation, and education could keep the flame lit for decades to come.
---
This content was originally published by Schott here and has been republished with permission.
---