Some save energy. Others track your tools. But all may soon be manufactured in a 3-D printer in your garage.
No shortage of eye candy at this year's CES show in Las Vegas. To find the real innovation jewels, I mined through hundreds of time wasters, vanity feeders and resource wasters. Here's my very short list of memorable rollouts:
The Good
Ecovent "Smart" Forced Air Room Vents. If you haven't yet discovered this company, here's a heads up. This is the best "one-off" use of Internet of Things technology I've seen to date. When you buy this HVAC package, you're getting a self-contained wireless hub and a set of wireless dampers that all link back to a simple smartphone app. What this means is that the days of putting off retrofit of drafty old homes equipped with hot air furnaces is over.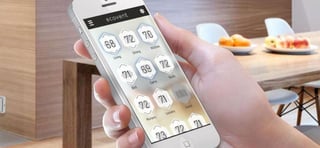 I spoke with the team at Ecovent. The only improvement I'd like to see in the product is a little more "upscale" look than the current white, unadorned plastic. But the technology is all there. It would be a short leap to put the same technology in vents with a different look or even customized facings. Heck, I bet you could print them in a 3d printer and just snap them on, if the company published the 3D code.
Looks aside, the installation of this product should cost a fraction of what it would to chase control wires in and put a hardwired, motorized damper system into an older home.
I've only seen a couple of other systems like Ecovent. One is a straight up programmable vent called the Vent-Miser 91688, which seems ideally suited for small homes looking for a way to control passive heat flow. The other is the Keen Home Smart Vent, which integrates with Samsung SmartThings.
The Clever
Bosch Tool Tracker. The TrackMyTools system is the first of its kind, and it's a big step up from the RFID trackers of recent years. Each of the little "tags" in this kit has its own transmitting capability, and the package ties in to some nice software. You attach the little tags to your tools, along with a note such as "left behind ladder" and the software helps you find them all over the jobsite. I asked about whether the system is set up for theft alarms, but the Bosch guys said that's not a current feature, but it could be added quite easily. It would make sense to have a theft alert sent to your phone when a tool is taken offsite.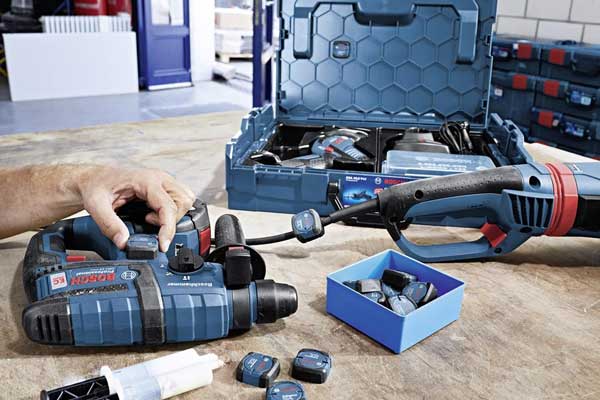 Although it's only available in Europe, Bosch expects to bring TrackMyTools to the U.S. soon, and in my view, they'd be smart to do so. You can bet that there will be knockoff products like it appearing soon from fast-track competitors. That's because it's another "aha" idea of a way to use the Internet of Everything for something other than turning your oven on while you're driving home from work.
The tracking software includes a desktop-compatible app that shows you where all of your tools are and allows you to make notes about them, so you can maintain an accurate inventory of what's working, what needs repair, and so on.
I only saw one other tracking system at CES worth mentioning. It's called TrackR Bravo, and I came home with a couple of the gadgets to test. Like the Bosch system, they contain little batteries and a corresponding smartphone app. They're more compact than the Bosch tags, but they also don't seem to work with as much accuracy. They rely on bluetooth signals, tied to Google maps, so the tracking data is not really detailed enough to find an object precisely. Sure you might know if a tool is in the garage versus the driveway, but you won't find a missing drill you left under some SIPs.
It does an "alarm" feature but it's more of a peep than a holler, so if you have bad hearing like me, it may not help. The range on the TrackR Bravo also is only about 100 feet, although you can hook it up to the bluetooth crowdsourcing, but that relies on the random presence of strangers who are using the bluetooth on their phones. Great for New York City. Not so great for rural job sites.
Here's Bosch's German Website for TrackMyTools
The Prescient
ROBO 3-D Printer Projects. At Green Builder, we've written before about the inevitability of 3-D manufacturing taking over the building products industry. The first phases of this change were apparent at CES, with an entire section of the show devoted to 3-D scanning, printing and production of objects. Some of the past limitations to these products are being addressed. And the potential universe of product blueprints is about to hit the mainstream, at least that's what ROBO is hoping. They are selling "collections" of household objects the same way you would buy extra minutes for a Tracfone.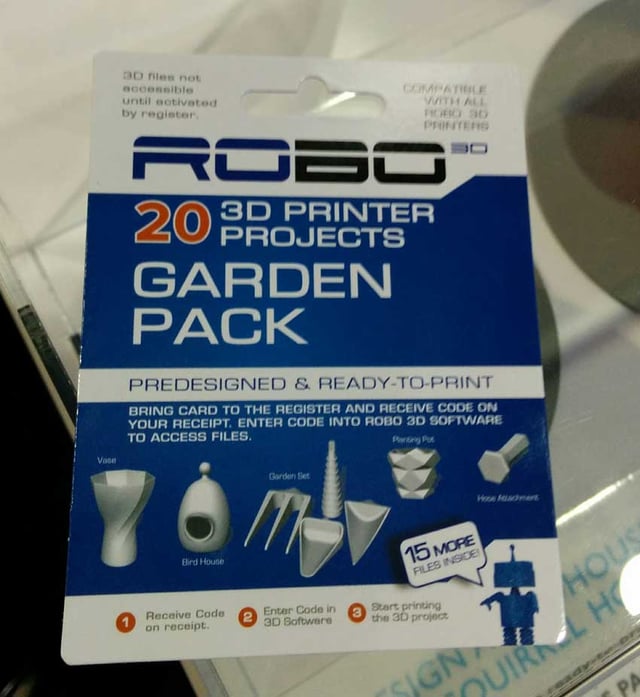 The way it works is that you pay for the card, and get a numerical passcode on your receipt. Punch the code into the right 3D software, and feed it to your 3d printer. If this sounds like a lot of manual transcribing, hang on. We predict that within a year or two, some 3-D printers will include scanners that simplify the use "recipe" cards. Just stick the card in and skip the desktop software entirely.
Conveniently, ROBO also makes 3-D printers. And they are now distributing both the printers and the recipe cards at Best Buy retail outlets. At this point the objects are more novelty than utility. But the idea is to create greater awareness of the potential of 3-D printing for the general public.
Another important development in the 3-D printing world is the appearance of bio-based filaments, notably one made with a certain amount of algae based cellular material.
If you're new to 3-D technology, the filament is the material used to "build" the objects. It's typically made with ABS plastic, which is not by any stretch a "green" material.This is extremely important from an ecological perspective, because the proliferation of 3-d printers and fuel could unleash untold toxins in coming years. We need to address the sustainability of the fuel NOW.
3D-Fuel, based in Bonne Terre, Missouri, is combing a more benign plastic--PLA—with algae material. The product, called Algix2000 PLA 3D Filament, is available on Amazon.

The manufacturer asserts that "This process allows the PLA to be more environmentally safe as it reduces the time to decompose from several months to a matter of weeks. Using algae not only makes sense, it also provides a way for everything made with it to be "greener" because it continues to clean the air around it even when in the plastic form."
The 3-D printing industry is just getting started. New printers hitting the market can print with multiple materials, including iron, copper and titanium. The age of centralized manufacturing is not over yet, but that day is coming fast.
If you're interested in these kinds of products and insights, be sure to subscribe to our Internet of Things weekly updates.—Matt Power, Editor-In-Chief