Rostin Behnam, a top financial regulator and member of the Commodity Futures Trading Commission, is sounding the alarm, urging the public to understand the risks associated with climate change, comparing them to the mortgage meltdown that led to the Great Recession.
For those who earn their living in DC today, it's essentially political suicide to take a strong stand on climate change amidst an administration that mocks global warming and scoffs at science.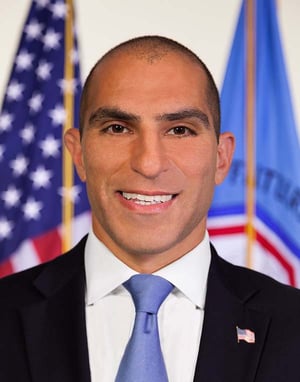 But Rostin Behnam has thrown caution to the wind. Armed with indisputable data and undeniable science, the Trump-appointed member of the Commodity Futures Trading Commission (which oversees major financial markets) has publicly declared that the risks associated with climate change eclipse those posed by the mortgage meltdown that caused the 2008 financial crisis and ensuing recession.
"If climate change causes more volatile frequent and extreme weather events, you're going to have a scenario where these large providers of financial products — mortgages, home insurance, pensions — cannot shift risk away from their portfolios," he said. "It's abundantly clear that climate change poses financial risk to the stability of the financial system."
Behnam is bringing together a panel of experts that will generate a report to outline how climate change is expected to affect the financial sector, highlighting areas like food security, insurance costs, and mortgage availability. Behnam plans to focus a large portion of the report on the agricultural sector, which has the potential to be crippled by the double blow of global warming and the current administrations' crop tariff policies.
Behnam is not alone in recognizing the financial risks of a warming world. The European Central Bank recently issued a warning that an intense round of severe weather could destabilize global markets by negatively impacting the balance sheets of unprepared banks, insurance companies, and corporations that have not engaged in appropriate risk analysis and proactive planning.
The Carbon Disclosure Project (CDP) found that the world's 500 largest corporations face approximately $1 trillion in climate change related costs, the majority of which could materialize within the next five years.
It is estimated that the world's largest companies may have to write off or retire up to $250 billion in assets, such as buildings in high-risk flood zones and outdated manufacturing facilities and power plants that can't meet tighter emissions regulations. It's important to note that this estimate only takes into account a fraction of companies worldwide that report their climate risks, and the actual number of losses is presumably going to be substantially higher.
Insurance companies are already overwhelmed by claims arising from wildfires, superstorms, flooding, rising sea levels, and other catastrophic natural events.
Global banks, like the Bank of England, are running "doomsday scenario" stress tests to ensure that they have enough capital to withstand market volatility and unanticipated financial fluctuations that accompany major climate events.
According to the New York Times, "A coalition of 39 central banks, representing about half the global economy and including the central banks of England, China, Canada Japan and the European Union (but not the United States), has convened a working group to study the effects of climate change on financial markets."
Unfortunately, the general consensus is that financial institutions don't have enough information—or the appropriate financial products—to solve for or insure the systemic risks posed by climate change.
But the prognosis isn't all bleak. The corporate landscape is changing dramatically and rapidly, and many companies are exploring the business opportunities presented by climate change, such as innovative clean energy and water technologies, regenerative farming practices, and recycling solutions to address our growing global plastic waste problem.
The sustainable investment sector has grown to over $31 trillion according to Dutch financial services firm ING—up 34% since 2016, with $14 trillion of that total investment in Europe and $12 trillion in the U.S.
A recent report issued by Ethical Markets indicates that renewable energy is the leading sustainable investment sector at $4.4 trillion in global investment, followed by energy efficiency ($2.2 trillion), life systems ($1.9 trillion), green construction ($1.3 trillion) and corporate green research and development ($5.8 billion). "For a long time, the knock on green sectors was that they weren't economically competitive without subsidies," asserts report author Tim Nash. "Now they're competing despite a political shift toward populism that is not exactly friendly to the environment."
While Trump administration continues to rollback climate policy and environmental regulation to benefit polluters, the private sector is charging ahead. In fact, large fossil fuel companies from oil behemoth Royal Dutch Shell to mining giant Glencore have invested in new energy divisions and set environmental targets for the first time in their operating history.
This isn't just because these companies are feeling philanthropic. Rather, they see the writing on the wall—they realize that, at some point, they will need to shift their business models, strand their fossil fuel assets, and make a serious course correction in order to remain in business as governments around the world set ever-ratcheting policy to cut greenhouse gas emissions.
Furthermore, regulators and shareholders alike are demanding that companies disclose climate change related risks. A recent wave of corporate disclosures confirm that companies in all sectors of the economy are bracing for impact, acknowledging that climate change could substantially alter their business operations and negatively affect their profitability. Disruption of supply chains due to extreme weather and operating restrictions resulting from water shortages are the two concerns that top the list.
Let's hope that the heavy lifting currently being done by corporations across the globe, in conjunction with financial risk reports like the one that Behnam and his panel of experts are generating, will provide a roadmap for bolstering our economy, identifying profitable sustainable business opportunities, and preparing us for the inevitable changes that will come as planet continues to transform.
Want to read more? Follow me on Twitter and Facebook. For more information about green building and sustainable living, visit Green Builder Media at www.greenbuildermedia.com, like us on Facebook, and follow us on Twitter for regular updates and breaking news.