A perfect storm of labor, regulatory, land and materials costs have crushed the housing market to half its former size. Can data transparency revive the boom times?
Builders often take the heat for high housing costs. But often, they're playing the role of reactors, not actors. That's not to say there aren't some operators out there who ask too much in terms of margins and do inferior work that's destined to cause heartache for homeowners.
But by and large, these are not the readers of Green Builder. What's facing our sector—the high-performance segment of the homebuilding industry—are powerful external forces, including labor shortages, radical tariffs on lumber, a dysfunctional lending system and populations migrating toward urban hubs.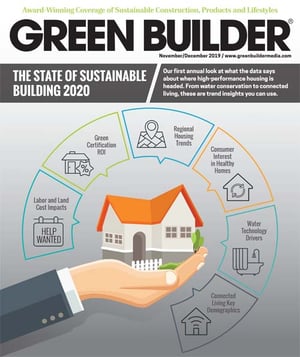 To borrow a little data from an article by Erik Franks, "In 2003, before subprime lenders broke the rules, half of the new homes in the country were priced below $191,000. Today, half of new homes are priced above $313,000, and 15 of the 18 largest publicly traded home builders sport an average sales price north of $365,000."
Franks notes that it's not like builders aren't trying to create entry-level product. They know that's a huge, eager market. But they can't seem to make the numbers work. In some cases, they're moving to lower-quality materials, smaller lots, less-desirable neighborhoods and so on. My concern is that this could swiftly become a "race to the bottom," where buyers end up with ticking time bombs, and builders end up with class action lawsuits.
The situation clearly has to change. But how? The more we understand the forces behind the trends, the more we have the ability to make political, geographic and building science choices that will bring housing affordability back into the mainstream.
For example, why do materials cost more? Which states have the best value per acre for land? What's causing the labor shortage? Where are the "hidden" land values and untapped markets? Where do codes and sustainability intersect?
Answering questions like these is the purpose of this new addition to our Green Builder toolbox. Our first annual State of Sustainable Building report takes advantage of our proprietary data service, COGNITION Smart Data, to dig deep into the trends behind the trends.
So take a tour through the "back end" of the home building industry with us. We hope you'll come away with new ideas about how and where to bring more-diverse housing projects to your region, and a sense of where the white space of building lies. It's still a big country. Opportunities still abound, but you have to know where to look, when to act, and how to access the smart data.